From $5.50 an Hour to NFL Phenom – The Kurt Warner Story
From earning minimum wage to reaching the highest NFL peak, Kurt Warner's career created a legacy unlike any other, and now a film is on the way to commemorate it.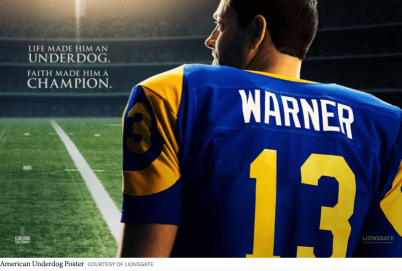 The National Football League was taken by storm in the late 90s when a Burlington, Iowa native abandoned his $5.50/hour position at the local grocery market for an unprecedented Super Bowl and MVP season just four years later. 
The name Kurt Warner remains relevant in the league today as his long-standing legacy continues to inspire athletes of the incoming generation to pursue their wildest dreams. Netting over $25 million after the brave decision to relinquish normality embodies the upbringing of a gridiron great. Failure was only temporary in Warner's mind after experiencing the agony of defeat on his road to success. The many trials and tribulations that plagued Warner's career only fueled the fire that went on to burn NFL defenses over the course of a decade. 
Two Super Bowl victories and MVP awards inspired Lionsgate Motion Picture Group to capture Warner's life in a biopic scheduled to release on Christmas Day of this year. Rags to riches is an understatement when it comes to Warner's journey, demonstrating his accomplishments on the field to a seemingly fictional fable. 
Third on the depth chart throughout his first four seasons at The University of Northern Iowa, Warner saw no major minutes but remained motivated. Warner's game flourished when given a chance to start throughout his fifth year season in 1993. He was named Conference Player of the Year and First Team All-Conference. As his confidence skyrocketed, his next step was to enter the 1994 NFL Draft. 
Unfortunately for Warner, no team had the courage to scoop him up. This misjudgment made him the one of few undrafted NFL players to reach the Pro Football Hall of Fame. When given the opportunity to try out for the Green Bay Packers, Warner was cut after the team decided to stick with their prized Southern Mississippi stud, Brett Favre. Favre went on to grab two Super Bowl victories in three appearances for Green Bay, capturing fans' hearts while simultaneously disregarding Warner's worth. Warner reflected on the instance in '94, stating, "I love first chances, but unfortunately, first chances don't always work out for everyone, and I'm a perfect example of that." 
Warner returned to Iowa with empty pockets and a smile on his face, destined to prove that the Green Bay organization chose the wrong guy. Warner began stocking canned foods at the local grocery market down the street from his home for an hourly wage of $5.50 to support both he and his wife. Reality kicked in, but Warner understood that the road to success entailed many detours.
After achieving immense success with minor league football in both his native state and Europe, Warner joined the St. Louis Rams to compete for the 1999 starting quarterback job. The Rams considered their season done for when established starter Trent Green suffered a season ending injury in the preseason. To their disbelief, Warner responded with 41 touchdowns and over 4,300 passing yards, just shy of the league record set by Dan Marino in the mid-80s. 
Neither the Rams nor the rest of the world understood Warner's capability, but the team was ready to rally behind him after his first start. In an April 2017 interview, Rams head coach Dick Vermeil alluded to Warner's immediate comfort on the field noting, "He played in the first game against the Ravens as if he'd played five years in a row as an NFL starter." 
With several years of experience under his belt, Warner exploded on the scene, dragging the team to a Super Bowl victory and an MVP in just his first season as a starter. Warner's psychological battles served as stepping stones to the Cinderella season that makes fans scratch their heads.
How could a man, who was stacking shelves for minimum wage only four years earlier accomplish such an unparalleled feat of glory? The answer lies within Warner's conviction to accept and overcome traditional setbacks that most falsely deem as the end of the road.