Men's Basketball Takes Third at Gulf Coast Showcase, Holds On Against CCSU
Fordham Men's Basketball looks to be finding its form after playing its best basketball yet to the tune of two wins and a third place finish at the Gulf Coast Showcase and prevailing in a road battle against CCSU.
Fordham Men's Basketball did not end their four game stretch to open the 2021 season on the highest note. They opened the year with a commanding beatdown of Columbia University, followed it up with a tight loss in the Battle of the Bronx and then showed some more signs of development in a strong second half against the University of St. Thomas. 
However, a double overtime loss to the University of Maryland Eastern Shore left a sour taste on all of those otherwise positive strides. If anything though, it was another opportunity for this newly-formed group to learn and grow, and the Gulf Coast showcase showed just that.
The Rams flew down south to Estero, FL to kick off the three day competition. Fordham opened the bracket-style tournament on Monday at 5 p.m. against the University of Akron. A win would push them forward on the championship path and a loss into the consolation bracket.
The Zips were a stout first opponent, coming off a 15–8 campaign last year and winning the regular season Mid-American Conference Championship the year before. None of that mattered on Monday though, as the Rams locked down an explosive offense that lost to Ohio State University by a single point earlier in the year and dropped 99 points against Wheeling University. They scored just 43 on this night, falling by 20 to Fordham for a 63–43 final.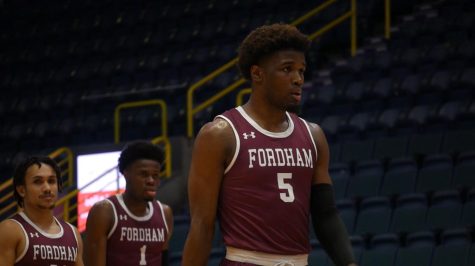 There are two ways to look at such an outcome. One is the fact that Akron shot 16–51 from the field and an incredible 1–18 from deep. However, Fordham made just five additional buckets themselves, instead overpowering Akron with a collective effort on both sides of the basketball. 
First, rebounding. The Rams held a plus six advantage in that category, specifically through the interior work from its guards that has become a theme early in the year. Junior Antonio Daye Jr. had four to go with his team-high 19 points, junior Kyle Rose added seven as did sophomore Antrell Charlton. Graduate student Chuba Ohams added six on an otherwise quiet evening, scoring just five points for his lowest total of the season.
Again, the numbers do not scream loudly on the statsheet but the play on the floor did. Defensively, Fordham held Akron without a basket for ten minutes in the second half, enabling them to balloon the lead into double digits. Head coach Kyle Neptune often emphasizes that the scoring will always come, but defense ultimately wins games. Monday was a testament to that.
The win pushed Fordham into the tournament's top four, set for a primetime matchup on Tuesday night against the University of Delaware. The Blue Hens took down Appalachian State University in their opener and had already picked up a pair of wins against Atlantic 10 opponents to start their season. They found a third against Fordham, outsourcing the Rams 81–71 to advance to the tournament final.
A 39-point first half created the advantage Delaware carried through to the end, as they came out of the gates shooting 60% from the field and added to it with an incredible 72% mark (13–18) to hold off a surging Fordham team down the stretch.
Fordham had four players enter double figures on the night, with Daye Jr. leading the way once again on 15 points, Ohams adding 12 and eight boards and 10 points  apiece from both Kyle Rose and graduate student Darius Quisenberry. That was certainly a bright spot, as were the nine steals and 19 points generated by them.
However, the story was written at the free throw line. The officiating frustrated Fordham all-night-long, culminating in two technical fouls, a pair of flagrant fouls and 36 free throw attempts granted to the Blue Hens. It was the wrong opponent to have such a game against, as Delaware entered cashing in nearly 82% of attempts from there, dropping its season average by converting just 28 on the night. Those free points compared to exactly half from Fordham made the difference in the end.
Despite that, it became clear Fordham was beginning to find something on offense, specifically. A team that looked lost in previous games developed some cohesion, charting out new faces and seeing contributions up and down the box score.
The results of that showed in the tournament's final game, a third place battle against Rice University in which the Rams put together undoubtedly their best effort of the season for an 84–74 victory to ceremoniously end their time in paradise.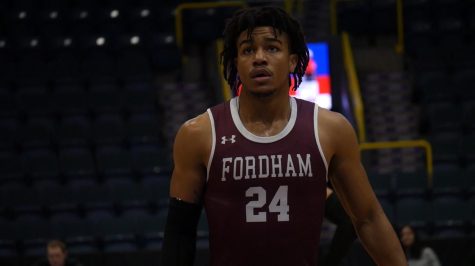 The 84 points matched Fordham's season-high, but more importantly, came from a number of unlikely places. Namely, Charlton finally found his breakout game, as the explosive scorer dropped in 18 to pair with 10 rebounds for the first double double of his Fordham career. However, that was only the night's third-highest mark, as Daye Jr. produced 20 points and Quisenberry led the way with 24 points, as both guards have entered double digits in every game on the calendar so far. 
Beyond those three, Ohams, who had clearly been the top defensive assignment for Fordham's opposition throughout the tournament, prevailed with 11 points and seven rebounds while freshman Ahmad Harrison gave the team valuable contributions in his 14 minutes of work, scoring five and frustrating the Owls offensively.
Rice is a lethal three point shooting team and had everything going right from there, shooting 12–24 from the perimeter. That likely could have spelled disaster on most nights but Fordham was up for the challenge on this one, fighting inside and outpacing Rice with 46 points in the second frame. 
The win, beyond just granting the Rams a podium place, proved just how effective the offense can be with everyone playing a part in it. Perhaps the most encouraging sign? Those 84 points came on just 1–7 shooting from Rose and no shot attempts from the bigs, sophomores Abdou Tsimbila and Rostyslav Novitskyi. 
Fordham was then forced to play without  Tsimbila for a road contest against Central Connecticut State University. Once again, this should have been a fairly lopsided matchup on paper, as the Blue Devils were just 1–5 on the year and Fordham had defeated them handily the last time these two teams faced in 2016.
Even so, Neptune thought CCSU was a dangerous team and he was proven right on this occasion. Fordham looked far from its best on Sunday afternoon, struggling for much of the opening period and resorting back to the team they looked to vanquish in Florida.
They trailed 32–28 after one, shooting just 38% from the field and getting outworked on the boards, to a feisty CCSU squad. The bench constricted itself once again too, with Fordham's five starters each seeing over forty minutes of action in this one.
Luckily, it was not for naught as Fordham picked up the pace in the second half with an Ohams dunk and Rose layup extending the lead to five with just over two minutes to play. Fordham looked set to seal the door and walk home with a win but CCSU continued to fight back, forcing home a layup with one second remaining to force overtime.
Fordham was the better side in those five additional minutes. However, CCSU again found an extra spark, drilling a miraculous three-point shot as time expired to send things to a second overtime period. That was exactly how Fordham lost to the University of Maryland Eastern Shore. They did not allow the same result on this occasion.
Their struggles at the charity stripe doomed them in regulation, shooting 3–6 in the second half, but they knocked home all 12 in the second overtime, scoring 14 in the period to secure an 89–83 victory.
Quisenberry led all scorers with 27, thanks to some free points down the stretch, but Daye was the star of the show, demonstrating his incredible driving and shotmaking ability to finish with 25 points and six rebounds. The backcourt duo continues to lead the way for the Rams but Ohams also returned to form with another double-double, scoring 19 and snatching 13 rebounds as a big three begins to take shape. It was an ugly game but a positive outcome considering how things ended up differently in a similar scenario just a short week ago.
With three consecutive wins in a row, Fordham is slowly beginning to look like a team that can compete when conference play rolls around. Though, the challenge now is handling the non-conference. Fordham has another opponent it must be ready for despite what the record says in St. Francis College at Brooklyn, who brings an 0–6 record to the Bronx this Wednesday at 7 p.m. before a big local rivalry in Queens on Sunday as Fordham will face off against a familiar foe in Joel Soriano and St. John's University.