Fordham's All-Male A Cappella Group Releases an Album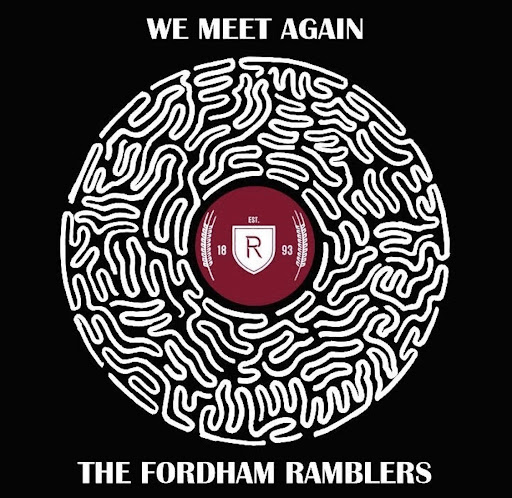 A cappella may not be to everyone's taste, but it seems like the Ramblers have managed to seize the hearts of Fordham students everywhere. One of the four a cappella groups at Fordham, the Ramblers have not only made people swoon during live performances, but have truly caused a frenzy with the release of their new album, "We Meet Again."
While interviewing the Ramblers' e-board, I got to know about the inner workings of the group and what it took to record, arrange, produce and advertise "We Meet Again."
The album was recorded earlier this year but made its debut on Nov. 12, and it was worth the wait. With a mix of Ramblers classics and some newer surprises, it highlights the Ramblers' best era of all time. From boy band songs to ballads to a sea shanty, "We Meet Again" is an album that surpasses any critique of a cappella. 
The group spent many months waiting for the album to be finished, but recording the songs only took a couple days. E-board member Caleb Rocha, FCRH '23, said of the process, "a lot of us were taken by surprise by the burden of tasks." The Ramblers also worked with the group's 2019-2020 president, Teddy Berg, to design the album cover, which they said was a tribute to their "retro vibe." 
A common theme in the album is staying true to the original versions of each song. In arranging music for a cappella, there is creative freedom to stray from the original and create something practically new. This might work sometimes, but a cappella which honors the melodies and structure of the song is what captivates an audience. Ramblers e-board member Zach Abu-Orf, FCRH '22, claims that whenever they sing "I Want It That Way," "the energy is electric." I would bet that's because the audience recognizes the song's tune and can even sing along, which makes the experience nostalgic and interactive. The same goes for pretty much every song on the album, notably "You And I," "Too Close" and "Cough Syrup." These are all fairly well-known songs, so when the Ramblers perform them, it comes off almost like a concert of classics rather than a talent show. There is a place for both, but I find that audiences typically react with more excitement when they can participate. 
I haven't even begun to scratch the surface of the talent which makes up the Ramblers. Abu-Orf said, "this is the best the Ramblers have ever sounded." When I asked the e-board members what they like most about being in the group, music director Jamie Barker said he's "never been a part of a group that's actually good." Anyone can hear that the album showcases powerful and talented voices, but it also proves that a cappella renditions can be just as good as the originals. All the voices blend beautifully on the album (and in person), creating a full and well-rounded balance on each song. This isn't by accident — the Ramblers spend time during each rehearsal practicing blend to ensure that the sound is clean and harmonious. The Ramblers' work has paid off, and the album is a perfect demonstration of their dedication to a seamless and dynamic quality of a cappella.
There is one song on the album which completely took me by surprise; you just don't really hear a Kanye song on an a cappella album. "Lost in the World" is a unique instance where if you listened to the original, the a cappella possibilities might not hit you right away. However, Evan Allen, FCRH '21, and Miguel Sutedjo, FCRH '23, of the Ramblers turned the super AutoTuned, electric Kanye track into something melodious and funky. This version highlights the soloist, Allen, while showing the group's ability to adapt to any genre of music.
I didn't expect to hear "Mingulay Boat Song" on an album that also features Justin Timberlake and Kanye West. This sea shanty was written by a man in the 1930s and has seen many covers over the last near-century. I have a hard time believing that the Ramblers' version is not one of the best renditions of the Gaelic tune. In "We Meet Again," the singers' voices carry the entire song without accompaniment from a beatboxer. It's clear and rich, and it made me feel nostalgic in a way that I, as a 20 year old woman in 2021, never expected from a song about fishermen going home to see their wives. 
If you've known me since Nov. 12, you know I haven't stopped talking about "We Meet Again." It's that good. And I know I'm not alone in my love for this album; just take a look at the @fordhamflirts Instagram page. When I asked the e-board members about their reactions to this influx in support, Rocha said it was due to their "boyish charm." When a group of college boys produce an album this good, I guess it's hard not to fangirl. 
If you want to see what the hype is all about, stream the album on Spotify! Or you can see the Ramblers perform live at their winter concert at 7:30 p.m. on Dec. 10 in Keating 1st.