Fordham's Asian Cultural Exchange Hosts "Dynasty"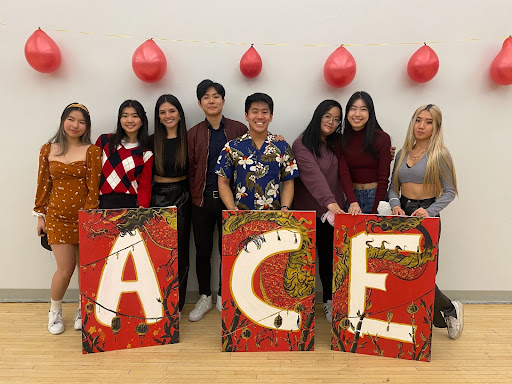 On Friday, Nov. 11 Asian Cultural Exchange (ACE) held Dynasty, a mixer and banquet event meant to bring the Asian American and Pacific Islander (AAPI) community together for a fun night of camaraderie, games, performances and delicious Asian food. Dynasty is ACE's largest event of the year that has a distinct tradition with over two decades of history. President of ACE Arthur Liu, FCRH '23, organized Dynasty to be an event that celebrates the AAPI community and welcomes Fordham students of all backgrounds to learn more about AAPI culture. 
"As an international student (half Malaysian and half Hongkongese), I am very proud of my cultural heritage," Liu said. "With Fordham being a PWI, it became a goal of mine to make the AAPI and Asian community at Fordham feel as at-home as possible, and ACE was one way I could achieve that goal. Thus, my goal with ACE was to create a social night event that would allow the AAPI-identifying community at Fordham to enjoy a wholesome night of food, performances and games and be able to socialise with one another. In addition, I also wanted non-AAPI-identifying members of the Fordham community to be able to learn about Asian cultures and socialise with AAPI Fordham students. I believe Dynasty is suited to achieving these goals as all students, regardless of their background, are welcome to join Dynasty as long as they sign up."
Liu brightly welcomed students and enjoyed a wonderful, but important event. "Events like Dynasty are incredibly important for facilitating intercultural exchange as well as making AAPI and Asian students feel at home at Fordham. I cannot emphasise enough simply how powerful gathering people for some authentic food or playing a game of musical chairs can be for people to make friends with one another and learn about each other's cultural backgrounds. That is the ultimate goal of these events like these; all these activities are simply aimed at igniting the spark that might lead to a friendship for a lifetime," Liu said.
There was a large crowd of students at Dynasty talking, laughing and enjoying the buffet and snacks. Tuong Bui, FCRH '25, Eliana Ng, GSB '25, and Stacey Dana Cajita, GSB '25, were happy to be at an event where they could enjoy an evening with friends and celebrate their culture. "I grew up in a town with a very small Asian population, so I joined ACE to connect more with people who share my culture. I enjoyed the first mixer, so I was excited to attend this one. So far, I've had so much fun in this club, and I'm looking forward to attending more ACE events in the future," Ng said.
Bui is happy to be part of an event that, although fun, helps deconstruct harmful perceptions about the AAPI community. "Groups like ACE do a lot to work against the sentiment that all Asians are the same and show the diversity between different cultures and work against the narrative that they can be meshed together when there is such a variety," Bui said. 
ACE has succeeded in establishing a space for the AAPI community to gather and celebrate as well as invite others to learn more about the diversity of the AAPI community.