Hamilton Closes Championship Gap in Qatar
Formula 1 held its inaugural Qatar Grand Prix with Lewis Hamilton racing to victory to reduce the gap to championship leader Max Verstappen while Fernando Alonso entered the podium for the first time in seven years.
Last week, Formula 1 continued its 2021 season with the Qatar Grand Prix. Red Bull's Max Verstappen topped Mercedes' Lewis Hamilton in the drivers standings with Mercedes leading Red Bull in the constructors heading into this weekend. Since this was an inaugural Grand Prix, all of the teams and drivers maximized their time on the track to perfect their setups and get a feel for the circuit.
Hamilton took pole position when it came time for qualifying with Verstappen in second. Hamilton's teammate Valtteri Bottas took third while Verstappen's teammate Sergio Perez was eliminated earlier in qualifying and started the race in 11th. Alpha Tauri's Pierre Gasly suffered a puncture and brought out a yellow flag during the dying seconds of qualifying, which meant that all cars in the sector needed to slow down. 
Both Verstappen and Bottas received grid penalties after qualifying for failing to slow down under the yellow flag, five and three places, respectively. Gasly started in second after the reshuffling with Alpine's Fernando Alonso trailing in third with Bottas in sixth and Verstappen in seventh.
Hamilton got away cleanly ahead of the rest of the grid when the lights went out on Sunday. Verstappen had an amazing start and was in fourth after the first lap. Meanwhile Bottas had a horrible start and fell down to 11th. After five laps, Verstappen was back into second and only a few seconds behind Hamilton. Meanwhile Perez was picking cars apart as he climbed up into eighth with Bottas still behind him. Hamilton and Verstappen were building a gap to Alonso in third, which meant that they could pit and still be ahead of the Alpine driver and were a full pitstop ahead after 16 laps.
However, Verstappen pulled the undercut and pitted on lap 17, with Mercedes immediately responding by pitting Hamilton. Hamilton retained the lead through the pit stop phase. Perez pitted for new tires on lap 19, but surprisingly, Bottas stayed out. Bottas was now in third after the pit stop phase with Perez far behind. Mercedes decided to gamble with Bottas going longer to make a one-stop strategy work and to have fresher tires at the end.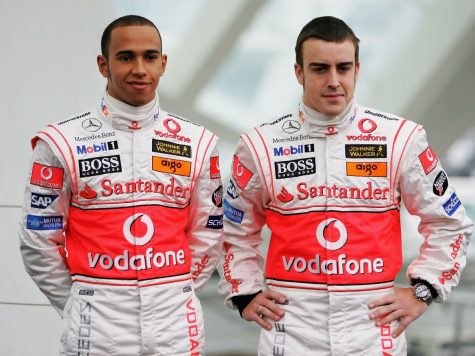 Unfortunately, the gamble failed. Bottas suffered a puncture on lap 33 and had around half a lap to return to the pits, which saw him tumble down the order into 13th, giving third to Perez and promoting Alonso to fourth. This was a warning sign for the teams who were doing a one stop, with the strategists calculating if the two stopper was now necessary to avoid a puncture.
Red Bull pitted both drivers on lap 41 as Verstappen and Perez moved for fresh tires, with Hamilton responding by pitting on the next lap. Alonso was now in third but with old tires and a rapid Perez gaining ground. The main question after Bottas' puncture was if Alonso's tires could last the race. 
McLaren's Lando Norris suffered a puncture on lap 50, which sent him down the order. Even more punctures occurred on lap 52 with the Williams duo of George Russell and Nicolas Latifi, the latter triggering the virtual safety car and slowing the entire field. This essentially froze Perez's charge to Alonso and gave Alonso some time where he could go easier on the tires and make them last that little bit longer to finish the race.
Hamilton comfortably won the Qatar Grand Prix with Verstappen in second after 57 laps. Alonso rounded out the podium, his first placement there since 2014's Hungarian Grand Prix when he raced with Ferrari.
The next race is this week with the inaugural Saudi Arabian Grand Prix. Like in Qatar, no F1 car has ever raced here, so expect every driver to use every available second in the weekend to prepare for the race. With only two races to go and with both championships so close, every single point is crucial in one of the best seasons in recent history.