Women's Basketball Faces COVID-19 Postponements After Undefeated December
Despite winning nearly every battle they have faced this season, especially in the historic month of December, Fordham has confronted a new challenge in COVID-19 that they will hope to overcome and start conference play in the new year.
Kaley Bell, Assistant Sports Editor Emeritus
December 28, 2021
Fordham Women's Basketball has not slowed down for any competition. With a four game win streak, the team has knocked off nearly ever team it has faced, including titans like Michigan State University. However, despite the battles it has faced, Fordham came head to head with a new opponent: COVID-19. After going an entire season without a positive test one year ago, recent developments have paused play as they head into the new year, forcing a postponement with Fairleigh Dickinson Univerity and cancelation against Florida Gulf Coast University and. Most recently, the Rams saw their Atlantic 10 opener at Davidson College postponed as a result of the conference's new forfeiture policy.
Fordham had played four straight home games that all amounted to wins right before the campus closed for winter break. The team's last loss occurred almost a month ago in Mexico, playing in the Cancun Challenge. After the Thanksgiving break, the team came back stronger than ever and faced Stony Brook University, Princeton University, Manhattan College, and Lafayette University all at home in December.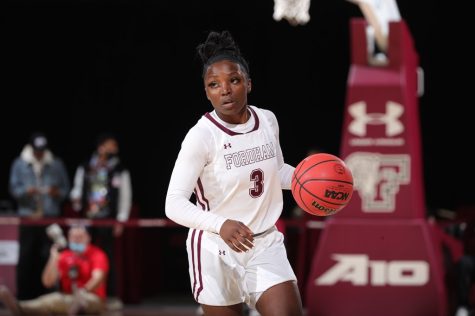 On December 2, the Rams came back from their trip to Cancun to face the Stony Brook Seawolves, the former home of senior transfer Asiah Dingle. Stony Brook, picked to finish first in the America East preseason poll, entered undefeated, winning their first seven games of the season. The Rams ensured that streak lasted no longer, securing the win 71–59.
Junior captain Anna DeWolfe led the team's scoring with a season-high 28 points. Dingle totaled 12 points, six rebounds, four assists and a team-high four steals against her old teammates. Senior Kaitlyn Downey had a double-double with 11 points and 10 rebounds.
The Rams faced another tough opponent in their next home competition. The Princeton Tigers sat at 6–1 on the season as they faced the Rams. It was a close first half until DeWolfe, Dingle and graduate guard Kendell Heremaia were the main contributors in a 22–10 third quarter run that put Fordham ahead. Senior Megan Jonassen had seven rebounds, generating a number of second chance points. Ultimately, despite Princeton's best efforts to climb back in the end, the Rams were able to hold on for a 76–67 win.
Next came the renewal of the Battle of the Bronx with Manhattan College, yet another challenging test against a team picked to be second best in the Metro Atlantic Athletic Conference. Manhattan lived up to that expectation by competing until the last few seconds. There, Heremaia again stood out, scoring a layup with under one second remaining after junior Sarah Karpell forced a steal to lock in the dramatic win for the Rams.
Then against Lafayette, Heremaia was honored for scoring over 1,000 points at Fordham after surpassing the mark with a career-high-tying 29 points against Seton Hall University back on November 13. A ceremony took place during the pregame session in which head coach Stephanie Gaitley excitedly handed Heremaia a basketball nothing the accomplishment.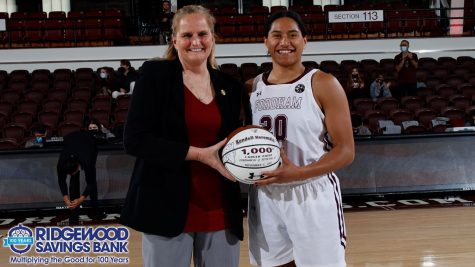 Moreover, this game marked another milestone accomplishment for a Fordham player. While the team was able to hold the Leopards to the fifth fewest amount of points in a single game in program history since 1976, DeWolfe reached the career milestone of 1,000+ points herself, becoming just the 24th Ram to do so.
The moment came during the fourth quarter, part of a game-high 24 point effort in which she shot 10 of 16 from the field despite playing a season low 31 minutes.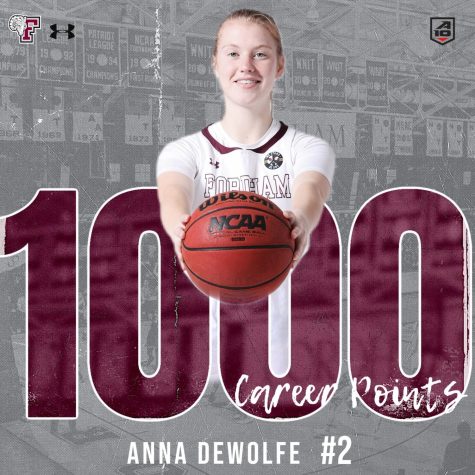 After the game, DeWolfe was named the Metropolitan Basketball Writers' Association Player of the Week. It was the second week in a row that DeWolfe received this award, earning it on the first two occasions since the MBWA started rewarding the weekly titles. It is not hard to recognize why DeWolfe has earned such recognition, either. This season, she has averaged 20.2 points per game which places her 17th nationally. She leads the A-10 in minutes per game, conversion shots, and three-pointers made. 
Unfortunately, her and the team's momentum has been put to a halt since.
On December 17, Fordham University announced the decision to cancel all University-sponsored events through December 22, effectively foregoing the Fairleigh Dickinson contest. In addition, fans were no longer permitted at any games through January 18. COVID-19 issues within the program then forced the cancelation of the team's final nonconference game.
The team was set to ring in the New Year on January 1 in Davidson with their first conference game. However, the game has been postponed, with the Atlantic 10 jointly announcing an adjustment of its forfeiture policy put in place during the pandemic.
In an evolution from rules instilled during the fall, games that cannot be played as scheduled due to positive COVID-19 tests will be postponed and attempted to be rescheduled for later in the season, effective immediately across both men's and women's programs.
In the event that is not possible, a game will be deemed a no contest. The new policy requires teams with seven available scholarship athletes and a single coach to compete in all conference competitions. Only in a scenario where one team opts out of rescheduling despite meeting those circumstances will a game be declared a forfeit. 
These policies were revised in response to the nation's rising number of COVID-19 cases. Further topics such as reducing isolation time based on new CDC guidelines will be reviewed in a Wednesday meeting beind held by the A-10 medical advisory committee.
While this latest challenge has proved greater than any other so far, Fordham has battled through each test to come its way and will do the same here as it looks to start conference play.