Men's Basketball Stumbles at Dayton, George Washington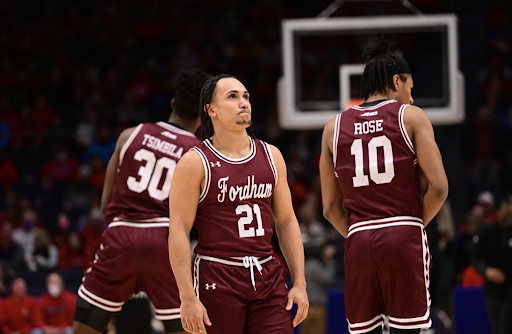 Basketball is often defined as a game of runs, and Fordham's latest stretch is no exception. That is not only true of the games themselves — two losses that followed a similar trend of falling behind early and catching up late — but the team's broader streak as well.
Fordham is currently navigating the waters of five straight losses in the Atlantic 10, now sitting with a 2–5 record in conference. It's an unfamiliar place for this roster, specifically, as they approach an apex in the season with just one month remaining. They have floated from the magical view at the top down to a familiar 11th place.
Word choice is important here, though. Fordham has certainly not collapsed nor disappointed by any stretch. In fact, they have played some of their most impressive basketball against the A-10's best. And in a conference where each game is won at the margins, the last two losses are games that Fordham will certainly want back.
First, Fordham headed west to one of the nation's most historic venues, UD Arena, in Dayton, Ohio. The series history could not be more in favor of the University of Dayton, leading the all-time series that began back in 1952-53 32-6 and winning 16 of the last 17 games.
However, that one outlier happened to be the most recent meeting. Fordham beat the Flyers 55-54 nearly one year ago at Rose Hill. A change of scenery and a number of new faces for one of the conference's youngest rosters meant a new result, though, as Dayton fended off a late burst by the Rams to hold on for a 68-61 victory.
Yet again, Fordham was forced to play without the services of graduate forward Chuba Ohams, who later returned against George Washington University from a nagging knee injury. They felt the blow of a lack of size too, getting outscored by a whopping 32-14 in the paint and a clean 12-0 sweep in second chance points. Fordham only converted seven free throws too in comparison to Dayton's 17.
Fordham knew that outside shooting was its only hope of a response. And in the first half, it did not work in their favor, shooting just 28% from deep and 32% overall from the field. Those numbers put the Rams into a 12 point deficit that a blazing second half could not overcome.
There, Fordham flipped the script to shoot 8-17 from the perimeter, cutting a Dayton lead that sat at 13 with three minutes remaining down to just six. As has been the story multiple times,, that late burst of energy brought the score no closer than that.
The reigning A-10 Player of the Week, graduate guard Darius Quisenberry, scored a team-high 17 with friends and family in attendance from his nearby hometown in Springfield, Ohio. That number does not reflect his shooting struggles on the night at 4-16 from the field. Sophomore Antrell Charlton had similar luck at 2-13, despite impacting the game in other ways with five assists and rebounds each.
Graduate guard Josh Colon-Navarro did his part to fill that void, dropping in 15 and shooting an efficient 60%. Sophomore Kyle Rose continued his hot shooting  by knocking down another three triples for a total of 15 points, continuing a stretch in which he has shot 11-15 from deep over his last five games.
The final outcome will certainly frustrate Fordham; however, it came against an opponent picked to finish near the top of the A-10. Dayton has proven it in the season's early going, since defeating the similarly regarded University of Rhode Island to improve to 6-2 in the A-10, thanks in part to A-10 Co-Rookie of the Week DaRon Holmes.
On paper, the same praise cannot be bestowed upon George Washington University. However, the Colonials have surpassed their place in the conference's preseason poll, sitting just one spot ahead of Fordham at the bottom. In a surprise to some, both teams entered Sunday's contest vying for sole possession of eighth in the A-10. George Washington took that honor in the nation's capital with a 64-55 victory over the Rams.
George Washington has been a difficult team to predict throughout conference play. On one hand, they have faltered against juggernauts like Dayton and Virginia Commonwealth University, losing to both by a combined 52 points. However, they also pulled out a nail-biting victory over George Mason and a shocking win over the Rhodies.
Unfortunately for Fordham, the team that showed up on Sunday looked much more of the latter. George Washington blazed out of the gates in its first game with fans back in the Charles E. Smith Center to fend off another late Fordham attack and preserve a 64-55 victory.
Things started off fairly even until George Washington broke loose with a 14-3 run to jut ahead in the first half. Fordham succeeded in making things manageable within the final minutes, carrying that momentum into a much-improved second half. There, Fordham pressed on the defensive end to make the Colonials uncomfortable, trimming the lead down to single digits and eventually seizing it by five around the six minute mark.
Just as everything looked to be heading in Fordham's favor, George Washington responded with a resounding 12-0 run that the Rams simply could not contain, resulting in the final scoreline.
The A-10's fourth best scorer, James Bishop, scored eight of those 12 as part of a game-high 25 points to be the difference-maker for the Colonials. Quisenberry  led the way for Fordham with 15, Rose hit double figures and Ohams notched another double double with 13 points and ten rebounds in his return to the lineup.
It was a difficult night for Ohams, limping throughout much of the game, but forced to play 32 minutes across short bursts to provide Fordham with the inside threat it needed against a physical team in Goerge Washington. 
In fact, much of the Fordham lineup was called into action on Sunday. Freshman Ahmad Harrison subbed in during key defensive moments as New Zealand product Zach Riley hit his first collegiate basket on a corner three in the first quarter. That is a good sign for a team facing depth concerns earlier in the year, yet neither Harrison nor Tsimbila managed a single point across their 26 minutes of action.
Numbers like that are a sign of the fact that Fordham's head coach Kyle Neptune is still figuring out the pieces in front of him. Quisenberry and Ohams have cemented themselves as the primary scoring options, but where will the points come beyond there?
That question still lingers, but one thing is for sure, this Fordham team will continue to fight for a full 40 minutes. They showed just that against Dayton and George Washington. Now, they can only hope to put together that same effort across a full 40 minutes.
The next opportunity to do that will be a big one as they welcome Rhode Island on Wednesday night — the first game where students will be allowed back into the Rose Hill Gym — before heading on a key three game road trip against Saint Joseph's University, St. Bonaventure University and finally Duquesne University. They hope a rematch with the last team they defeated will rekindle some winning fever for the remainder of A-10 play.