The Big 12 is The Top Dog in College Basketball
Dubbed the best conference in college basketball this season, the Big 12 is as loaded as ever and will likely be sending a significant number of teams to the NCAA Tournament. The familiar faces once again headline the conference. The everlasting joke of "the Big 12 is a one-horse race because Kansas wins it every year" is wildly invalid, especially now with the new players that have emerged over the years. 
Part three of my college basketball guide is here, and it's time to examine the Big 12. 
The Kansas Jayhawks Need No Introduction
The winningest program in the history of the Big 12, the Kansas Jayhawks are well within striking distance to make some serious noise in March Madness. A team centered around a soon-to-be All American along with a legendary head coach, Bill Self, "Rock-Chalk-Jayhawk" is once again in full effect.
The conversation about this college basketball staple must begin with Self. His 540 career wins at the University of Kansas is second all-time in program history, trailing the infamous "Phog" Allen. Self enters season 19 with another juggernaut of a team, staring down another Big 12 regular season title and potentially a conference tournament title.
Ochai Agbaji has been steadily improving over his four seasons at Kansas and has taken the leap to consensus All-American level this season, jumping from 14.1 points per game last season to an astonishing 20.9 points this year. His three point shooting is also video game-esque in terms of his percentages, shooting an unreal 46% from distance.
Junior guard Christian Braun is another player who has increased his output as a solid second option for the Jayhawks. Transfer portal grab Remy Martin has given the Jayhawks a solid point guard. The Arizona State legend provides them with defense and passing. Although he goes through spells with no discipline, Martin is still a capable point guard that keeps the ship afloat.
Senior center David McCormack eats everything up inside, and shares rebounding duties with promising sophomore forward Jalen Wilson. The Jayhawks also receive various contributions from a number of role players as well. Kansas is no doubt gunning for a top seed come tournament time, and in my estimation, can be a favorite to cut the nets down. Their most recent domination against Baylor only enforces this team's resume as well.
The Baylor Bears Want to Defend Their Title
Head coach Scott Drew has been the foremost contributor to Baylor's evolution into a blue blood program. In his first season, he was begging for walk-ons to join his team. Now, he has an NCAA championship to show for it.
The Bears rank in the top 20 in the nation in both offensive and defensive efficiency and have also joined in on the transfer portal fun by snagging former Arizona and Georgetown guard James Akinjo. Akinjo has brought speed bac
k to a Baylor team that lost Davion Mitchell and Jared Butler to the NBA, and acts as a reliable number one option for scoring (13.6 PPG). Sophomore LJ Cryer (13.9 PPG)  and junior Adam Flagger (12.7 PPG) also contribute as the second and third options.  
Though Cryer has been sent to the shelf with an injury, the Baylor team is aided by depth in the form of a few players. Freshman Kendall Brown provides an array of skills that can meet any of Baylor's needs. There is a reason he was a top 10 recruit in the nation. Also adding
to that depth is senior Matthew Meyer, junior Jonathan Tchamwa Tchatchoua and senior Flo Thamba, who all contribute with shooting, rebounding and defense in some capacity.
There isn't much to be said about Baylor at this point other than their recent struggles, especially in their recent stretch in the Big 12 against Kansas, Texas Tech and the Oklahoma State Cowboys. Some of these losses are due to lack of energy, injury or simply playing against better teams. The Bears will be back in the tournament, but these questions remain: Can they get healthy in time? Can they generate the chemistry from the beginning of the year? Do they have enough firepower to make another deep run?
The Texas Tech Red Raiders' Ruthless Defense
Mark Adams hasn't had a head coach gig since 1997 at Texas-Rio Grande Valley where he won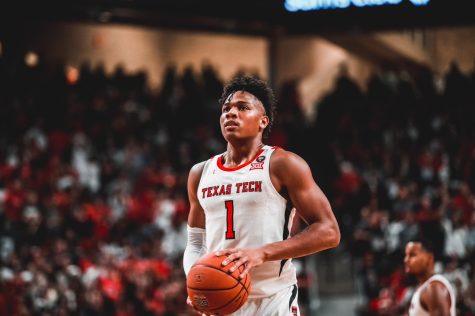 three games, but has been given a second chance with the Red Raiders and has turned them into an elite program with elite eight potential. 
There is no true star on the Red Raiders roster. Most would point to junior Terrence Shannon Jr. as the de facto star player, but he has been hurt for a majority of the year. Only playing in 12 games and averaging 10.9 points per game, Shannon has been relegated to a bench role where  he still finds ways to make an impact.
The Red Raiders also have found production in the form of multiple sources to account for their scoring in the form of three seniors and a junior. Senior Bryson Williams leads the team in scoring, but he does so in a committee type of role with help from fellow seniors Kevin Obanor and Davion Warren.
The defense is what gets teams into a debacle, especially with how Adams' team uses his gameplans to slow down opponents. The first step of that is the commitment to defense overall. Simple details such as moving your feet and communicating with your teammates add up. Utilizing the baseline and sidelines as extra defenders and denying things up the middle are what make the Red Raiders defense so tough to break; not allowing anything in the middle is crucial to their success.
Adams and the Red Raiders are a great story and what they have turned in this year with such an experienced team of juniors and seniors is everything you could ask for from a basketball program. They have definitely done more than tread water with the departure of Chris Beard and will look to smash expectations in the future.
The Big 12 is the most packed conference in college basketball by far, and writing an entire guide about all of the teams would result in this being a 10 page piece. But the Big 12 has about eight or nine teams en route to the NCAA tournament due to their strong resumes.