Men's Tennis Defeats Quinnipiac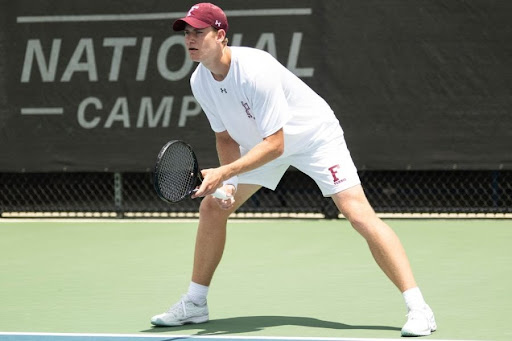 New head coach Nelson Peña notched his first win at the helm of the Fordham Men's Tennis Program over the weekend in Harrison, N.Y., as his talented squad trounced Quinnipiac 6-1. Coming off a discouraging performance last week at Cornell, the group showed resilience and dominated the Bobcats at the Life Time Athletic Club. Fordham Athletics has rented the indoor tennis facility, just south of Manhattanville College in Harrison, N.Y., for all of the Rams home matches through March 13. 
In mid-March, the Rams will play two consecutive road matches before returning to their true home, Rose Hill, on April 9 against Lafayette College. Last season, the Rams had the pleasure of playing the majority of their home matches at the USTA Billie Jean King National Tennis Center. While virtually no tennis facility can measure up to the site of the U.S. Open, the cozy indoor courts of the Life Time Athletic Club will have to suffice through the winter. 
The Rams came extremely close to getting the sweep on Saturday. Senior Juan Paredes dropped a heart wrenching 42-point tie breaker to Quinnipiac's sophomore number one Ayato Arakaki, being the only lost point of the entire day. Outside of Paredes' loss, the Rams played nearly flawless tennis, including junior Giorgio Soemarno not losing a single game over two sets in the six spot to Quinnipiac senior Bryan Schick. On the doubles side, the Rams were equally as dominant, racking up wins in all three doubles sets with relative ease. 
The Rams now move to 3-1 overall in the season and 1-1 in the spring semester. Peña's Rams will look to build some momentum from this dominant performance while heading into another intimating road match at an Ivy League school. This upcoming Saturday, the Rams will take one of their lengthier road trips of the season to Providence, R.I., to face yet another formidable opponent in the Brown University Bears. Although Ivy League Conference play has yet to begin, the Bears have had an impressive start to the year, notching five wins while only dropping one match. The Bears have also won their last four matches. Considering the road environment as well as the quality of their competition, defeating Brown would be a noteworthy accomplishment for Fordham. 
Looking even further ahead, the Rams are seeking to improve on their 6-6 record from last season under a new head coach. With a strong foundation being laid in the fall, Fordham has a long spring season of both conference and non-conference play ahead of them before the Atlantic 10 Championship arrives at the end of April. The frequency matches will begin to pick up in the coming weeks as the Rams look to build a successful season.