Squash Returns To Action After Long Layoff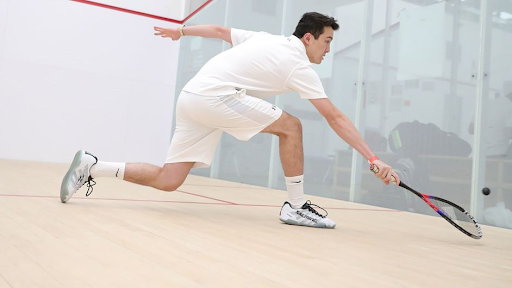 Fordham Squash returned to the court this week for the first time since Dec. 4 at the Northeastern Round Robin in Boston. The Rams were originally scheduled to play last weekend, but the winter storm in the New York area forced those matches to be canceled.
Fordham opened up the Northeastern Round Robin on Saturday with a match against the Cornell Club team by a score of 7-2. Despite the loss, the Rams got victories from seniors Patrick Rodden and Dylan Panichello. Rodden defeated Daanyal Agboatwalla at first position in three games, 11-8, 11-2, 11-2. Panichello got the better of Cornell's Noah Liao at seventh position in five games, 9-11, 6-11, 11-3, 11-8, 11-9.
Later that day, the Rams looked to rebound against Northeastern in their second match of the Round Robin. Unfortunately, Northeastern got the better of Fordham, winning 8-1. Fordham's lone victory in the match came from sophomore Henry Frawley, who defeated Alexander Swenson at second position in four games, 12-10, 11-4, 4-11, 11-4. 
After the disappointing results on Saturday, Fordham had a chance to get back on track on Sunday with matches against Boston College and Boston University. The Rams opened the day in just the right way, defeating the Eagles in a narrow 5-4 victory. Impressively, all five of Fordham's wins came in three game sweeps. Frawley got things going for the Rams at second position, defeating Brendan Wise, 11-8, 11-7, 11-6. The Rams then got victories from senior Winthrop Reed, freshman Sofia Arseniev, Panichello and junior Caleb Schumacher.
The Rams built on their momentum from this win in their second match on Sunday against Boston University, winning 6-3. Frawley, Reed, Arseniev, Panichello and Schumacher all earned their second victories of the day, with sophomore Nicholas Choo also contributing a win for the Rams. Choo defeated Jason Gao at sixth position in four games, 12-14, 11-9, 11-9, 11-7. After a slow start on Saturday, the Rams were able to rebound the next day to finish at 2-2.
On Tuesday night, the Rams continued their busy stretch of games as they traveled to Connecticut College to take on the Camels. Fordham suffered a tough road loss, losing to the Camels by a score of 8-1. The Rams lone victory came from Panichello, who beat Mike Achatz in four games, 9-11, 11-9, 11-5, 11-7.
Fordham will be back in action on Saturday with matches against Bucknell University and the Princeton Club team at the Lombardi Squash Courts.