Flores' Racial Discrimination Lawsuit Highlights NFL's Diversity Downfalls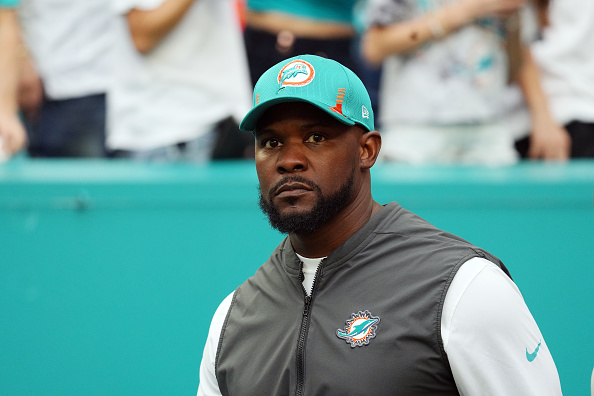 The National Football League (NFL) is no stranger to issues of diversity and inclusion, both on and off the field. While the NFL has touted shifts to support racial justice and equality in recent seasons, a lawsuit filed by former head coach Brian Flores confirms that racial discrimination is still deeply ingrained in the league. 
This season, players were allowed to choose one of six messages to put on their helmets regarding social justice, and fields could stencil the slogans "it takes all of us" and "end racism" on the end zones. 
The Washington Football Team recently chose a new name, the Commanders, which marked a shift from their controversial former name, the Washington Redskins. However, are these adjustments enough to mark a change in a league that has been so behind in adapting? Flores would say that they haven't. 
On Feb. 1, Flores filed a lawsuit against the NFL and primarily three of its teams (the Denver Broncos, New York Giants and Miami Dolphins) alleging discrimination in their hiring practices. In a league already surrounded by issues of racial justice, the NFL needs to do more to support the hiring of Black coaches and staff in the NFL. 
Currently, 70% of the active players on the NFL's rosters are Black, but coaching-level positions don't reflect this diversity. The NFL currently has one primary rule for supporting diverse leadership and hiring practices. The Rooney Rule, adopted in 2003 and most recently amended in 2021, states that every team needs to interview a minimum of two external minority candidates for head coaching positions, general manager and other front-office positions. The NFL believed that this would be enough to strengthen its stance regarding diversity off the field, but it has yet to yield results. There is currently only one Black head coach, the Pittsburgh Steelers' Mike Tomlin, in the NFL. The evidence is clear: the Rooney Rule does not promote diversity in the League.
Even with the rules requiring a diverse hiring practice, the NFL doesn't have an established rule about actually hiring diverse candidates. This is where the idea of sham interviews comes in. 
Flores alleges in his lawsuit that he was subjected to several sham interviews; teams would interview him to fulfill their quota of minority candidates for the job. Flores claimed that this happened when he interviewed with the Denver Broncos before coaching for the Miami Dolphins. He stated that the general manager and the team's president showed up an hour late to the interview and that it was clear that they didn't consider Flores a legitimate candidate for the job. The Broncos went on to hire Vic Fangio. 
This is not the only instance where a head coaching candidate has been subject to sham interviews. In his lawsuit, Flores names several others that have been subject to discrimination and other former coaches have spoken out about having sham interviews with NFL teams.
There's another reason that NFL teams seem to have less diversity regarding coaching: minority coaches are less likely to be given second chances. This is shown in a  2019 academic analysis commissioned by the NFL. Looking at the list of coaches that have led at least three teams without winning a Super Bowl, there is one commonality: all of them are white. Yes, some Black coaches are given second chances with different teams, but not often. Black coaches in the NFL are held to unrealistic expectations and face double standards regarding their performance as coaches. 
In 2018, the Arizona Cardinals fired Steve Wilks from the head coach position after one season, even though the team had poor prospects and some questionable choices in the draft. This year, the Houston Texans fired David Culley after one season for producing the same record as the year before, even though he had years of experience in coaching and a lack of high-impact players. Black head coaches are expected to turn teams around in a single season, taking them from the bottom tier to playoff-run capabilities. 
White coaches like Dan Campbell of the Detroit Lions are not held to such high expectations. The Lions have been a terrible team for decades in the NFL and went 3-13-1 this season, but there are no signs of firing Campbell from his position. If anything, people are optimistic about the coach. The NFL has skewed expectations of their Black coaches, negatively impacting the hiring process and practices, despite the Rooney Rule. 
The issue has reached a point where one coach is willing to throw away potential job opportunities in the NFL to fix it. In a statement, Flores said, "I may be risking coaching the game that I love and that has done so much from my family and me. My sincere hope is that [by] standing up to systemic racism in the NFL, others will join me to ensure that positive change is made for generations to come." 
So, what can be done? First, there needs to be Black ownership and leadership in the NFL. There are no Black owners of NFL teams, which means that their voices aren't being represented.
Furthermore, if there were more Black general managers, there would be more representation in who has a say about hiring coaches. Flores also said that there should be more accountability, transparency and enforcement of policies within the hiring process. There should be accountability for teams that continue to uphold old practices and do not achieve demographic change in their hiring practices, which can be done if teams are forced to be more transparent about their reports and decision-making process. Only then can the league start working towards change.
It's one thing to stencil racial justice slogans into the end zone. It's another to create positive change and diversity. The NFL needs to make a significant change to its hiring practices. Hopefully, Flores' lawsuit will create this change for the next generation of coaches.
Samantha Scott, FCRH '24, is an international political economy major from Columbus, O.H.