Rams Split Up To Compete In Two Invitationals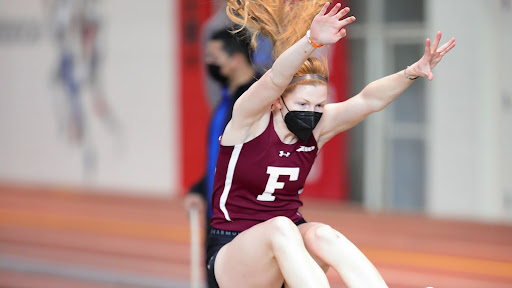 In a busy weekend for the Rams, the men and women's track and field team participated in both the Rutgers Invitational at the Armory Track & Field Center in New York and the BU David Hemery Valentine Invitational in Boston. While the Rams managed to secure one first place victory, both teams brought home multiple top 10 finishes. 
The sole first place finish came from graduate student Kathryn Kelly in the long jump event on day one of the Rutgers Invitational. Kelly won with a school record mark of 5.92m, breaking the previous mark of 5.85m set by Kerstin Greene in 2007. Also adding a top 10 finish in long jump was sophomore Skylar Harris with a mark of 5.39m. 
Four Rams went on to compete in the 400m, led by senior Dominique Valentine, who posted a season-best time of 58.25 seconds, coming in 13th overall. Sophomore Michele Daye recorded the next best time of 1:00.77 coming in 34th overall, followed by junior Ruby Avila in 41st (1:02.40) and sophomore Sophia Crucs in 46th (1:03.12).
Kelly also competed in the day two semifinals of the 60m dash, along with teammate junior Kyla Hill. Kelly posted a time of 7.73 seconds and Hill came in at 7.78 seconds. The last women's event on day one was the 1000m, where sophomore Abigail Llach was 23rd overall in 3:07.21 and senior Angelica Piccini finished 25th in 3:10.52.
On the men's side, the Rams had a couple strong performances with senior Alec Wargo, who took eighth place in the weight throw with a mark of 14.17m, and sophomore Justin Lombardi, who was eighth in the 1000m (2:30.83).
 In the 400m, two Rams secured placements. Juniors Erik Brown and Safo Kirton placed 17th  (51.06 seconds) and 26th (54.38 seconds), respectively. The 60m dash allowed senior Manuel Alfonso Guzman to finish 21st overall in a time of 7.32 seconds. Wrapping up day one was the long jump, where Rams sophomores Justin Rhee and Eric Galante both secured top 15 finishes at 7th and 13th, respectively.
Day two of the Rutgers Invitational brought more strong finishes from a lot of the track & field Rams. One Ram in particular, Kelly, had a busy weekend. Kelly added another strong performance to the books by making the finals of the 60m dash, qualifying for the final with a 7.69 second finish. Her teammate Hill finished in 7.83 seconds for 15th place in the semifinals, failing to make a place for the finals. Kelly then posted a time of 7.80 seconds in the final for ninth place overall. Kelly and Harris both participated in the 200m dash, with Kelly locking down tenth overall (24.91 seconds) and Harris in 30th (26.17 seconds).
Three women went on to race in the 800m with Llach being the top performer in 25th place (2:22.06). Sophomore Marin Bogulski was close behind in 28th place (2:22.53) and Piccini was 32nd (2:25.04). The last event of the day, the 4×400 relay, featured runners Daye, Valentine, Avila and Bogulski who finished tenth overall (4:06.25).
Wrapping up the invitational, the men competed in six events with three top ten finishes. The 4×400 group of Brown, Kirton, Lombardi and freshman Isaiah James, finished ninth with a time of 3:28.02. Rhee took ninth in the triple jump for the Rams. Brown and Lombardi also showed their skills in two individual events. Brown registered a time of 1:21.22 in the 600m, good for fourth overall, while Lombardi was 29th in the 800m (1:59.82).
 The final competitors for the Rutgers Invitational were junior John Arvantides in the 3000m, who took 28th with a time of 9:24.08, and Galante posting a time of 23.85 seconds in the 200m, finishing 34th.
However the Rams were not done yet, as they also participated in the BU Valentine Invitational this past weekend. The Fordham women opened up day one with senior Helen Connolly in the 800m, posting a season-best and ECAC qualifying time of 2:13.72, landing her in 45th overall. Senior Jilli Jones joined her in ECAC qualifying by posting a time of 2:14.22, locking down 49th place. 
 More Rams added placements in the mile run, in the form of senior Bridget Alex and junior Nicoleta Papavasilakis. Alex finished in 114th, recording a season-best time of 5:05.52, while Papavasilakis clocked in at 5:21.19, landing her in 176th.
 Over in the field, senior Casey Metzler had her best throwing performance of the season, posting a mark of 15.41m, allowing her to finish 11th overall. In the shot put, junior Amanda Gurth finished 27th overall with a distance of 10.48m.
 The final event for the Rams was the 3000m run, where Fordham saw another season-best performance. Graduate student Germaine Harbaugh posted a season-best time of 10:08.84, finishing in 98th place, followed by freshman Madeleine Ryan in 160th and junior Alexandra Thomas in 163rd.
Day two saw only one competition for the women with ​the women's distance medley relay. In that relay, Fordham's team of Jones, Connolly, junior Taylor Mascetta and senior Bridget Alex finished ninth in an ECAC qualifying time of 12:01.09.
While day one did not feature any events for the men, day two featured tons of great placements for the men's team. The men added four new IC4A qualifying times, which began with sophomore Steven Zucca taking fifth in the 5000m run in an IC4A qualifying and season-best time of 14:42.37.
 In the mile run, freshman Roldofo Sanchez, who already qualified for the IC4As, improved his season-best time of 4:11.94. Sophomore Daniel Asher also posted an IC4A qualifying time of 4:14.38. Senior Jeremiah LaDuca qualified for the IC4A Championship by finishing 19th overall in the 800m in a season-best time of 1:50.40, followed by senior Zalen Nelson in 29th (1:51.66). 
The last of the IC4A qualifiers was senior Brandon Hall, as he improved his 3000m time to 8:18.52. In the 3000m, freshman Nathan Bezuneh posted his best time of the season at 8:32.70, which was 26th, while junior Colin Flood came in at 8:35.16 at 35th. Lastly for the Rams was graduate student Andrew Ramsammy, who tied for 12th overall in the high jump, clearing 1.86m.
The Rams now face a huge competition in two weeks: the Atlantic 10 Championship, where hopefully they can bring home a big win for Fordham.