Squash Wins Three Out of Four to Conclude Regular Season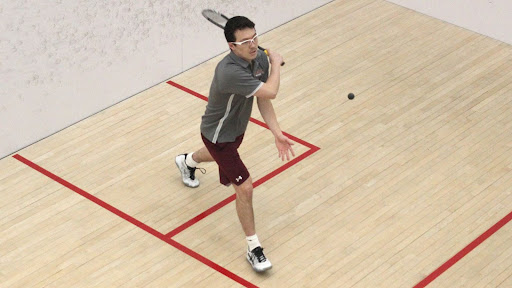 Fordham Squash concluded its regular season this past weekend with four home matches at the Lombardi Squash Courts. In what has been an up and down campaign thus far, the Rams looked to head into the CSA Team Championship next weekend on a high note. 
First up for Fordham was a matchup against the Bucknell University Bison on Saturday, Feb. 12. Despite starting the contest with a 1-0 lead due to a default from Bucknell in the ninth slot, Fordham came up short, losing just 5-4. The Bison dominated the top portion of the lineup, winning in slots one through four. However, the Rams rebounded in the lower slots with big victories from senior Winthrop Reed in fifth position, freshman Sofia Arseniev at sixth and sophomore Nicholas Choo at seventh to even the contest at four. Unfortunately, the Rams couldn't win the all-important fifth point, as senior Dylan Panichello fell to Bucknell's Cameron Hill at the eighth slot to seal the victory for the Bison.
The Rams immediately rebounded later on Saturday with a comprehensive 7-2 win over the University of Pennsylvania  Club team. Unlike against Bucknell, Fordham started out fast in this match with victories in the top two slots from senior Patrick Rodden and sophomore Henry Frawley to give the Rams an early 2–0 advantage. This success continued throughout the rest of the lineup, with Reed, Choo, Panichello, junior Caleb Schumacher and freshman Aarav Jhunjhunwala all contributing victories for the Rams.
Fordham carried this momentum into its  two matches on Sunday, Feb. 13, resulting in two dominant wins for the Rams. First, the Rams dismantled Lehigh University with a triumphant 9–0 shutout in which the Rams didn't lose a single set. The complete sweep saw junior Justin George and freshman Robert Cruikshank capture their first victories of the weekend. Other successful Rams included Reed and Choo, who added on to their two wins from yesterday with sweeps in the fifth and seventh slots, respectively. 
In its final match of the regular season, Fordham defeated an undermanned University of Connecticut team by a final score of 8-1. UCONN only had five players at its disposal, meaning Fordham started the contest with an automatic 4-0 lead. The Rams won four of the five contested games, getting wins from Reed, Panichello, Schumacher and Jhunjhunwala. Reed's victory made him the only Ram to go a perfect 4-0 over the whole weekend.
The Rams ultimately end the regular season with a record of 9–11, including three consecutive wins to finish the year. Next, Fordham has their sights set on the CSA Team Championship in Philadelphia beginning Friday, followed by the CSA Individual Championship in March.