Men's Tennis Swept at Brown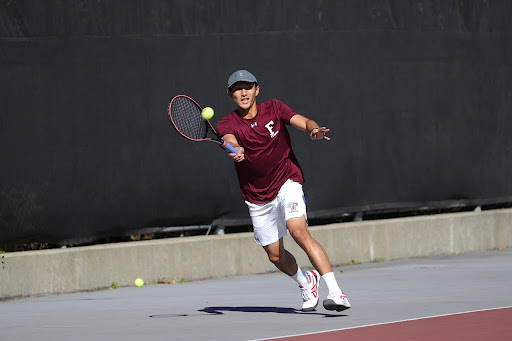 Coach Nelson Peña's inaugural year leading the Fordham men's tennis team has posed many challenges. He has already had to face two Ivy League opponents on the road. This past Saturday, the Rams' latest contest brought them to the fourth floor of the Paul Bailey Pizzitola Memorial Sports Center on the campus of Brown University in Providence, R.I. The roof of the Brown facility consists of teflon-coated fiberglass which allows natural light to shine through, providing a picturesque scene on a sunny February Saturday.
While the backdrop was pretty, the results were not. Similar to two weeks ago at Cornell, the Rams were only able to grab a single set in singles and doubles play combined. That set was won by Oregon transfer Gio Soemarno. The junior has just now launched his Fordham career after being ruled academically ineligible last semester by the NCAA's "progress towards degree" rule, commonly known as the "40-60-80" rule. The rule mandates that athletes must complete 40% of their degree by the end of their second year, 60% of their degree by their third year and 80% of their degree by the end of their fourth year. Soemarno transferred into the Gabelli School of Business, which has far more stringent requirements than the degree Soemarno was pursuing at Oregon. Thus, in order to become academically qualified at Fordham, he would have to complete 40% of his Gabelli degree before being cleared to play. Now that he has successfully completed his fall semester course work and been ruled eligible, Soemarno has quickly emerged as a valuable player for a Rams team that has been overmatched at times this season. 
Last week against Quinnipiac, Soemarno didn't give up a single game in his win over Bryan Schick. While this was in the six spot against an opponent Fordham expected to beat, that level of consistency bodes well for the rest of his debut season at Fordham. 
This upcoming Saturday, the Rams will look to get back on track at home against St. Francis Brooklyn. That 3 p.m. matchup will be played in Harrison, N.Y. at the Life Time Athletic Club, Fordham's current winter home court.