Men's Basketball Upends Duquesne, Falls to VCU at Rose Hill Gym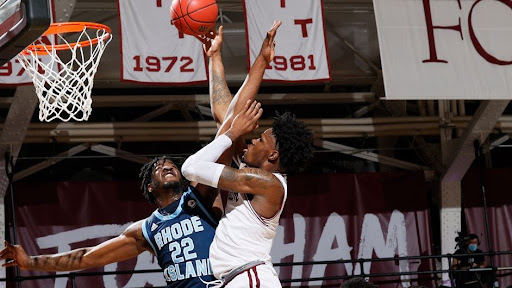 Two very different opponents yielded two different outcomes for Fordham Men's Basketball. The Rams returned to the win column on Saturday with a strong victory over Duquesne University and followed it up with a one-sided defeat against their nominal counterpart in Virginia Commonwealth University (VCU) this past Tuesday. Fordham now sits at 11–13 on the year, 4–7 in the Atlantic 10 Conference. 
Fordham entered Saturday's contest against Duquesne aiming to take away some positives from an otherwise challenging three game road trip. It started with a 72–69 loss against Saint Joseph's, a game that by all accounts, Fordham will feel they should have won. Last Tuesday's meeting against St. Bonaventure told a different story as the pre-emptive A-10 favorites handed Fordham its worst loss of the season, 76–51.
Seeing an opponent they had already beaten brought some recollections of the basketball Fordham was playing a little over the month ago.  Even without graduate guard Darius Quisenberry, the Rams' leading scoring threat, Fordham withstood the Dukes, 65–54.
Some may immediately point to the quality of the opponent compared to others Fordham has faced. Duquesne entered Saturday riding an eight game losing streak to fall to the bottom of the A-10, sitting 6–15 overall, 1–8 in conference.
However, as has been proven time and time again throughout this college basketball season, especially in the A-10, each opponent must be respected the same. That has been Fordham's approach all year long and it paid off against Duquesne in one of the team's best collective efforts yet.
Countless categories prove that to be the case. Take a 48–25 advantage in the rebounding battle, an area Fordham has lived and died by this year. Graduate forward Chuba Ohams led the charge there with 14, combined with 18 points for yet another double double. Add in another eight rebounds from sophomore Abdou Tsimbila, a career-high, and those two alone nearly matched Duquesne on the boards.
Shooting finally picked up the pace, too. Fordham shot it 41% overall, an equal number from deep and nearly 89% from the free throw line. Most importantly, that did not come from just a single player. Four Rams finished in double figures, as alongside Ohams, junior Kyle Rose dropped in 10 points and graduate guard Josh Colon-Navarro poured in another 15.
Then there is sophomore Antrell Charlton, tasked with raising his game in the wake of Quisenberry's injury and doing so by hitting double figures for a second consecutive game with 11. 
Alongside scoring, each player contributed to the game in a number of other ways. The aforementioned rebounding is one, with Colon-Navarro grabbing five and Rose and Charlton securing six apiece. Sophomore Pat Kelly added four off the bench and the team had 16 offensively, tying a season-high.
Charlton led the way in assists with six there, too, and Rose dished out another five. All together, Fordham assisted on 16 of its 25 made baskets. Defensively, the Rams once again shut down their opposing team's best player, limiting Primo Spears to just eight points on another difficult shooting night.
All of that contributed to a much-needed wire-to-wire victory for the Rams. They led by 10 at the half, 34–24, and fought off each of the Dukes' second half runs to preserve an 11 point margin. It appeared as if things would even up late, but as they did against Rhode Island, Fordham stood its ground.
It's yet another sign that though things have been challenging at times, Fordham's entire roster is worthy of competing at the A-10 level. As the team continues to battle short of full strength, each of those contributions will be just as valuable as the next. When it all clicks together, it can result in a win, regardless of who they come against.
However, it took a bit too long for that same fortune to befall Fordham on Tuesday as the home Rams could not maintain their winning ways against A-10's now second-best, VCU, who improved to 8–4 in conference following a closer-than-expected 66–61 victory.
It was a tale of two halves, as has been the case much of this season, with a dismal first on both ends of the ball countered by a resounding effort in the second to cut a lead that once grew to as much as 17 down to just single digits.
Fordham allowed 40 points in the opening frame to the conference's worst offense — scoring just under 65 points per game — 26 of which came in the paint. Much of that production stemmed from a press defense, which VCU has hounded opponents with in recent history.
Coach Neptune referenced that defense as the number one thing that differentiated VCU from any other opponent Fordham has played, saying, "It's hard to mimic that speed and athleticism no matter what you do." Because of that, he felt Fordham was, expectedly, a bit stunned in the beginning.
As Neptune often says, the goal is to play a complete 40 minutes. Once Fordham found its footing, things began to change.
Fordham responded with a much cleaner, more aggressive second half, outscoring VCU 35–26. The difference came in taking care of the ball and adjusting to that defense. After committing 15 turnovers in the first half, Fordham responded with just two in the second, trimming VCU's 18 points off turnovers down to just four.
Another disappointing shooting night marred that effort, however, sitting at just above 30% in each half and an abysmal 1–12 from deep in the second alone. Ohams, whom Neptune credited as the "heart and soul of this team," accumulated 14 points and 12 rebounds for his 14th double-double of the year, despite committing six turnovers.
Colon-Navarro's contributions, offensively and defensively, resonated most. The senior guard scored a season-high 20 points, including a perfect 9–9 at the line. Collectively, Fordham converted 21 of 27 attempts there. He also played a large part in holding VCU to just 30% shooting in the second half. "He's playing a little desperate, which is a good thing," Neptune said. He also credited that defense, stating, "Josh is one of the best on-ball defenders, I think, in the country."
His contributions have proved especially valuable as Quisenberry continues to navigate a day-to-day injury, representing the one missing piece Fordham likely feels they could use for a game like this one to end up differently.
Fordham will hope to see his return as it hosts two more games at home, welcoming  George Mason University on Sunday followed by a Wednesday night contest with La Salle University. 
Fordham's goal is to play harder than its opponent, regardless of the opponent. "Doesn't matter if it's a home game, an away game, a championship game, the first game of the year. It's all the same to us." Regardless of the outcome, Fordham has certainly met that expectation.