What Tania Tetlow Means For Fordham University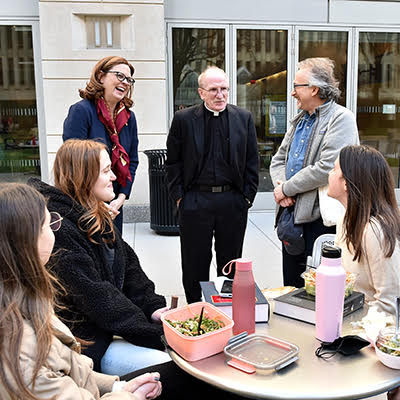 Fordham's newly appointed president Tania Tetlow is changing Fordham University's history by becoming the first layperson and female president elected. Her plans for the school are uncertain, but her connection to the Jesuits is not.  
The positive statement of change is only semi-reflective of emotions regarding the demographic change for the university president. Some older alumni and donors were not exhilarated with the board's decision to stray from ordained members of the Jesuit community. Rev. Joseph F. McShane, S.J., president of the university, explained that the decision to look beyond the Jesuit order and to consider Tetlow was a unanimous decision of the search committee. 
He further justified the change as a result of the decrease in Jesuits worldwide. Prior to introducing Tetlow, McShane went on to explain the search committee's unanimous decision to elect the non-ordained candidate. With only 2,036 Jesuits currently in the United States, primarily over the age of 70, and only 34 new members this year, McShane explained that the search committee had to make a decision that was in the best interest of the university.
So why is Tetlow in the best interest of the university? 
Tetlow's presidency is not only a shift from Jesuit leadership but also male leadership. Personally, I would have expected the first layperson president to be male, but am excited to see this appointment breaking historical barriers. If the university had elected a 70-year-old Jesuit, it may have restricted future growth, as many students move away from traditional forms of faith. The decision to hire Tetlow solidifies the university's desire to do what is best for a diverse community rather than what is expected or traditional. 
The search committee felt confident that Tetlow's skill set would be enough to overcome objections for changing the historic face of the university. Yet, during her introduction, Tetlow spent most of her time justifying her future position at the university. Tetlow explained the connection she has to Fordham and the Jesuits rather than the plans she has for the university. 
Tetlow's father spent 17 years as a Jesuit before pursuing marriage and starting a family. Her parents met as graduate students at Fordham. Tetlow said that although she did not attend a Jesuit institution, she grew up with Jesuit principles like cura personalis. 
Due to pushback from older alumni and donors on the committee's decision to elect a non-ordained president, Tetlow's focus was on winning them over by proving her connection to Jesuits and Fordham. 
As a current student, I was excited for the change in demographic and wished she had spent more time explaining her plans on adjusting to Fordham life and her plans for the university's future. 
I hope that during her time as president Tetlow focuses on making a change on campus, especially as things slowly return to normalcy from COVID-19. Socially, the school has a lot of opportunities for growth with getting students more involved in community-based activities and participating in outreach in the local Bronx community. McShane put a lot of focus on expanding the university's diversity, and I would love to see Tetlow continue on that path. 
At the moment, what Tetlow will bring to the university is uncertain. Once in office, I hope Tetlow makes changes and does not sidetrack opportunities for growth by spending her entire time justifying her position as president. 
It was a matter of time before Fordham chose a leader apart from the Jesuit order. By having the face of the university be a layperson, it is easier for non-religious students to feel comfortable and included in a community. Tetlow marks a change from the traditional Jesuit order. In the future, I hope she means growth and opportunity socially, academically and spiritually for all Fordham students.
Keagan Ostop, FCRH '25, is a journalism major from West Hartford, Connecticut.