Men's Tennis Wins One, Drops Two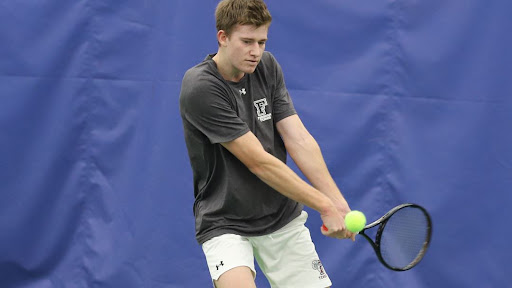 Thus far, the Fordham men's tennis team's season has been almost evenly divided between a handful of elite Ivy League programs and a group of mid-major schools that should pose less of a challenge for the Rams. In the past two weeks, the Rams faced two lower level opponents — St. Francis Brooklyn at home and Division II Queens College on the road — in addition to a road matchup with the Marist Red Foxes on Sunday. 
Two weekends ago in Harrison, New York, sophomore Nicholas Kanazirev notched the only point for Fordham in their loss against St. Francis. Freshman Aaron Ventura and senior Juan Paredes both participated in what turned out to be two of three matches that concluded with an "unfinished" official result. The third doubles match featuring junior Gio Soemarno and Ventura also did not conclude. While three matches against St. Francis went unfinished and technically did not count, taking only a single point from a cross-town opponent is not what head coach Nelson Peña wants to see from his Rams. 
After falling short at home to St. Francis, the Rams had another local match at Queens College of the East Coast Conference. The Knights of Queens College have yet to record their first win of the 2022 season. The Rams certainly needed a win coming off a disappointing loss at home to St. Francis, and Senior Jofre Segarra, alongside Kanazirev, helped the Rams secure that victory, as each took their matches in straight sets. Kanazirev's play has undoubtedly been a bright spot for the Rams over recent weeks. The Austrian born sophomore won his previous two singles contests without dropping a single set, before losing his match Sunday at Marist.
The day following their road win in Queens, the Rams traveled two hours north to tackle the Marist Red Foxes of Poughkeepsie, New York, where they were defeated 4-3. Fordham's top tier lost all three of their singles contests, but the 4-6 hole players did their job on Sunday, winning all of their matches, with two of three being straight set victories. The team result came down to the third doubles match, featuring veteran faces in senior Tom Russwurm and Soemarno. In a tightly fought struggle, Fordham succumbed 7-6, securing a home win for the Red Foxes.
Through nearly the first two months of the spring 2022 season, the Rams have faced five Division I programs and have only managed one victory in those matches. Standing at 4-4 to start the 2021-22 campaign is not bad by any standards, but the Rams will decidedly need to improve their form before the Atlantic 10 tournament in late April. They will look to regain some momentum at home this weekend when the Naval Academy's tennis team visits them in Harrison.