Overtime: Another Chapter Closed in College Basketball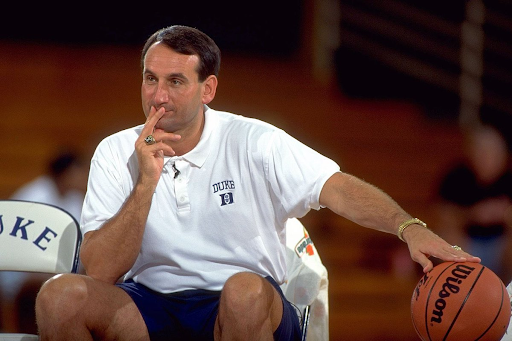 March 5, 2022, will always hold a bittersweet place in my heart, as it will for many Duke University Basketball fans across the country. It marked the last home game of legendary coach Mike Krzyzewski, "Coach K," against his arch rivals, the University of North Carolina Tar Heels. Surrounded by countless Brotherhood alumni and the Cameron Crazies, the legacy Coach K has left upon college basketball is hard to put into words.
Every year at Duke, the newest incoming class brought in more and more talent. Yet, many of them left  after just one season. One man was a constant: Coach K.
Predicting just how successful Coach K became seemed impossible. After playing point guard at Army West Point for four years under another legendary coach, Bob Knight, he never seemed to be that amazing of a player. Aside from captaining his senior-year team to a fourth place finish at the 1969 National Invitation Tournament, Krzyzewski never put up phenomenal numbers.
Krzyzewski shined not on the court, but rather on the sidelines. At 26 years old, he joined his former coach on staff at Indiana University, and played a role in the historic 1974-75 season in which the Hoosiers went 29-0 in the regular season. That run has gone down as one of the best teams in Indiana history, being tragically taken out of the NCAA tournament in the Elite Eight by the University of Kentucky. Kryzyzewski headed back to his alma mater after a year in Indiana, and then five seasons later, he took on the role of head coach at Duke University.
Kryzyzewski seemed to be a gamble for Duke, as his team finished 9-17 in his last season at Army. In his opening media address, he light-heartedly opened with a spelling of his name and Kryzyzewski said, "You feel, kind of a situation, where things feel right for you. Duke felt right for me." The first few seasons of Coach K at Duke seemed to pale in comparison to the dominance occurring just 10 miles up the road at UNC. As a young Michael Jordan began his career in 1982, he led his team to a National Championship, while Duke struggled to make the NCAA tournament during that time.
Duke did not get their first run at the championship game under Coach K until 1985, but suffered a defeat to the University of Louisville. However, the Blue Devils have remained tournament regulars for almost every single year since. 
When the 1990-91 season rolled around, Duke had an all-star roster. Junior Christian Laettner, sophomore Bobby Hurley and freshman Grant Hill ran the tables, all the way to the NCAA Tournament, where they faced Roy Williams of later UNC fame and the Kansas Jayhawks. They upset the favorite defending champion University of Nevada, Las Vegas in the Final Four, 79-77, which became one of the biggest upsets in tournament history. Duke was an eight point underdog in the game and avenged their previous year's loss. In front of 47,185 fans in Indiana, Duke beat Kansas 72–65, and went on to win back-to-back championships in the next season. One of the most famous shots came out of that 1992 season. One of the most hated players of the tournament, Laettner, made a buzzer beater off of a lob from Hill to beat Kentucky in the Final Four.
Duke went on a national title drought until the 2001 NCAA Tournament, with the help of senior Shane Battier and sophomore Jay Williams. With his third national championship, Krzyzewski tied his mentor Knight for third place for most national championships for a college coach.
The 2010's national championships hold very fond memories for me, with the jam-packed rosters of the 2010 and 2015 championship-winning teams. Senior Jon Scheyer, one of the best three-point shooters in the ACC and junior Nolan Smith were on that 2010 team. After lackluster pro careers, the duo returned to Duke to help as assistant coaches under Coach K. 
In  summer  2021, Krzyzewski announced that the 2021-22 season would be his final as a coach. For many fans, this did not come as a surprise, as longtime rival coach Roy Williams departed UNC just a season prior. Announced as his successor was none other than Scheyer. Familiarity set in at his introductory press conference, as Scheyer opened with, "So I don't want to break any traditions yet, should I spell my last name?" There was no doubt in Krzyzewski's mind that his right-hand man for the past eight years was ready for the job of head coach. It was just a matter of time until he stepped back from college basketball.
Aside from his time at Duke, Krzyzewski also coached in the Olympics, in which he totaled  three gold medals from the 2008, 2012 and 2016 Olympics. He was the head coach of the U.S. team that won gold medals at the 2010 and the 2014 FIBA World Cup and an assistant coach for the famous "Dream Team" at the 1992 Olympics. With five national titles, 12 Final Fours, 15 ACC tournament championships and 13 ACC regular season titles, Coach K is arguably one of the best coaches in college basketball history.
Coach K was not only successful in recording wins and amazing recruits, but he created the dynasty and prestige of what Duke Men's Basketball should be. The Brotherhood, united under the 42 seasons of Coach K at Duke, showed how important it was for players to love one another and the game they play. Although the send off game for Coach K left more to be desired, Krzyzewski will remain one of the college greats for years to come.