Men's Tennis Falls to Navy Before Heading to South Bend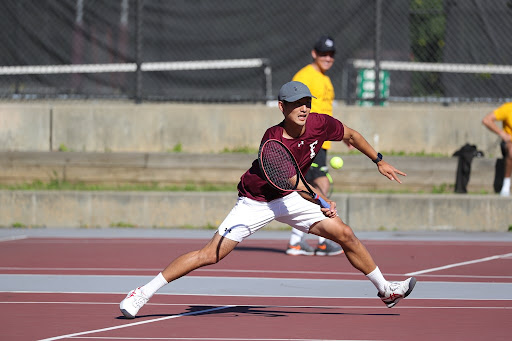 Following a 1-1 weekend that included a win over Queens College 4-3 at home and a loss to Marist College 3-4 on the road, the Rams looked to get back to their winning ways last weekend against the Naval Academy, but fell just short again by the score of 3-4. 
The Fordham Rams have played sub .500 tennis since resuming after winter break. While their 2-5 record in 2022 does include two road losses at Ivy League schools, being unable to notch wins at home against St. Francis Brooklyn and Navy has made for an underwhelming start to the spring season. 
The Rams' poor record at home has been a theme all season. Granted, men's tennis hasn't had the luxury of playing at the Hawthorn-Rooney Courts on the Rose Hill campus since late October of last year, as the facility is outdoors. For months now, the Rams have played their home matches in Harrison, New York,  about 30 minutes north of Fordham's Bronx campus. Being denied a legitimate home court advantage, the Rams have been forced to scratch and claw for each one of their wins against Division I opponents. 
While playing in Harrison might not be ideal for the Rams, it's not nearly as arduous as when they flew commercially to South Bend, Indiana, to face off against the Notre Dame Fighting Irish on Sunday. Notre Dame played two matches, first against Clemson at noon before their match against Fordham at 4:30 p.m.. To begin the day, the Fighting Irish dominated the Clemson Tigers en route to a 4-1 victory. Notre Dame took only a few hours off before facing the Rams in the late afternoon. While Notre Dame did not sport the exact same lineup as their morning match, the graduate student pair  Aditya Vashistha and Peter Conklin took straight set victories from the Rams, after playing earlier in the day against the ACC's Clemson. Vashistha and Conklin ultimately led the Fighting Irish to a decisive 4-0 sweep of the visiting Rams. 
The fact that the Rams were unable to secure a single set during their trip to Indiana will certainly be viewed as disappointing to head coach Nelson Peña, but this trip to Notre Dame was never truly about results. When a mid-major team such as Fordham goes on the road to face the 32nd squad in the nation, the message of the weekend must be to gain valuable experience. Such hard-fought lessons will be key when the Rams travel to Orlando for the Atlantic 10 tournament in late April. More immediately, the Rams will look to break their two game home losing streak this Sunday, March 13, when Siena travels to Harrison to take on what is sure to be a hungry and determined Rams squad.