Track & Field Wraps Up Indoor Season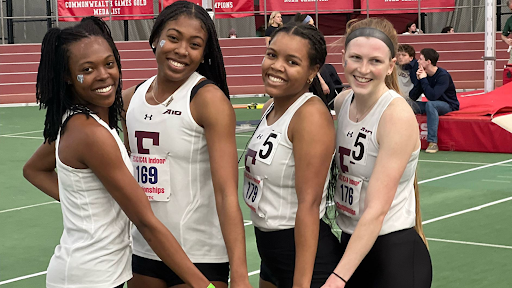 Another busy weekend for Fordham Track & Field as both the men and women's teams competed in the Atlantic 10 Championship and the ECAC/IC4A Championship. As the team wrapped up its indoor season, both teams put everything on the line.
On day one of the A-10 Championship, ​​graduate student Kathryn Kelly, who broke her own school record in the long jump, earned a silver medal and Second Team All-A-10 honors with a distance of 5.92m. Sophomore Skylar Harris also participated in the event, placing 20th at 5.11m.
 Kelly and junior teammate Kyla Hill qualified for Sunday's finals in the 60m and 200m dashes. Kelly and Hill both tied the school record in the 60m dash at 7.61 seconds. In the 200m, Kelly qualified third with a time of 24.84 seconds, and Hill in fifth at 25:11 seconds. Freshman Sarah Galvin also ran in the 200m, finishing 32nd in 27.28 seconds.
Fordham also scored in the 5000m and distance medley relay on day one. Graduate student Germaine Harbaugh scored sixth in the 5000m with a season-best time of 17:31.00. Then in the distance medley relay, sophomores Michele Daye and Abigail Llach and juniors Alexandra Thomas and Nicoleta Papavasilakis scored eighth with a time of 12:32.43.
 Out of the remaining scored events, senior Casey Metzler posted a season-best mark of 15.48m in the weight throw, good for 14th overall.
 In addition to Kelly and Hill qualifying for Sunday's finals, the Rams added two more qualifiers in the 800m run. Senior Helen Connolly qualified third with a season-best time of 2:13.67, while senior Jilli Jones qualified seventh in 2:15.87.
  The men struggled to put big numbers on the board. Fordham's lone scoring event on day one was in the last event of the evening: the distance medley relay. Freshmen Nathan Bezuneh and Isaiah James and sophomores Justin Lombardi and Daniel Asher scored eighth in a season-best time of 10:15.44.
 Out of the other scored events, Fordham just missed adding to their point total in the long jump, weight throw and 5000m run. Sophomore Justin Rhee finished ninth in the long jump with a distance of 6.80m, while senior Alec Wargo was 12th in the weight throw with a season-best mark of 15.13m. In the 5000m, senior Brandon Hall took ninth overall in a season-best time of 14:39.84 
The other events on day one were preliminary runs where Fordham had four individuals qualify for Sunday finals.
 Graduate student Antony Misko started the qualifying by taking fifth in the 500m with a time of 1:05.93, while Brown was just outside the qualifiers in 10th at 1:07.29.
 In the 800m, senior Jeremiah LaDuca qualified second for Sunday's finals with a time of 1:55.24, with teammate junior Eric Jacobson finishing ninth at 1:57.79.
 The 1000m event saw two Rams make Sunday's final. Senior Zalen Nelson qualified second at 2:28.95 and senior Patrick Tuohy in seventh at 2:31.14. 
 On day two, Connolly earned a bronze medal in the 800m by placing third in a season-best time of 2:11.83, while Jones scored eighth in the event at 2:28.05. 
Connolly just missed a second medal later in the day in the 4×800 relay, as she, senior Bridget Alex and juniors Taylor Mascetta and Mary Kathryn Underwood took fourth overall in an Eastern College Athletic Conference (ECAC) qualifying time of 9:11.99.
 In the 60m dash, Hill scored fifth in 7.64 seconds with Kelly in sixth at 7.74 seconds. Later in the 200m dash, it was Kelly as the top performer, taking fourth in 24.76 seconds, while Hill was fifth in an ECAC qualifying time of 25.03 seconds. The duo returned to the track one more time for the 4×400 relay, as they joined senior Dominique Valentine and junior Ruby Avila to finish seventh in 3:53.57.
 The Rams had competitors in four other events on Sunday, starting with senior Jade Dyer-Kennedy, who was 11th in the triple jump with a mark of 10.88m, while junior Amanda Gurth placed 17th in the shot put at 10.77m. Then, in the mile run, Alex posted a season-best time of 5:05.07, for 10th overall, followed by Thomas in 19th (5:17.42) and Papavasilakis in 23rd (5:24.62). Harbaugh was the last individual competitor to place, as she was 13th in the 3000m run at 10:15.23. 
Fordham saw three medal performances on day two, led by LaDuca, who earned Second Team All-A-10 honors in the 800m, finishing second in 1:56.59. Nelson added to the medal count in the 1000m, taking bronze with a time of 2:27.38, while Tuohy scored eighth at 2:35.13.
LaDuca and Nelson then joined Jacobson and junior Erik Brown on the Rams' 4×800 relay team to take Fordham's final medal of the championship. The group took bronze in a season-best time of 7:45.67.
 The Rams scored in three other events on day two, beginning with Misko placing sixth in the 500m in a time of 1:05.80. Graduate student Andrew Ramsammy then scored eighth in the high jump, clearing 1.85m. The Rams' final scorer was the 4×400 relay, where James, Tuohy, Misko and junior Samuel Wilcox finished seventh in 3:30.61.
 In the ECAC event in Boston, the Rams showed out on day one, posting nine season-best performances, qualifying for five Sunday finals and having five top 12 finishes.  
The events that qualified included efforts from Kelly in the long jump event, placing third with a 5.80m jump. Kelly also competed in the 200m dash, where she qualified for Sunday's final with a season-best time of 24.49 seconds.
 Nelson qualified for Sunday in the 800m run with a season-best, third place time of 1:50.19, while teammate LaDuca just missed Sunday's final, placing 10th in 1:50.42. 
Fordham then qualified for three relay finals on Sunday. The women's 4×400 relay of Kelly, Valentine, Avila and Hill qualified fourth in a season-best time of 3:48.64, while the 4×800 relay of Jones, Underwood, Mascetta and Connolly qualified seventh in a season-best time of 9:05.34. Then, the men's 4×800 relay of LaDuca, Jacobson, Tuohy and Brown qualified fourth for Sunday in a season-best time of 7:36.18.
On Sunday, the Rams competed in seven finals starting with Nelson in the 800m. He placed just off the podium as he ran 1:49.69, good for fourth place. He finished .04 seconds off the Rams' school record.
 In the 200m dash finals, Kelly posted a season-best time of 24.36 seconds to finish sixth overall. Next were the men's and women's 3000m runs, where Hall and Harbaugh placed 16th and 24th overall respectively. Both recorded season-best times, with Hall clocking in at 8:14.19 and Harbaugh at 9:58.35.
 Fordham then had three relay finalists, starting with the women's 4×800 relay. Jones, Underwood, Mascetta and Connolly took sixth in a season-best time of 9:03.27. Next was the men's 4×800 relay, which took fourth overall in a season-best time of 7:30.23. Lastly, the women's 4×400 relay finished with an exclamation point.  Kelly, Dominique Valentine, Ruby Avila and Hill scored fourth overall in a school record time of 3:46.56.
At the end of day two, the women tied for 17th with 17 points, and the men tied for 26th with 10 points. 
While the winter season comes to a close, Track & Field is not done for the year. Both teams will be back in action for the outdoor season on March 19 for the Stony Brook Season Opener at Stony Brook University.