Digital Collections Spotlight: Celebrating Black History Month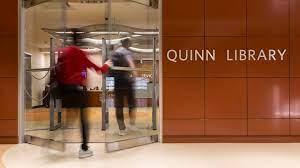 Black History Month is celebrated during the month of February to honor the historically overlooked achievements and stories of Black Americans. Traditionally, the United States honors Black History Month through education and representation, raising awareness about not only the struggles Black people have faced, but also their tremendous accomplishments, which is paramount to the promotion of racial equality.
In honor of Black History Month, Gabriella DiMeglio, who works for the Quinn Library at Fordham, compiled a number of digital collections highlighting the Black experience in America. The collections focus primarily on the oral histories and stories of African Americans, particularly those born and raised in the Bronx. Seeking to "spotlight" these stories, DiMeglio and her colleague, Nicholas Alongi, hope that these collections will improve Black history education amongst Fordham students, a predominately white institution.
"The importance of archival collections that center on African American stories — many of which have been historically silenced or ignored — cannot be overstated," said DiMeglio. "The historic documents, videos and images in these collections cover the cultural, political, social, economic and religious histories of a group whose journey and contributions are woven deeply into the fabric of our nation."
Many of the stories are centered around Black women, a historically underrepresented group. DiMeglio explained that through their stories, Fordham students are able to connect deeply with the university's surrounding neighborhood and gain "a more accurate and authentic understanding of the Black experience in America," which is frequently shafted in favor of non-Black experiences or "rewritten and/or retold by nonblack authors," said DiMeglio.
DiMeglio believes that Black History Month can be "felt year-round by engaging with and supporting these collections which house records created by Black Americans," which "[keeps] history alive and part of our societal discourse through regular discussion, exploration and preservation."
To continue this exploration and keep the discussion alive after February has passed, Fordham offers a variety of resources in addition to these collections. These resources include Fordham's African & African American studies department, which was founded in 1969 and is one of the oldest departments of its kind in the nation and features digital collections highlighting the Black experience. They especially focus on African American Bronxites, some of which include the orations DiMeglio and Alongi chose to promote.
Fordham University Reference Librarians created the African American Studies Research Guide, which highlights the importance around intersectionality when discussing Black history
DiMeglio and the Fordham Libraries hope that, by placing a spotlight on these digital collections, students will feel inspired to explore more Black history. The digital collection, which acts as a testament to the fortitude of Black Americans, is available to view on Fordham University's Library News blog.