Men's Basketball Finishes Season .500, Sets Up Date with George Mason in A-10 Championship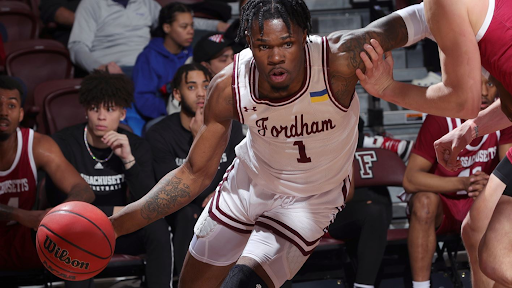 Flash back to last season: Fordham Men's Basketball closed out its 2020-21 season with three consecutive canceled games, its most recent contest being a 68-40 loss to Saint Joseph's University. Their head coach, Jeff Neubauer, announced he was leaving the program a few short weeks ago on Jan. 26. They went on to lose in the first round of the Atlantic 10 Championship to George Washington University, with an uncertain future ahead.
Fast forward to 2022. The Rams concluded this season with a win against those same Colonials on Sunday in front of a sold out Rose Hill Gym, completing a .500 season at 15-15. Moreover, that same team that went 2-11 in conference a season ago finished a respectable 8-10. 
Taken one step further, that record secured the ninth seed in the A-10 and a first round bye before the conference tournament later this week. Instead, the Rams will have one more day to prepare for a noon tipoff on Thursday against George Mason University, a team they defeated during the regular season. A date with Davidson College waits in the wings.
All of that forecasting overshadows how remarkable of a year it has already been for Fordham. This past week, the Rams had an action-packed resolution to the regular season, winning two of three games in seven days.e.
Monday was the first of a home-and-home series against the University of Massachusetts Minutemen. In a major bright spot ahead of the A-10 Championship, graduate guard Darius Quisenberry returned to the lineup for the first time in nearly three weeks since going down against Saint Bonaventure University.
Production was not the buzz word for Quisenberry, as he entered the game off the bench while shooting just 3-11 from the field in his 27 minutes of action. Simply returning to game speed was far more important, and Fordham saw exactly that.  While the shots may not have fallen for Quisenberry, the rest of the roster was locked in offensively for a positive change.
Fordham finished shooting just a shade under 50% but over 57% from the perimeter, including a stellar 6-7 in the second half. All of that combined for one of the team's most united efforts in more ways than one and a season-high in points with the 85-73 victory over the Minutemen.
Once again, graduate forward Chuba Ohams led the charge with another double double, finishing with 23 points and 11 boards. He also contributed one third of the team's 15 total assists. Fellow graduate guard Josh Colon-Navarro was a key beneficiary of that, scoring 14 on 3-4 shooting from deep.
However, the game's biggest story surrounded sophomore Rostyslav Novitskyi. In wake of the political conflicts surfacing in his birthplace of Kyiv, Ukraine, Novitskyi put together his best performance of the year — 10 points on a perfect 4-4 from the field. He did it all with his home country's blue and yellow flag draped in the bleachers above his team's bench and stitched into the left shoulder of the white uniforms.
It was a sign of the game being much bigger than just basketball, as the Rams locked arms beneath a "Stand for Ukraine" call to action on the jumbotron. Fordham is at its best when together both on and off the floor. Monday was a powerful example of that. 
With Monday's game being a reschedule, Fordham had a quick turnaround just two days later as it headed out to Amherst to face the Minutemen again. Defeating the same team twice, especially in such a short time frame, is a tall task and Wednesday was no exception. A late charge by the Rams came up short as UMass held on for an 81-73 victory.
It was a similarly high-scoring affair, though this time, UMass came out of the gates to develop a lead Fordham could never fully diminish. That same shooting that carried Fordham earlier in the week failed to meet the same mark, as the Rams hovered around 36% for much of the game, including shooting below 30% from deep.
T.J. Weeks topped the scoring charts for the Minutemen with 17 as one of four graduates, Rich Kelly, followed with 15 on the home squad's senior night. Fordham jumped out to the lead early — very early, that is — until UMass responded with nine unanswered, including a key scoring scratch from Dyondre Dominquez.
That run, along with an equal one later in the half, generated the separation UMass needed. Fordham responded by outscoring the Minutemen in the second half, shooting 12-20 to start things off and narrowing the lead to as few as two. However, it struggled to score down the stretch, hitting just one field goal in the final nine minutes and failing to score in the last five. Even then, it took some clutch free throw shooting for UMass to fully seal the deal.
Ohams notched yet another double double, his 19th of the season, while dishing out five assists for the second straight game. Colon-Navarro contributed 10, as did sophomore Abdou Tsimbila for his season-high, swallowing up six rebounds too. In a sign of his full return to form, Quisenberry led all scorers with 15 in 31 minutes of play.
Two of those names — Ohams and Colon-Navarro — received all the attention in the Rams' final regular season game, senior day. Fordham welcomed George Washington University in front of a full Rose Hill Gym, as that Saturday marked the date of the university's new COVID-19 guidelines, enabling fans of all kinds to file into the Bronx.
That crowd proved to be a big part of the difference, as Fordham opened with incredible energy out of the gates at a place where it finished 10-4 on the year. So did the presence of a healthy Ohams, as the Bronx native closed out his career at Rose Hill — 54 games and six seasons later — with a season-high 23 points, 16 rebounds and a record-setting 20th double double in a thrilling 70-66 victory over the Colonials.
A fitting end to an extraordinary career, Fordham clearly wanted to show the Colonials what they avoided in the previous meeting, when Ohams was visibly hindered by a knee injury. No such restrictions existed this time, as head coach Kyle Neptune strategically utilized Ohams in bursts and fed him the ball in what felt like each offensive possession. "I don't know anyone in our league who's putting up the type of numbers he has been over our last couple of games," said Neptune..
The results paid off, not just for Ohams, but the rest of the team too. He totaled five assists for a third consecutive game as eight of the 10 Rams who took the floor entered the scoring charts. "I think it's one of our strengths because our guys know that no matter who goes into the game, we have a certain standard that we want to uphold …" Neptune said in reference to the number of guys hitting the floor. "I think that our guys are embracing that and coming out and playing as hard as they possibly can."
Quisenberry yet again dazzled with 18 points, looking even more like himself on the floor, despite Neptune saying he is still playing "on one leg" and had not practiced in over a month, while Colon-Navarro fittingly followed with 13.
Perhaps even more important was the Rams' defense. Neptune described the defensive effort in the last two games as "just okay," and some signs of that showed amid the Colonials' first-half barrage from deep that put them ahead by two heading into the locker room, 36-34. Fordham showed much more commitment on that side of the ball from there, particularly in holding GW scoreless to build a lead among the 16 to 12 minute mark of the second half. Seven team blocks echo that too, three of which came from Novitskyi and Ohams each.
Offense and defense with fans in the stands. It was a perfect way to end the 2021-22 season for Fordham Men's Basketball. Even then, there is still much more of a season ahead. However, to forecast too far in that, risks diluting just how extraordinary of a season this has already been.
It comes down to one simple goal. As Neptune repeatedly reassured in the postgame press conference: treat every game like the Super Bowl. The A-10 Championship will be no different. It's no coincidence that the Los Angeles Rams won that game earlier this year. Now, the Fordham Rams are hoping for some of that same luck themselves.
"We want to be playing our best basketball by the end of the season. That's always been our goal," Neptune said. "I think that was some of our best basketball of the year." Who knows what comes next.
Fordham's championship quest begins this Thursday against George Mason University from Capital One Arena in Washington D.C. Tipoff is set for noon on USA Network and WFUV 90.7 FM.