Women's Tennis Improves to 5-2 on Two Straight Wins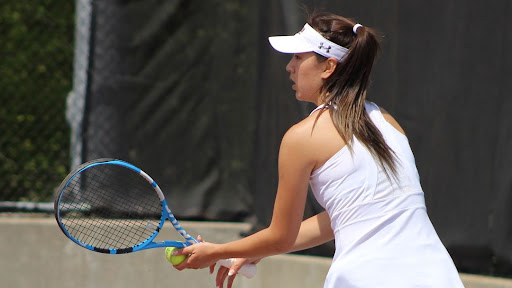 Fordham Women's Tennis improved to 5-2 after back-to-back road wins. Opening their four-game road trip with a 6-1 loss to Brown University, the Rams rebounded with 5-2 wins against Drexel University and Quinnipiac College. They'll look to win a third straight road game this Saturday against Queens College. 
Fordham's road stretch began with a pair of weekend games on Feb. 26 and 27. First up was Brown University, a new addition after a match-up against Boston College for the same day was canceled due to a scheduling conflict. Playing against an Ivy League competitor for the first time since 2019, Brown proved to be a tough matchup. The Rams lost the doubles point and five of the six singles matches, suffering their largest margin of defeat in the 6-1 loss. Senior Valeriya Deminova was responsible for the lone point, winning both sets of her singles matchup. Deminova also won her doubles match alongside junior Avery Aude, but Brown came away with the other two doubles matches.
The Rams rebounded quickly the following day, defeating Drexel 5-2. The pairings of Deminova and Aude and senior Nicole Li and sophomore Eleni Fasoula came away victorious to secure the doubles point and Deminvova, Fasoula, Li and junior Rachelle Yang won their matches in singles play to ensure a split for the weekend. 
Fordham carried that momentum into this past weekend with another 5-2 win, this time over Quinnipiac University. Despite losing the doubles point, Aude and Deminova continued their success with Fordham's lone match win in doubles play as the pairing improved to 3-0 on the season. They had not been paired together before this road stretch but their early success could make them a combo to watch moving forward. The Rams responded and won five of their six singles match-ups. Deminova, Aude, Fasoula, Li and Yang were all victorious in singles play. 
Fordham will look to go 3-1 on this road trip as they close it out with a cross-borough matchup this Saturday against Queens College before returning to Life Time Athletic for a Sunday matchup against Siena College. Siena College will be Fordham's last home game until April 23 as the Rams prepare to embark on a seven-game road stretch following Sunday's game.