Track and Field Begins Spring Season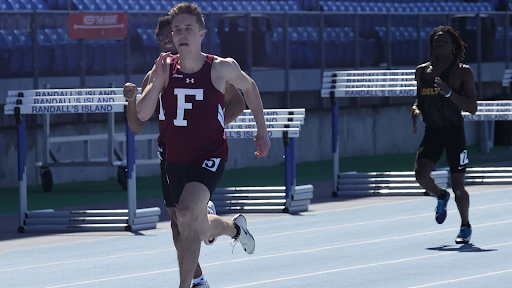 The Fordham Men's and Women's Track & Field spring season is off to the races. After competing this past Saturday at the Stony Brook Snowflake Classic, the teams received no team scoring, however many Rams brought home school records as well as top finishes.
While there were not many events, the star of the day was newcomer Tiffany Hanna, a graduate student transfer from Wagner. In her debut meet, she won the shot put event with a school record throw of 12.61m, besting the previous record of 12m by Jeana Fletcher in 2009. The Rams also placed third and fourth in the event with junior Amanda Gurth (11.17m) and senior Casey Metzler (10.18m), respectively.
 Fordham also had event wins in both the men's and women's 800m, as the Rams had 1-2-3 finishes in each event. Sophomore Molly Mulvaney won the women's 800m in 2:25.54, followed by senior Angelica Piccini in second with a time of 2:26.55 and senior Dominique Valentine in third at 2:29.67. 
On the men's side, graduate student Antony Misko grabbed first in the men's 800m with a time of 1:57.87. Junior Jack Reilly followed in second in2:00.36 and sophomore Justin Lombardi in third at 2:00.95.
In the 200m dash, junior Kaley Bell was the top finisher for the women, coming in eighth place with a time of 29.09 seconds, while sophomore Eric Galante grabbed eighth on the men's side in 24.37 seconds.
 The 1500m dash featured a strong performance from junior Alexandra Thomas as the top women's performer. She took third place in 4:53.65 with junior teammate Mary Kathryn Underwood in fourth at 4:56.90. On the men's side, junior Samuel Wilcox took fourth in 4:10.07.
 In the 3000m run, the Rams had a pair of third place finishes by juniors Nathania Tan (10:58.76) and Colin Flood (8:44.23) and junior Taylor Mascetta securing fourth place in 11:08.76.
 The remaining events were for the men, and the Rams continued to add top finishes. In the 400m, junior Robert LeFevre recorded a sixth place finish with a time of 53.62 seconds. Sophomore Justin Rhee competed in the long jump event, securing third place with a mark of 6.68m. Rounding out the events was senior Alec Wargo in the field. In the shot put, Wargo brought home second place with a mark of 11.38m.
As another successful weekend concludes, the Rams are back in action at the Rider Invitational in Lawrenceville, New Jersey, on March 26.