Men's Basketball Finishes First Season Under Kyle Neptune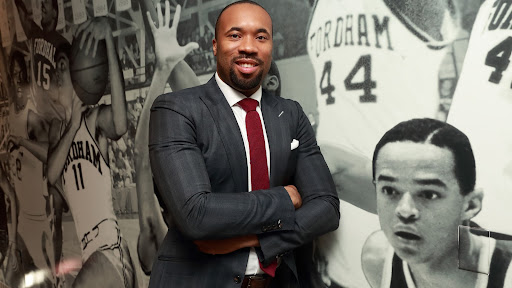 March is the perfect time for Cinderella stories. We're seeing it with Saint Peter's University, advancing to the Sweet 16 of the NCAA Tournament. The Iowa State Cyclones are another example, defeating the Wisconsin Badgers despite a 7-11 Big 12 Conference record.
Ultimately, it is the story of college basketball. It does not matter how teams start, but rather, how they finish. No thread weaved its way through the Fordham Men's Basketball season more than that. Coach Kyle Neptune tirelessly repeated: "We want to be playing our best basketball by the end of the year."
There were moments throughout this year's journey where that looked to be true. Others said otherwise. However, with one holistic picture to look back upon — a 16-16 record, 8-10 in-conference and an exit in the Atlantic 10 Championship Quarterfinals — there is no doubt Neptune has been proven right.
Listening to Neptune throughout the year, a lot of postgame comments will sound familiar. The attributes of "toughness," "togetherness," "attitude" or treating every game like a Super Bowl all come to mind. 
It may sound like coachspeak for someone completing his first year in charge, yet it has been true from the very beginning. 
Look back to March 31, 2021, the first day Neptune addressed the Fordham community. "We want to be tough," he said. "We want to be a team that teams come in here and do not want to play against." Anyone who laid an eye on the team this year could attest to that.
Flash forward eight months, following the Rams' opening night win against Columbia University. "They've had just an eerie sense of togetherness from the very beginning," Neptune said of his players.
Skip ahead and pick any moment in time. Say Dec. 6, the night of a loss to St. John's University, one of the local schools Neptune promised to pit his team against. "We were resilient, didn't back down, played them tough … It's one thing that we've definitely learned about our team is that the guys never quit."
It's an essential quality to this team because there were so many opportunities to quit.
The team had already lost its first game by that point, 66-60 to Manhattan College. That was a growing pain in itself, a winnable game lost down the stretch. Yet, a loss one week later, 75-73 to the University of Maryland Eastern Shore (UMES), in the Rose Hill Gym no less, proved much worse.
UMES likely shouldn't be a hurdle for a team with aspirations to compete in the A-10. Yet what seemed like a step back at the time, a regression to an era the team is striving to put behind, turned out to be a massive leap forward.
A sizable, 20-point slaughtering of the University of Akron and narrow defeat to the University of Delaware at the Gulf Coast Showcase followed, both of whom danced into the NCAA Tournament.
Then came some more tough defeats, to the aforementioned Red Storm or the University of Miami at the Barclays Center. Again, another tournament team, this one advancing into the Sweet 16 . A COVID-19 pause put things on hold before conference play.
Yet, regardless of the outcome, there was an underlying sense of toughness in each of these games. There were no blowouts nor lopsided outcomes, just competitive basketball. That was a change bigger than anyone could have expected.
A-10 competition opens up on an even higher note: two wins against La Salle University and Duquesne University, the latter highlighted on a buzzer beater by junior guard Antonio Daye.
The greatest authors in the world could not write a start better than this. It was history-making in year one, just two games into conference play, with visions of the team's potential ahead. Until it wasn't.
One day later, all of those hopes drastically changed. The university announced that Daye was leaving the program, forcing the team to find a new identity for itself. 
There will always be the ultimate question of, "What If," especially when losing a leading scorer. Could the Rams have surpassed this season's performance with Daye, become a top seven, top five, A-10 seed? What would the conference record look like? How good could this team be?
Ask Neptune and none of it will probably matter. His focus has always been on this group of players, whoever it is.That remained true until the very end, when graduate guard Darius Quisenberry sat on the sidelines as the Rams battled the Davidson Wildcats in the A-10 Quarterfinals.
It is one last reminder of the season it has been, one where it felt like one piece was missing in each loss. Sometimes it was Quisenberry. Sometimes it was graduate forward Chuba Ohams due to injury. It was always Antonio Daye.
With those circumstances, it could have been very easy for this year's team to fold or concede that this simply wasn't their time yet. However, the reality could not be any more opposite.
Instead, this year's Fordham team vastly exceeded its expectations, fighting with the top dogs of the A-10 all season long and finishing eighth, 8-10, by the end of it. That may not look overly impressive under a magnifying lens, but it is when widening out to the scope of what this program has been.
Those eight wins surpass the total from the last three years combined. The end of the road in the quarterfinals, the first time Fordham has appeared there since 2007 and just the fourth in program history. This season's 16 wins are the most since 2015-16.
Even look individually, Quisenberry earned the accolade of A-10 Player of the Week back on Jan. 24 after averaging nearly 30 points across a two game span. At the time, it was Fordham's first such accolade since 2017.
Then, what more can be said about Ohams. In his true final year in the maroon, Ohams averaged 14.8 points and 11.6 rebounds per game. He also set a new school record with 21 double doubles on the year,, as he entered the Fordham record books for career blocks as well.
It is one thing to receive recognition at Fordham, another to do in the conference. Ohams later earned that same nod of Player of the Week himself, on March 7, and a few weeks later, the honor of Chris Daniels Most Improved Player as well. He was also named Second Team All-A-10 and to the conference All-Defensive Team.
All of that happened amid a knee injury that Neptune often said left Ohams playing well shy of full strength, not to mention coming after playing just a single game a season ago.
There is also something to be said about the fact that two of the team's most consistent performers all season long — Ohams and graduate student Josh Colon-Navarro — have spent their entire careers at Fordham. In one sense, they are not Neptune's recruits. Yet, in another, they are all the same.
Ohams and Colon-Navarro could have walked away, like multiple other players from last year's roster did. Something encouraged them to stay. Maybe it was a teammate, a coach or a simple feeling.
That something seeped its way into the other players on this team too: the recruits Neptune did bring to Fordham.Now, it has carried into a future that looks even brighter, with two recruits — Romad Dean and Will Richardson — the first of many to commit to playing in the Bronx.
So that becomes the test. In the process of building a team, a startup company, beginning a new era, progress is the only option. The Rams found that progress in year one to heights few could even imagine. The challenge becomes building upon that.
Many doubted Fordham could be successful in the A-10 coming into this season. Now, the metric of success has changed. While this year may be saturated with the question of what could have been, it has set the expectation for what Fordham Men's Basketball is. 
Take it from another Fordham coach himself, Vince Lombardi, "Winning is not a sometime thing … it's an all the time thing. You don't win once in a while … you don't do the right thing once in a while … you do them right all the time. Winning is a habit."
From the very beginning, Neptune made his habits clear. Results were never one of them. Now, it's time for winning to join the list.