Fordham Softball Splits, Sweeps and Gets Swept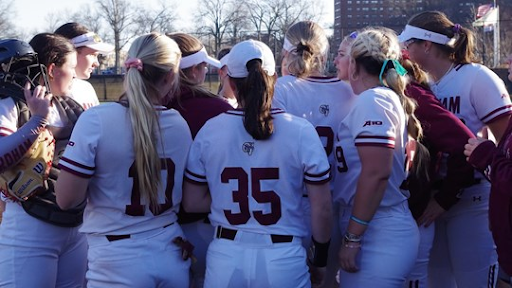 Fordham Softball opened up Atlantic 10 play on March 14, with a double header matinee against the Saint Louis Billikens at the friendly confines of Bahoshy Field in the Bronx. It was Fordham's first home stand of the year.
The Rams opened up A-10 play against the Saint Louis Billikens, a team that they won over 20 games against since the Billikens had joined A-10 softball in 2006. In the first game of the doubleheader, graduate student Rachel Hubertus began Fordham's A-10 offensive reign with a sacrifice fly that drove in a run to make it 1-0 by driving in fellow graduate student Briana Pinto.
After a scoreless second inning, St. Louis responded in the top of the third off of a Sadie Wise fly ball that was dropped which scored two runs. Wise would be responsible for two RBIs in the first game of the doubleheader. 
In the sixth inning, parody struck as Rams junior left fielder Michaela Carter would also drive in a run off of a dropped fly ball. Carter drove in sophomore Bailey Enoch to knot the game up at two in the sixth inning. Following a scoreless seventh, the Rams and Billikens were sent into extra innings.  
The Billikens responded in a big way. Graduate student Christy Stevenson would send a solo home run over the fence of Bahoshy Field to push the Billikens out in front three to two  in the top of the eighth inning.
Fordham responded in the bottom of the eighth inning; graduate student Kelly Bright struck an RBI single that tied the game at three. However, Fordham became slightly ambitious when they had the bases loaded trying to send in the second runner to win the game, but sophomore Bella Ayala was tagged out at home plate.
The St. Louis Billikens, however, had other plans. Sparked by a two-RBI single by senior Gabby Kowalik, the Billikens proceeded to score six runs in the ninth inning off of Enoch. Fordham would get one back, as Hubertus launched a home run to make the score nine to four at St. Louis would win game one of the doubleheader. 
Rams junior pitcher Devon Miller, who started the game, would eat the loss. She struck out 10 batters and allowed only two earned runs, one of her better performances of the young season.
Game two saw them storm back in a victory to split the first series in A-10 play. Things got off to a choppy start in the first inning as the Rams allowed another homerun, this time it was Stevenson who whacked one off senior Makenzie McGrath to open up game two's scoring. 
In the third inning Fordham allowed two more runs for the Billikens to push the lead out 3-0, freshman Allie Clark would take a run back for Fordham via an RBI single, but Stevenson and Wise both had RBI singles that drove in a run each, and then St. Louis was holding serve for the rest of the way up until the sixth inning. 
With a runner already on board up came senior Sarah Taffet who smacked a two-run home run over the right-field fence to even the score up at three; it was her first home run since 2021. Then came back the hard-hitting Hubertus who put the game away for Fordham by smacking a two-run home run over the scoreboard in left-center field and the Rams took game number two 5-3.
McGrath collected her fourth win of the season for Fordham. Going the distance while striking out six players and walking only four to help push the Rams to their first A-10 victory.
The Rams welcomed Stony Brook University to Bahoshy Field later on in the week for their second consecutive double header. Game number one saw Stony Brook jump out in front thanks in part to a two-RBI single by sophomore Catherine Anne Kopinski.
However, in the fourth inning the Rams had other plans. The Hubertus show continued as she sent a two-run home run out of the field to drive in Clark and tie the game up at two. 
"Rachel is a veteran and she knows what she needs," said head coach Melissa Inouye. "She really hasn't seen pre season pitching since 2019 but she's put the work in. 2020 she was out with a knee injury. And on paper last year, she was our biggest offensive threat and it is a credit to her hard work."
Fordham got insurance run number three via a fielding error, in which freshman Mary Grace O'Neill took full advantage and scored. Miller took the win for Fordham, her second of the year. It was freshman Emilee Watkins who started the game going four and a third innings while striking out three and allowing two earned runs. 
Game two prompted Fordham to shutout and sweep, their two-game series against Stony Brook, 6-0. Enoch tossed a masterclass by going six innings, sitting down seven batters, walking two and allowing only two walks. McGrath would come in relief and close things out in the seventh by striking out two more.
The Rams also produced six runs by way of one player of each class: freshman Allie Clark, Ayala, junior Michaela Carter and senior Julia Martine charging a three-run homer to provide Fordham with a nice sweep and go 3-1 in their four-game homestand.
The Rams then headed to the nation's capital to take on the George Washington University Colonials in a three-game series. In game one the Rams' big bats of Hubertus and Martine propelled them to an early 2-0 lead in the top of the first inning with consecutive solo home runs. Martine would have two RBI triple in the fifth that scored Bright and Pinto to push Fordham's lead to 4-0. But in the sixth the Colonials would ultimately win the game thanks to two home runs, the first one being a three-run moonshot by sophomore Maddie Spell to pull the Colonials within one, then a two-run home run by sophomore Alexa Williams to put the first game away 5-4 for the Colonials.
Game two saw Fordham down 7-0 at one point, thanks to the Colonials' offensive exploding. They scored three runs off three doubles, two runs off a throwing error, one off a single and then one more off a solo home run by Spell. But Fordham attempted a comeback that was sparked by a few unlikely sources.
Sophomore Julia Petrovich got things started with an RBI single in the seventh that drove in one run, then freshman Mallory McClellan walked which forced in a second run with the bases loaded. Martine laced the second single of the inning which scored a third, and that was followed by freshman Sydney Wells singling to drive in two more but it wasn't enough. Fordham would lose 7-5 in game two.
Game three saw another Hubertus home run, her seventh of the year, but George Washington sent two home runs out: a two-run shot in the third by Williams and then a solo shot by graduate student Maddie Dwyer to complete the sweep of the Rams 3-1 in the final game.
In this series against George Washington, Fordham pitchers gave up a combined 15 runs, and suffered their first sweep of the season to an A-10 opponent.
"It was a tough week this week, George Washington is obviously a tough opponent and we knew that they could hit the ball," said assistant coach Matt Klampert. "We battled through some adversity … but it is one of those things where we know we're going to see them again."
The Rams return on Saturday in the battle of the Rams as they'll play host to the University of Rhode Island Rams.