Cristina Traina Named as New Avery Cardinal Dulles, S.J., Chair in Catholic Theology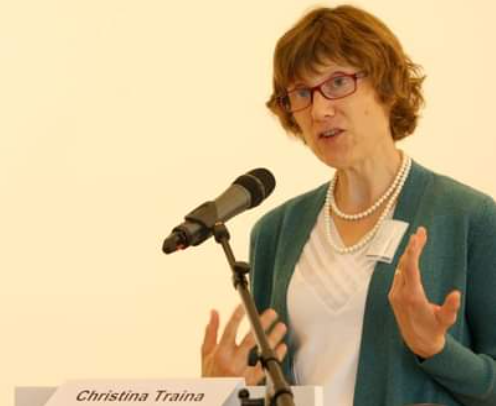 Fordham theology professor, Cristina Traina, Ph.D., was recently appointed to be Avery Cardinal Dulles, S.J., Chair in Catholic Theology,  a research-based position in the theology department. The chair is fully endowed by a $2 million gift from Vincent Viola, chairman of Virtu Management, LLC. In addition to the research aspects of the position, the Avery Cardinal Dulles, S.J., Chair  works on community outreach.
"[Avery Cardinal Dulles, S.J., Chair] is a little bit more public-facing than maybe other faculty members have time to be. So it's that combination of more time for research and more time for public-facing work," said Traina.
Traina is the second holder of the chair position. Terrence W. Tilley, Ph.D., professor emeritus of theology, held the position since its creation in 2009.
Traina is known for her work on feminist Christain ethics. She specializes in Catholic ethics but also holds knowledge in the area of sexuality, child moral agency and methodological questions. Traina explained that she plans to focus her research as chair on some of those areas.
"I'm really interested in continuing to address the issue of gender identity and sexual orientation in the Roman Catholic Church generally. I'm also interested in the question of children and children's rights and experiences," said Traina.
In the area of children's rights, Traina said she is interested in exploring the issues of gender identity and sexual orientation.
Traina noted the importance of discussing children's rights in this context because of recent political developments, especially in states like Texas and Florida.
On Feb. 22, the Texas government began investigating parents who provide gender-affirming treatments to their transgender children for child abuse. In Florida, a bill was recently passed that prohibits school districts from encouraging discussions of sexuality or gender identity in primary school.
"There are some very interesting and important questions that come up and have to do with children's welfare," said Traina. "[Questions of] the role of parents, the role of the state, how parents can collaborate with schools, what rights children have over against their parents, what rights they really shouldn't have and whether we should really even be talking about rights, whether that's even a good way to solve these issues [are all raised]."
To Traina, being the Avery Cardinal Dulles, S.J., Chair is an honor because of the legacy of Avery Cardinal Dulles, S.J. himself. "As a theologian, [Avery Cardinal Dulles] thought that the expression of Christain belief had to answer contemporary concerns and be in language and concepts that were meaningful to people currently," said Traina. "He even said of his own work 'look, my work is going to need to be updated or replaced because the times are going to change, and my work is for my time.' That is what I think is important about him symbolically for the department because it puts his name on a position that's intended to do the same thing."
Prior to coming to Fordham, Traina was employed at Northwestern University, where she worked in the department of religious studies.
The experience of working at Northwestern informed the way Traina thinks about religion and added more value to what she can offer at Fordham.
"That religious studies department was a little more focused on theology than most religious studies departments, but I bring with me all of the religious studies ideas and contextual ways of approaching religious thought," said Traina.
"I think [those ideas] are very important in theology and also very friendly to the way that Fordham approaches theology. Fordham has a lot of religious studies courses in its theology department, but it also looks at religious thought extremely contextually."
To Traina, understanding the context of any text is extremely important. Without the context of when that text was written, we run the risk of completely misunderstanding it. The opportunity to teach at a Jesuit school like Fordham has always been a goal for Traina, so she is excited to move forward with her career at Fordham and as the Avery Cardinal Dulles, S.J., Chair.
"I had always hoped that I would have the opportunity to teach in a Catholic university, especially in a Jesuit university at some time in my life. So, I am incredibly pleased, excited and grateful," said Traina.