Chuba Ohams: A Story of Redemption and Triumph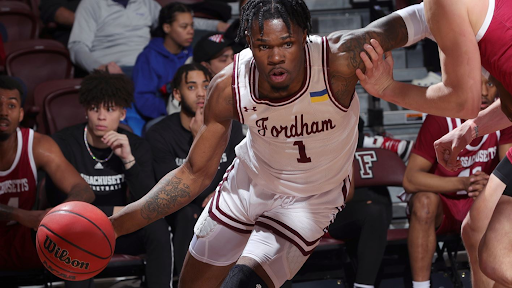 Let's jump into a time machine and rewind to late October 2019 at the Fordham Basketball Tip off dinner. It was held at The Water Club in Manhattan, where then Fordham Men's Basketball head coach Jeff Neubauer and current Women's Basketball head coach Stephanie Gaitley spoke about the upcoming, basketball seasons with special guest Jay Bilas. CBS' Jon Rothstein EMC-ed the event in front of a crowd of prominent alumni, Rev. Joseph M. McShane, S.J., president of the university and his cabinet of staff.
Any 19-year-old freshman would be intimidated by the crowd at this dinner, but for me it was almost routine, as I have attended these types of events more than a few times. Even my sports manager at the time, Charlie Maisano, and some of our top talent at WFUV back then were there. All of them were confused as to why I was even there.
Though just a neophyte at WFUV, I was seated at a table that included Redshirt Junior Chuba Ohams, my parents and some members of the Fordham Board of Trustees. I took my seat right next to Ohams, talking about the upcoming season and how exciting it was that he was going to become a full-time starter. Everyone at that table was trying to get a piece of him, but it was mostly me doing a lot of the conversing with Ohams.
I caught his phone lock screen when he had checked ESPN for a score, and I asked him why the NBA logo was his background.
"I want to go to the NBA," he said to me. "That is my goal."
Everyone knows how this story ends, but how did it begin? He was not always the star that everyone knows him as now. We need to get in our time machine and rewind back to March 2016.
In 2016, Jeff Neubauer had just completed his first season as head coach at Fordham by guiding the Rams to a 17-14 overall record and an appearance in the 2016 College Basketball Insiders tournament, now known as The Basketball Classic. This was first postseason appearance the program had since the 1992 NCAA tournament.
This team, mostly constructed by previous incumbent Tom Pecora, was handed to Neubauer who got 110% out of Pecora talent that was still on the roster. One of those names was Queens native Ryan Rhoomes, a physically imposing big man who ended the year as a third team All-A-10 selection and one of the best rebounders in program history.
Neubauer's first recruit, in an attempt to replace Rhoomes, was a young and very skinny Bronx native named Chuba Ohams. A product of Wadleigh High School in Harlem, where he was his school's all time leading scorer and earned all-state selections.
When Ohams first arrived on campus that fall, he was seen as a project. I remember attending a practice and meeting Ohams for the very first time when I was 16. The team had just wrapped up practice that included a help defense drill, so we talked about help defense, which was our first conversation.
That team didn't have many opportunities for Ohams to play that season, but in the minutes he did get, Ohams showed flashes of brilliance. There was a stretch towards the end where he started five games in a row, even scoring 12 points and grabbing seven boards with two blocks in a win over La Salle University.
His freshman year, the team lost in the A-10 tournament to George Mason University in the second round. But there was a lot of promise from Ohams, with everyone expecting him to take the jump as a sophomore.
Unfortunately, it didn't happen, as just three games into the season, Ohams went down with an injury and was not seen for the remainder of the 2017-18 season. He wasn't the first Ram to go down that year, as Fordham had an injury riddled season, a butterfly effect that began with Ohams.
The 2018-19 season saw the Rams generate a ton of promise, headlined by super freshmen Nick Honor, fellow first year guard Jalen Cobb and veteran Antwan Portley who transferred in from St. Peter's University. A healthy Ohams played 32 games, starting 15 of them, and paired with Onyi Eyisi to form a towering front court that Fordham could rely on for the next few seasons.
Ohams took the leap people expected the year prior, when he put up six points per contest and averaged 6.5 rebounds per game.
One game he had 19 points and nine boards versus the University of Rhode Island and gobbled 13 boards and swatted six shots in the 2019 A-10 tournament loss versus Richmond. Ohams would also finish seventh in the A-10 in blocks that season with 1.2 swats per game.
One issue: The Rams peaked way too early and were a trainwreck the rest of the way in A-10 play where they won only three games.
A staple of the Neubauer experience was scheduling an easy out of conference schedule. Two of those teams on that schedule were Florida International University (FIU) and Youngstown State-who Fordham beat-in the Rose Hill gym that year.
Both teams had star freshmen guards of their own: Darius Quisenberry on Youngstown and Antonio Daye Jr. on FIU.
2019-20 saw Honor depart from Fordham for the Clemson Tigers, leaving the door wide open for Ohams to take over. Everyone already loved him off the floor, but now it was time to own the hardwood.
And he did so with grace. He played 13 games, started 11 of them with averages of 11 points per game and 8.2 rebounds per contest. He was finally here, the player that everyone had expected to see someday with a full time starting role at last, a player who had everything going for him … until it was all zapped away.
On Jan. 5, 2020, in the warm up lines before the game against La Salle at the Rose Hill Gym, Ohams fell down and suffered a knee injury that would handicap him for the remainder of that season and all of the next year.
And he revealed something to me that nobody had ever known.
"When I went down in the layup line against La Salle, the first thing I told myself was 'My career is over,' but something told me inside that I was going to make the biggest comeback that I can."
This was his second major injury that kept him out. He had gotten hurt just three games into his sophomore year and came back fully healthy, only to be set back again. But, in a weird way, the COVID-19 pandemic saved his NBA dream. The NCAA blessed all of its student athletes with an extra year of eligibility and, to nobody's surprise, Ohams took advantage and returned for his graduate student year.
March 30, 2021, was the beginning of something you could've pulled out of a fairy tale: Fordham hired Kyle Neptune to assume the head coaching duties at Fordham.
That was the best thing to happen to Ohams. I spoke with him about the hire when it first happened, and he was very optimistic about the change.
"Coach Neptune was the reason why I elected to stay. As soon as he got the job, he contacted me and made me a priority. He was honest with me through it all and told me his expectations of me as a basketball player and as an overall person. Neptune comes from a winning culture and he emphasizes that a lot so there's no doubt in my mind that he will bring this program to new heights," said Ohams.
And so, Ohams' personality morphed into the fully realized on-court product. With Neptune utilizing the transfer portal to pump juice into the Fordham team, he brought the aforementioned Daye and Quisenberry to help aid the Fordham revival. They joined forces with Ohams to form a big three to help carry the Rams.
With Daye leaving Fordham abruptly, the burden once again fell on Ohams and Quisenberry to carry a majority of the weight.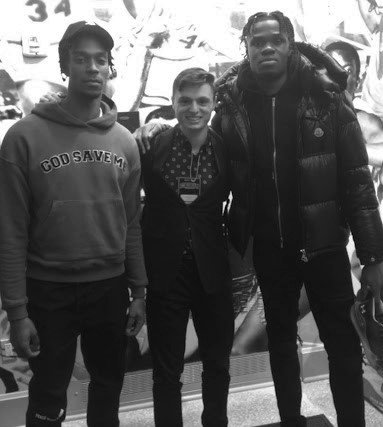 With Quisenberry being in and out of the lineup, Ohams kept Fordham afloat.
"I had a good year, and I came into this year wanting to play hard. Coach Neptune saw my strengths and weaknesses, and told me that I should be the guy to grab every single rebound," he said.
Fast-forward to the present, Rothstein reported on Monday, March 28, that Ohams would declare for the NBA Draft. All it took was for someone (Neptune) to believe in him and push him to his absolute limit. That resulted in Ohams being fifth in the nation in rebounds (11.6), winning the A-10's Most Improved Player award, second team All-A-10 honors and A-10 All-Defensive honors. Ohams also finished 11th all time in program history in rebounds (745) and seventh all time in career blocks (112).
Ohams said, "I just put two feet down and pushed and pushed, and if I don't make it, I don't make it. But I wasn't going to give up. And now I'm in this position with this opportunity, I feel grateful."
Ohams has signed with agent Paolo Zamorano of Glushon Sports Management (GSM), and Dan Tobin the overseas partner who is with The Capital Associates (TCA) to represent him in his NBA Draft process. Zamorano represents NBA players such as CJ Elleby of the Portland Trail Blazers, and GSN manages NBA players such as Al Horford, Jrue Holiday and Jaylen Brown.
He was also invited to participate in the Reese's All Star Game; a game that showcases the 20 best seniors in college basketball.
Ohams looks to join an exclusive group of Fordham Rams to make it to the NBA that includes Charlie Yelverton, Ed Conlin, Ken Charles and Smush Parker, who was the last true Ram to play in the NBA.
When the news hit me on Monday morning, it was somewhat of a surprise. But I immediately realized that everything had come full circle. The old saying goes, "Everything happens for a reason," and while those things might take time to come to fruition, all it takes is the ability to buy in, the drive to work hard and waiting patiently for the right opportunity.
Not only did I get to meet Rothstein, but I had an opportunity to interview him with my fellow WFUV-er Ryan Gregware. Not only do I get to cheer on the Fordham Rams, I was given the opportunity to cover them as a journalist and broadcaster. I was given the chance to watch Ohams play, and we ended up becoming really good friends in the process.
Ohams now looks to do what once seemed impossible: play in the NBA as a graduate of Fordham University, and to complete his redemption story.