Men's Tennis Drops Atlantic 10 Opener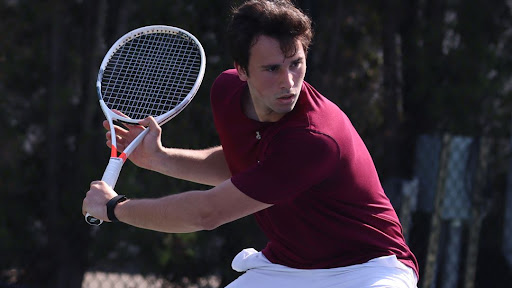 On Saturday, first year coach Nelson Peña led his Rams to Philadelphia to face the University of Richmond Spiders at the Saint Joseph University Tennis Complex. Fordham was originally slated to play two matches over the weekend, first against the Spiders on Saturday and then against the hosts on Sunday. Although Sunday's match was called off, this road trip marked the start of Atlantic 10 play for the 2022 Ram squad. 
The Ram's poor form leading up to conference play has become a defining theme of this season. Fordham had lost their last four matches in landslide fashion before last weekend's tilt. In their previous two matches combined before Richmond, the Rams managed to secure just one point over the course of 17 individual matches. Granted, the first of those two contests was against a strong Notre Dame in South Bend, Indianna, in which the Rams suffered a clean sweep at the hands of the Fighting Irish. This result is not all that surprising or disappointing given how dominantly the Irish have played all season. The Rams were more looking for valuable experience there, even more than a win. 
On the other hand, the second of the two most recent matches was at home against Siena College, a fellow mid-major who is currently ranked second in the Metro Atlantic Athletic Conference (MAAC). Junior Toi Kobayashi notched the sole point in that Ram loss, which generated little momentum to carry to Philadelphia. 
The Rams unfortunately fell to the Richmond Spiders 6-1 to begin 2022 A-10 play, with Fordham's only point coming from senior Jofre Segarra who defeated Alaister Burke 6-4, 6-2. This marked the Ram's fifth loss in a row. Their most recent win came on Feb. 19 of this year against Division II Queen's College. 
The Rams have three local matches before they head to Orlando, Florida  for the A-10 tournament. While their recent form is not something to be proud of, there are still a couple of weeks to right the ship before the culmination of their arduous year. They are back in action on Saturday in Queens on the campus of Saint John's University. This Big East squad will not be an easy opponent for the Rams, especially coming off five straight losses. This season is not yet over, but for this year's Fordham men's tennis team, the pressure is building to substantially improve before their trip to Orlando in late April.