Fordham Softball Proves Superior in the Ram Bowl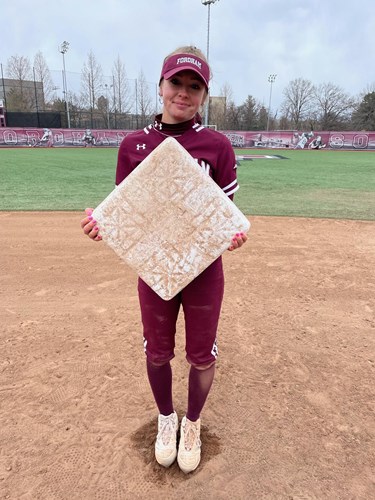 The Fordham Rams proved to be the alpha in the yearly Ram Bowl against the University of Rhode Island (URI). Fordham swept the other Rams at Bahoshy Field this past weekend to improve to 12-13 overall and 4-4 in Atlantic-10 play.
Right at the start, Fordham blitzed URI in the first inning of game one when the red-hot senior Julia Martine drove in freshman Allie Clark to push Fordham out 1-0. Martine continues her fine play, as she has driven in three runs in her last five games while maintaining a .267 batting average in that span. From there, the Rams never looked back as they punished URI in game one 9-0, enacting the five inning mercy rule.
The extra base hit epitomized Fordham's performance, as Fordham recorded five doubles from four different players: graduate student Rachel Hubertus, senior Sarah Taffet and juniors Michaela Carter and Amanda Carey. The Rams also generated those nine runs from six players, and eight different Rams crossed home plate.
One of those RBIs came from junior star pitcher Devon Miller, who tossed a three-hit shutout and earned her third victory of the year. She allowed six baserunners, walking three, and struck out five in the victory. 
Game two saw both Rams lock horns in a fantastic pitchers duel between URI sophomore Liz Lynchard and Fordham senior Makenzie McGrath. Run production did not come until the third inning, after Fordham was threatening in the first two with bases fully loaded or runners in scoring position. Martine drove in Clark again to open game two's scoring. Martine once again took advantage of URI's pedestrian fielding and advanced to second on a wild throw.
In the fifth, Fordham once again had the bases juiced and  capitalized on a sacrifice groundout by freshman Sydney Wells that brought Martine home. URI scored one of their three runs all weekend in the sixth, when freshman Maddie Melice drove in a run from an RBI single to make things 2-1. Then in the seventh, URI was able to capitalize after a screamer deflected right back off McGrath's glove and knotted things up at two. Freshman Emilee Watkins replaced McGrath and was able to hold URI at bay and send the game into extra innings.
The Fordham Rams had the last laugh, as the first batter that Lynchard faced was the final one of the Saturday matinee double header. Sophomore Bailey Enoch crushed all the hopes and dreams of a URI comeback with a solo home run over the fence to deliver Fordham the 3-2 walk-off victory in game two.
McGrath pitched an excellent game, allowing two runs, striking out four, walking  four and going six strong before Watkins came in to finish the job. Watkins earned the win, the first of her Fordham career, as the Rams battled on and off rain in game two.
The Sunday game was more of the same, but with a little added history to it. In the bottom of the first, following a base hit, graduate student Brianna Pinto stole second base and became the all-time stolen base leader at Fordham. Pinto passed Fordham Athletics Hall of Famer Krystle Henry, FCRH '07, who held the previous record with 73 swiped bags. 
Fordham christened the weekend with more offense, as Hubertus would drive Pinto in off a flyout that curved foul. In the second, senior Sarah Taffett poked an RBI double that scored Miller and pushed Fordham's lead to 2-0. The third inning was a dinger parade.Hubertus once again laced a home run, followed by a Miller single setting the stage for Amanda Carey. 
Carey blew the game open with a two-run rocket that put Fordham up 5-0. However, URI avoided another mercy rule game with a solo shot by junior Ari Castillo. In the fifth, Fordham ran amok on URI's fielding miscues; following a sacrifice fly by Taffet, graduate student Kelly Bright reached base off a fielding error that drove in Carter. 
Miller also helped her own cause on Sunday, adding a two-RBI double and sealing the deal for Fordham's 8-1 victory over URI. Miller tossed another gem: a two-hit, one-run ball game in which she went the distance while striking out eight batters. Miller accumulated a total of 13 Ks in her two starts this past weekend.
Fordham's middle infield and outfield defense were the stars of this weekend as the team allowed only three total runs.Taffet and Clark alone combined for 16 putout chances and converted on all but two of those. Taffet made three great plays in the infield that saved runs in game two, and Clark also held things down at second base with six of her seven converted chances and  an infield assist there too.
Fordham's regular outfield trio of Carter, Pinto and Bright converted on their combined 17 putout chances this weekend and made zero errors. It is also worth noting that Carter went down toward the end of game two with a knee injury and required assistance in leaving the field, but returned Sunday and generated a hit and scored a run. 
Along with Pinto's historic weekend, Devon Miller was named A-10 pitcher of the week and Rachel Hubertus was A-10 co-player of the week.
The Rams return on Wednesday for a standalone game as they welcome the Iona Gaels to the Bronx before heading up north to Amherst, Massachusetts to take on the University of Massachusetts Minutewomen.