USG's Diversity Action Coalition Hosts Bronx Appreciation Week
Emma Kim, Assistant News Editor
April 6, 2022
United Student Government's (USG) Diversity Action Coalition (DAC) hosted Bronx Appreciation Week last week, March 28-April 1, collaborating with different organizations on campus in order to celebrate the Bronx.
Camila Gomez, FCRH '22, one of the co-chairs of DAC, believes that the week is important in showing people all the things to love about the Bronx. "We want to break down myths and stereotypes about the Bronx and highlight the beautiful history and culture," said Gomez.
On Monday, there was an event called "Bronx Scholarship," which included three speakers — Mark Naison, Jane Edwards and Pamela Cora. Naison, professor of history and African & African American studies, spoke about the history of music in the Bronx, and one of his books, "Pure Bronx," was raffled.
Edwards, associate clinical professor and director of African Immigration Research, talked about the Bronx African American History Project, of which Naison is also a part. Cora, managing librarian at Bronx Library Center, spoke of New York Public Library's history in the Bronx.
Tylese Rideout, FCRH '25, headed the DAC subcommittee that planned Bronx Appreciation Week. She believes that it is important for the Fordham community to engage with the Bronx community.
"It is essential to acknowledge and appreciate all of the culture and people that live in our community. You will be able to facilitate conversations and develop relationships that can last for a lifetime. Also, not to mention the amazing food, culture and community that you are able to immerse yourself in," said Rideout.
Tuesday was "Bronx Cinema Night," in collaboration with ASILI, Fordham's Black student alliance, and included a showing of "Decade of Fire," a documentary about the 1970s fires that occurred in the South Bronx.
Wednesday was "Bronx: The Greenest Borough," where DAC collaborated with The Bronx is Blooming, a nonprofit organization in the Bronx dedicated to "environmental stewardship, community building and youth leadership development." Students went to Mosholu Park for a community service project and to learn more about the Bronx's green space.
"As Fordham students, we owe a lot to the Bronx community that houses us. As students and members of a university, we also hold significant privilege," said Gomez. "These partnerships remind us that we have so much to be thankful for in terms of what this community has given us, but also that we have so much to give to others."
Bronx Appreciation week concluded on Friday with "Bronx Eats," where food trucks from the Bronx came to Edward's Parade, courtesy of multiple campus organizations, such as the Office of Multicultural Affairs (OMA) and Campus Activities Board (CAB). Each sponsor had a different table that students could interact with.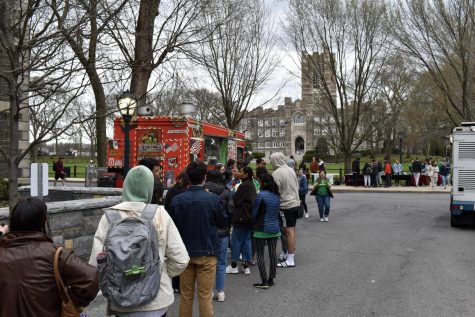 Elena Stoddard, GSB '25, attended Friday's event. "I thought that the event was good exposure for the Bronx in the sense that it had a variety of booths," said Stoddard.
Through the tables, she was able to learn about different campus activities, such as Urban Plunge and other Bronx-based activities.
"Before attending this event, I hadn't heard or known much about either," said Stoddard.
"I hope that this week sparks student's desires to explore the Bronx community and immerse themselves into the culture. There are so many aspects of our lives, such as music and food, that originate in the Bronx. It is so crucial to acknowledge the Bronx's contributions and truly appreciate it," said Rideout.