Track & Field Travels to Williamsburg for Colonial Relays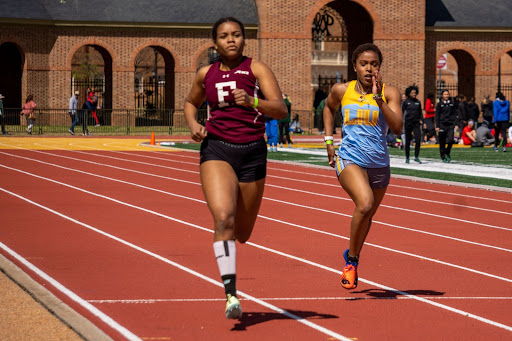 Fordham Track & Field traveled down south this past weekend to compete in the Colonial Relays in Williamsburg, Virginia. After a strong showing at the Rider Invitational last weekend, the Rams looked to continue their solid form as the outdoor season presses forward.
Before the event, however, tragedy struck. On Thursday evening, runners from Milligan University intending to compete in the relays were hit by a drunk driver while on a practice run. Eli Cramer, a sophomore and business administration major, was tragically killed in the accident while graduate student Alex Mortimer and senior Eli Baldy were injured.
The relays continued as scheduled, with the entire Track & Field community mourning the loss of Cramer.
The women's side of the competition saw many Rams with impressive finishes. On day one of the two day competition, graduate student Kathryn Kelly won the championship edition of the long jump with a distance of 5.85m, just one meter ahead of William & Mary University's Heidebrecht finishing in second place.
On day two, the Fordham women saw success in the relay events. The quartet of senior Dominique Valentine, Kelly and juniors Ruby Avila and Kyla Hill finished third in the 4×200 relay with a time of 1:39.24. In the distance medley relay, the Rams placed fourth because of junior Alexandra Thomas, sophomore Molly Mulvaney, junior Mary Kathryn Underwood and senior Bridget Alex, who came in with a time of 12:11.67.
Overall, the Fordham women placed 12th out of 38 teams with 26 points, while the University of Virginia took home the top prize with 80 points.
On the men's side, day one saw success for the Rams in the 10,000m run. Senior Brandon Hall finished fourth with a time of 30:34.37, while sophomore Steven Zucca came in sixth at a time of 30:07.21.
Day two included more scoring events for the Fordham men. In the 800m invitational, senior Jeramiah LaDuca finished in sixth place at 1:51.13. In the relay events, the Rams received top seven finishes from two squads. The grouping consisting of senior Zalen Nelson, LaDuca, senior Patrick Tuohy and junior Erik Brown placed fifth in the 4×400 relay at 3:17.47. Another team of freshman Nathan Bezuneh, junior Eric Jacobson, redshirt senior Christopher Strzelinski and sophomore Justin Lombardi combined for a seventh place finish in the distance medley relay with a time of 10:15.70.
The men's squad ultimately finished in 21st out of 40 with 17 points over the two day competition. Brown University finished first with 80 points, and George Mason University finishing in second with 62 points.
The Rams plan to compete in the Metropolitan Championship starting Friday at Icahn Stadium on Randall's Island.