Men's Tennis Swept at St. Johns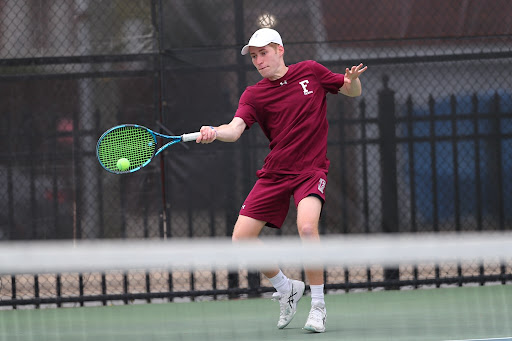 Continuing their sub-optimal form, the Fordham men's tennis team has now dropped their last six matches. In their four most recent losses, they have collected a total of two individual wins across both singles and doubles play, which is only two wins over twenty-two completed tennis matches. 
With head coach Nelson Peña no longer being a part of the program, the Rams headed to Queens on Saturday for a tilt with St. John's University under difficult circumstances. For the Rams, none of their matchups against the Red Storm were particularly competitive. In singles play, senior Tom Russwurm fell in straight sets, senior Juan Paredes was swept and junior Gio Soemarno lost 6-1, 6-4. None of the other singles matches were completed. 
On the doubles side, Ignacio Garcia and Axel Vila Antuna defeated Russwurm and Soemarno, and Giuseppe de Camelis and Evan Felcher topped senior Jofre Segarra and junior Toi Kobayashi. Lastly, Vlad Vasilache and Carl Gustavsson beat the duo of sophomore Nicholas Kanazirev and Paredes.
The weekend contest took place at the United States Tennis Association National Tennis Center in Queens, where the Johnnies have played all of their 2022 home matches. This marked the first time either squad had played an outdoor match since the new year. 
Fordham's poor play in the spring season has come as a surprise, especially considering the success the Rams experienced in limited action during the fall. Fordham won both of their team competitions in October, and signs pointed towards a successful spring. With a squad consisting of mainly upperclassmen leaders like Russwurm, Paredes and Segarra, Fordham's 4-9 record is disappointing. 
Without a win since February, the Rams will head to Easton, Pennsylvania,  on Saturday to face the Lafayette Leopards. After that, the Rams will host College of the Holy Cross on April 16 to conclude their regular season schedule. With the Rams' lack of form, it will be a tall task for Fordham to pick up some momentum before their season is put on the line in Orlando, Florida, during the Atlantic 10 tournament at the end of the month. Fordham's season has surely been a trying one but all hope is not lost yet.