Men's Tennis Rolls Lafayette Amid Coaching Change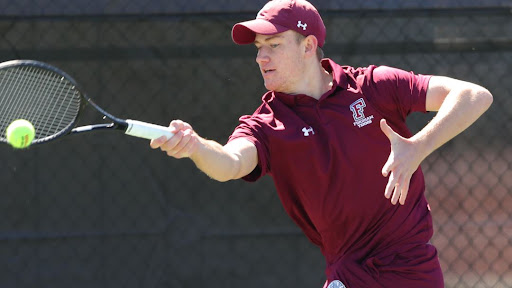 On Saturday, interim head coach Mike Sowter led the Fordham Rams to an impressive win in Easton, Pennsylvania against the Patriot League's Lafayette College Leopards. After Nelson Peña left the program due to personal reasons a couple of weeks ago, Sowter took the reins in an interim role. Sowter coached the Fordham men's team from 2015 to 2021 before taking over the women's team which, unlike the men's squad, is a full scholarship program. The Australian-born skipper led the Rams to a career total of 69 wins over his six season tenure. For many upperclassmen on the men's side, Sowter is a familiar face. 
Rejuvenated by the change at the top, the senior duo of Juan Paredes and Tom Russwurm picked up dominant straight set wins in the #3 and #1 spots, respectively. Junior Toi Kobayashi followed suit with a 6-2, 6-0 win in the #4 hole against Lafayette's David Esslinger. Fordham also swept in doubles play. 
Lafayette has had a very disappointing season, going winless in the Patriot League and only managing two total Division I wins. During the 2022 part of the season, the Leopards have bested Coppin State University of the Mid-Eastern Athletic Conference (MEAC) at home in mid-February, but have been unable to pick up a win against a legitimate opponent since. With the Atlantic 10 Tournament around the corner, Saturday's match provided a major opportunity for the Rams to gain some momentum, and they thoroughly capitalized. 
After facing the group at the bottom of the Patriot League, the Rams will tackle the team just one notch above them in the College of the Holy Cross Crusaders. That contest will be played this Saturday at the Hawthorn-Rooney Tennis Facility on Fordham's Rose Hill campus, marking the first actual home match of the Rams' 2022 portion of the season. Prior to this upcoming weekend's match, Fordham hosted all of their 2022 matches at the LifeTime Athletic Club in Harrison, New York, which essentially eliminated any home court advantage.
 Things are looking up for the Rams. They are coming off a dominant victory for the first time in a while, they are finally getting back to their true home in the Bronx and they now have a familiar face at the helm in Sowter. They are currently two weeks out from the A-10 Tournament in Orlando riding this newfound sense of confidence, and the season is far from over. This Saturday's Holy Cross match will be the Ram's final regular season contest before heading to Florida where their season will be put on the line.