New Exhibit Explores Costumes in Cultural Critique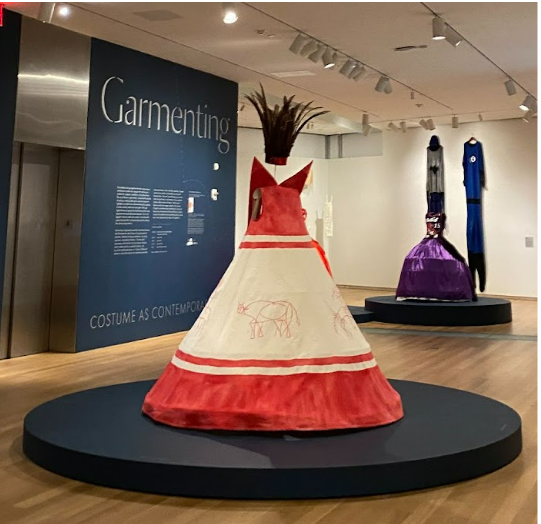 Last month, the Museum of Art and Design (MAD) in Manhattan opened an exhibit entitled "Garmenting: Costume as Contemporary Art," which will remain on display until Aug. 14, 2022. The exhibit brings together pieces from 35 artists from around the world and explores the theme of identity in a personal sense as well as through socioeconomic and political perspectives. The pieces examine topics such as LGBTQ+ expression, racial oppression and representation, misogyny and sexual violence. 
Garmenting as an art form is practiced through many different mediums that go beyond just the clothes themselves. Sculpture, performance and large-scale installations contribute to this exhibit's diverse collection. Each piece represents a unique expression of one's identity and personal experience through different kinds of fabrics, materials and presentations.
As opposed to high-end fashion and haute couture as art forms, this curation is meant to cater to a larger audience. Many of these clothes are not remnants of the uber-wealthy that, intentionally or not, are often the targeted audiences of other displays of fashion and design. The stories told within these costumes dive into harrowing topics of oppression and injustice; understanding and highlighting people that are often ignored as a demographic in fashion. Rather than reminding people of the wealth disparity that often becomes apparent through clothing, this exhibit invites people to see their own struggles being recognized and represented in fashion.
The exhibit emphasizes the presence of longstanding social justice issues, as it features only contemporary art and artists. With some of the oldest pieces dating back only to the 1990s, the artwork generates discourse on the ever-growing need for critical thinking and examination of society even in 2022. While some of the clothes cover topics from centuries ago, the costumes still represent a modern understanding of those issues and how they still affect the world today.
Race and gender are arguably the most prominent topics in this exhibit, as a majority of the garments cover them in some way or another. Young artist Zoe Buckman's installation stitches popular rap lyrics onto feminine garments (ones that are typically seen as seductive) as a vehicle to question the role of pop culture in domestic and sexual violence against women. Devan Shimoyama's striking "February II" enshrines a hoodie in a thick coat of flowers to represent and memorialize the life and death of Trayvon Martin in a critique of police brutality and structural racism. 
Colonialism is another topic that is presented with a great deal of significance in this exhibit. Yinka Shonibare's "The Ghost of Eliza Jumel" explores globalization and the commodification of African prints to benefit European socialites. Artists like Sheelasha Rajbhandari also use this space to demonstrate the crushing weight of colonial expansion on indigenous communities. Pieces like these also serve as critiques on capitalism and how far-reaching its negative impacts have been on diversity in fashion.
Naturally, as clothing and cosmetics have become an integral part of LGBTQ+ history, the exhibit also has a wide array of representations of both LGBTQ+ oppression and expression. Costumes touch on the effects of the AIDS crisis, divides within the community and drag performance as an art form.
These costumes shy away from subtlety and aim to inspire, unsettle and foster conversations with their audience. While clothing and fashion design in other contexts may be bold in color or shape, the garments in this exhibit are bold in the societal statements they make. Its exploration of power imbalances and intersectional thinking creates an environment for personal reflection. The experience of seeing artists bare their souls and pick apart their own identities allows for the viewer to do the same for themselves.
Some use fashion as an outlet for creativity that inspires escapism, but this exhibition instead establishes costume design as a platform for representation, social justice and critical analysis. The vast number of ways that fashion functions in our society is shown in how deeply these pieces contribute to understanding others. These international costume designers turn fashion into storytelling, using fabrics and techniques as the expositions and driving characters. 
"Garmenting" celebrates diversity and the complexities of identity. Anyone who has a love for fashion or art, in general, should take this opportunity to explore fashion in a completely different light and absorb stories that may broaden your understanding of the human experience.