13 Miles Later: A Look Back at Manhattan
We started at the corner of Broadway and 207th Street, dismounting the Bx12 at the early hour of 9 a.m. to a still-sleeping city full of bright skies, chirping birds and untapped potential. Then, we realized we were going the wrong way. After turning around and triple-checking that the street numbers were, in fact, decreasing, we set off. We intended to follow Broadway from where we had begun in Inwood, Manhattan's northernmost neighborhood, all the way down to Battery Park, the southern tip. 
In early February, a conversation about monotony in the cafeteria sparked the idea to walk all 13 miles of Manhattan. In simple terms, our friendship grew into what it was because of our shared love of walking. We met by chance freshman year, as many do, but after constantly running into each other walking around campus, we started going together. Those aimless walks around campus morphed into walks around the Botanical Gardens to Central Park to Galveston Island in Texas over spring break. Taking a minute to go for a walk outside is therapeutic. It allows you to take a break from the usual cycle of life and  clear your head. So for us, when we were caught with a case of seasonal dreariness and a feeling of perpetual groundhog's day back in February, planning a 13-mile walk for the spring seemed to be the only thing to add a sense of adventure to life. 
Going into the walk, neither of us really knew what to expect. We had sent one another TikTok videos of other NYC twenty-somethings taking the hike, and spoken to people who had done it before. Most of them had taken around seven hours to complete the journey, with some wasting a few extra hours wandering down side streets or stopping to taste the city's many cultural dishes. We, on the other hand, had a mission. Isabel believed that we could do it in five hours, Kari didn't think we'd make it in under six. Both dressed in t-shirts, leggings and Asics, we hiked through the city streets wondering how much pain lay in store for our poor quads.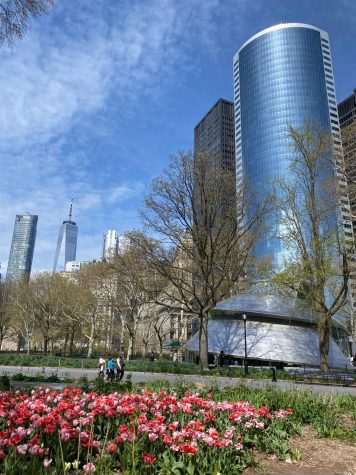 We ended up doing the whole thing in four hours. If we had jogged the last mile like Isabel wanted, then we might have made it in less. We probably would have collapsed, but we would have made it. 
Walking the city allowed us to see how it shifted around us, going from the sleepy residential neighborhood of Inwood to the towering skyscrapers of the Financial District. With every block, we watched the buildings rise, the streets grow narrower and the sidewalks fill with more people. Yet, despite the chaotic energy of midtown, we found quiet at both ends of Manhattan. 
College is a strange time of life. It represents the time period between childhood and adulthood, and true to that description, many times it can feel like you're in flux between those two stages. We lack a feeling of belonging — yes, you feel connected to your hometown, but you also feel that you've outgrown it. Yes, you feel connected to your campus, but there's always a feeling of temporality because you know that connection ceases to exist after you walk the stage at graduation. The Rose Hill campus furthers this lack of association, as it feels like an island that is both within the city and completely removed from it. 
Walking Manhattan made us feel closer to New York City, as it allowed us to glimpse the myriad of communities and cultures that inhabit pockets throughout it. In knowing more about the city, we gained a stronger connection to the city we currently call home. It also brought us closer as friends. We spend a lot of time together, but nothing builds a friendship better than sharing an adventure and four hours of unbroken conversation. When we passed Columbia University, Isabel reminisced on how her mother had attended Columbia, how her father had gotten her mother a milkshake from a diner we passed after Isabel was born and how in a different path, she might have grown up in this city. As we left Columbia behind and passed into the rest of the Upper West Side, we wondered about the lives that stretched before us, the memories we might create and the echoes we might leave behind.  
On the subway back to Lincoln Center to take the Ram Van back to campus, we listened to the names of each subway station. Passing Canal Street, Houston Street and many more, there was a newfound ability to place a picture at each stop. Looking ahead on the subway map, places like City College were no longer associated with online pictures but with tangible memories and recollections of passing them. As college students at Fordham, we experience small slices of the city. We travel to specific places and immerse ourselves in New York City's culture of our choosing. This walk gave us a small sampling of the entire city. We were able to watch the city shift and move around us, in a way that no other activity can give you.