Junior Writes Her Way to the Finish Line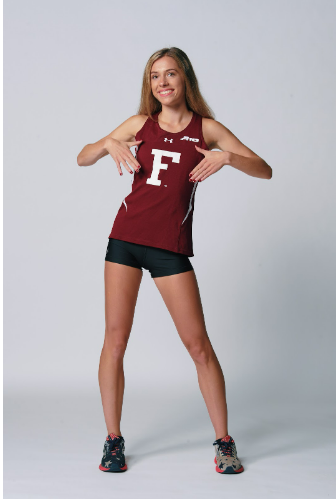 While many students across Fordham's campus are heavily involved in multiple clubs or sports, there is one student that stands out in terms of her work ethic and bubbly personality. Taylor Mascetta, FCRH '23, can be seen just about anywhere on campus — from being editor in chief at the satirical news publication the paper, a student-athlete for Fordham's track & field team and a sports broadcaster at WFUV Sports.
Whenever you see a newsstand on campus carrying an edition of the Ram, chances are you've also seen another paper covered in memes and crazy ads. It's the work of the paper and Mascetta.
There is a certain air of mystery around the paper, as it only appears about three times a semester to eager students. It is a long standing publication on Fordham's campus, originating back in 1972 to serve as "Fordham's free-speech journal of news, analysis, comment and review," according to their mission statement. 
Mascetta's origin story at the paper started like many other freshman journalism majors; as she perused the club fair, her goal was to join as many writing clubs as possible. However, one stood out more than others: the paper. Starting off, she immediately jumped into copy editing and filled her time editing the crazy stories that would go into each edition.
The hard work of Mascetta is a common thread throughout everything she does on campus, and it does not go unnoticed. The former editor in chief approached Mascetta after just one semester, asking her to become the opinion editor. It was a no-brainer for her.
This past December, Mascetta was handed the reins to the paper and was determined to uphold both the prestige and satirical nature of the publication. The most essential part of the paper, according to Mascetta, is the central focus of free speech for students, giving them the opportunity to write about anything they want. From the pasteurization of milk, to the most inspirational Solja Boy tweets, the paper, under Mascetta and her co-editor in chief Nora Hogan, FCRH '23, wants the creativity and interests of the writers to shine through. 
Importantly, Mascetta did not forget to plug the paper throughout our talk and wants everyone to know that merch is on the way for all of their loyal fans.
Not only does Mascetta use her talents as a journalist at the paper, she runs for Fordham Track & Field as a distance runner. She jokingly tells me that although she loves sports, she never got the chance to be picked first in gym class in high school. 
Her lack of hand-eye coordination did not slow her down as she took to the track to hone her skills. She continuously credits her coach in high school for converting her to distance running. Mascetta became a much better runner than ever before as she found her niche. During her senior year, her 4x800m relay team swept both conference and state championships, clinching the New England titles in both indoor and outdoor track. She capped it off by getting fourth at the New Balance Nationals in the 4×1 mile relay, becoming an All-American.
This year, Mascetta has yet to slow down. She scooped up personal records in the 800m, 1K and the 5K after so much uncertainty caused by the COVID-19 pandemic. The pandemic did throw a wrench in her plans, but her love for running kept her motivated throughout the days of isolation. Now, she is excited to be back to running with her team, many of whom she has developed life long friendships with.
Although Mascetta is heading into her senior year, she will not be leaving so quickly. She excitedly told me she plans to return to Fordham for a fifth year as athletes have been granted an extra year of eligibility due to COVID-19. While Mascetta is performing better than ever, she's determined to only get better and plans on continuously improving her times.
Meanwhile, Mascetta fills the rest of her busy schedule with work at WFUV Sports and at the Armory Indoor Track Facility as an announcer. Amidst all of the passions she has, it is her love for sports that trumps everything else. Mascetta's goals after college's to  continue to build off of the work she is doing now. Hoping to work in sports journalism in either a print or broadcast form, Mascetta wants to stay in New York City for as long as she can.
Her passion for sports and writing translates so well into the work she produces across all mediums, especially as she juggles a crazy busy schedule. While the future is very uncertain, what is for sure, is that Mascetta will continue to sprint past any obstacles she might come across.