OMA Hosts Diversity Graduation Celebrations
Throughout the week of May 2-6, the Office of Multicultural Affairs (OMA) and Office of the Chief Diversity Officer partnered to host five Diversity Graduation Celebrations. Each graduation celebration focused on a specific identity in order to celebrate the accomplishments of certain groups of Fordham students. The celebrations took place in person on both the Rose Hill and Lincoln Center campuses and included a live stream so people could attend virtually.
On Monday, the graduation celebrations kicked off with the Asian American and Pacific Islander (AAPI) celebration. Following the AAPI event, on Tuesday OMA hosted the Lavender Graduation Celebration. The Lavender celebration commemorated the accomplishments of LGBTQ+ Fordham students. On Thursday, OMA hosted the Latinx Graduation Celebration. To conclude the week of celebration, the Black Graduation Celebration was hosted on Friday.
These celebrations are meant to recognize the accomplishments of Fordham's graduating seniors that identify with traditionally marginalized groups.
"For these communities that feel marginalized, having some sort of celebration of identity is important," said Juan Carlos Matos, assistant vice president for student affairs for diversity and inclusion.
For Matos, hosting the Diversity Graduation Celebrations is extremely important to the college experience. According to Matos, OMA hosts many events for new and returning students, like the BIPOC student mixer and the OMA block party that happens during orientation week. He noted that it's also important to the college experience to recognize the accomplishments of those who are graduating.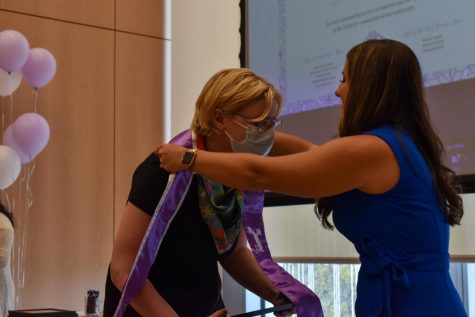 "[I think] it's great to have these bookends important experiences, especially if you are a person of color or LGBT. Being at a predominantly white institution, having these moments of recognition, I think affirms all the work that these groups of students have done, and the things they have contributed to their individual committees but to the community at large," said Matos.
The graduation celebrations are student run. They were each planned by separate student committees, meaning that the format of each celebration looked different. However, for Matos, it was important that at each celebration students will be presented with a stole and a certificate. Matos as well as Rafael Zapata, chief diversity officer, special assistant to the president for diversity and associate vice president for academic affairs, read out the names of graduating seniors and presented them with the stoles, certificates and other giveaway items.
According to Matos, one of the inspirations for the creation of the Diversity Graduation Celebrations was Matos's own participation in a similar program in his undergraduate and graduate education.
"I still have [my stoles], well over 15 years later. I still have the stoles that I received as an undergrad. It was such a significant experience for me, and such a momentous experience for me. Recreating that [experience] for Fordham students is something that I have hoped [to do] for a long time," said Matos
Additionally, Matos noted that OMA provided students with things to accessorize their stoles to better fit their personal identity.
"Every person who RSVPed will receive a certificate, a stole, giveaways and we do have a number of club logos and buttons. People are really going to be able to swag out their stoles. We have patches too. We have flag patches for countries of origin, as well as LGBTQ+ flag patches," said Matos
While each celebration looked different, they all followed the same general opening procedures. "The basic layout for all of them will be a welcome address, opening remarks, Father McShane made a video, so Father McShane's address will be played to both campuses virtually. Then, the [celebrations] start to vary," said Matos.
For the Latinx and Lavender celebrations, awards were given out. The AAPI celebration partnered with Asian-identified clubs, which created superlatives that were presented to the graduating seniors. All the celebrations have some sort of keynote address. The keynote speakers range from alumni to faculty to current students. The celebrations were all followed by a reception.
This is the second year that the Diversity Graduation Celebrations have occurred. The planning for them began in 2020, however, those celebrations were canceled due to the onset of the COVID-19 pandemic. In 2021, a hybrid model was adopted, with some students being celebrated virtually and others in person. This year marks the first year that the celebrations were all in-person. Despite 2022 being the first year that the celebrations were be fully in-person, Matos and OMA saw a lot of student excitement and anticipation for the event.
"We had one person who already RSVPed who said that she was looking forward to this event from last year when she was a junior," said Matos a week before the ceremonies began.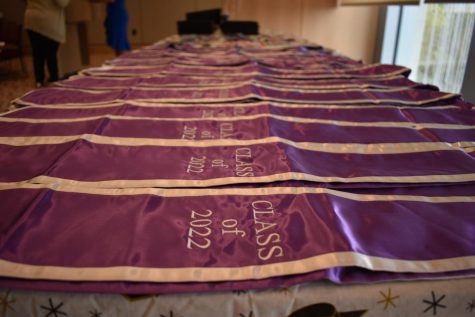 Matos hopes that the Diversity Graduation Celebrations will evolve to be a Fordham tradition that underclassmen can look forward to participating in when they are seniors.
"There are so many senior week traditions that people look forward to, I'm hoping that this joins in the chorus of things that people come in as first-year students and say 'I can't wait to graduate because I want to go to those diversity celebrations,'" said Matos.