The Mid-Major Dream
Wrapping up his 33rd season at Davidson, head coach Bob McKillop announced last Friday that he would step down, allowing for his son, Matt McKillop, to take over as head coach of the Wildcats. Over his 33 years, McKillop compiled a record of 634-380, placing him 54th all time in wins in college basketball.
"The grass is always greener on the other side." 
The words of the Roman poet Ovid stand the test of time in most cases. The key word: most. A head coach from Davidson College would like to have a word with Ovid about that, because there is a slim silver lining that pushes back against the age-old phrase.
Weathering the Storm.
After playing  college basketball at East Carolina University and Hofstra University, McKillop would become the head coach at Holy Trinity Diocesan High School in Nassau County from 1973-78 and Long Island Lutheran High School from 1979-89. 
But in between his high school stints there was a gap year. He didn't take off from basketball entirely, he just spent a year as an assistant coach at Davidson under then-head coach Eddie Biedenbach. Ten years later, McKillop found himself back in North Carolina taking over a team that won just  seven games the previous year.
He only won four in his first season, the lowest win total he would ever accumulate and the only single-digit win season McKillop would ever have. Just three years later, McKillop recorded his first 20+ win season headlined by future NBA player Brandon Williams. Ali Ton was running point for the Wildcats from 1995-98, where he currently still stands as the schools all time steals leader (222) and second in assists (646).
From 1996-98, Davidson three-peated as the Southern Conference regular season champions. In that 1997-98 season, the 'Cats also added the conference tournament title and an appearance in the NCAA tournament for the first time since 1986. 
The Start of Something New.
After three seasons of uneventful basketball, Davidson put a stranglehold on the Southern Conference from 2001-02 to 2008-09 where the Wildcats won seven of the next eight regular season championships, four conference tournament titles and made four appearances in the NCAA tournament. But that run is split into three parts.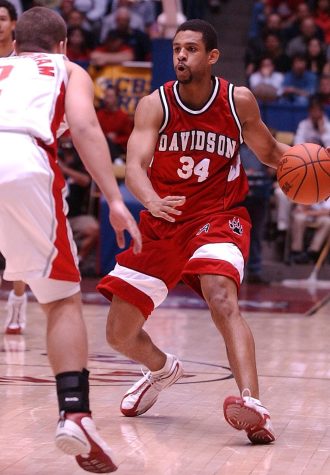 From 2001-03 the Wildcats were led by Wayne Bernard, a career 1,196 point scorer at the school. He never won less than 15 games when at Davidson, and never played less than 21 games during his Davidson tenure. During Bernard's junior season the Wildcats would win the regular season title, conference tournament and made the NCAA tournament where they lost to Ohio State by five points.
The fall of 2002 saw the arrival of three freshmen who would serve as foundational members of the team: Brendan Winters, Ian Johnson and Matt McKillop, who would all set out to be major contributors to the mid-2000s run of the Wildcats. Winters would go on to the 2004-05 Southern player of the year award, while Johnson served as the Robin to Winters' Batman. Matt McKillop served as a viable three-point shooter as well. 
That 2004-05 season saw the arrival of former Richmond Spider Jason Morton, who averaged 10.5 points for his two year career at Davidson. Former Lafayette transfer Kenny Grant was eligible to play in 2003-04, and would play a key supporting role for the next three seasons along with fellow role player Eric Blancett.
By the 2005-06 season, the Wildcats, with their seven seniors, completed what they had sought out to do: win the Southern Conference tournament and make the NCAA tournament after winning three straight regular season conference titles. They were once again sent home by the Buckeyes in their only NCAA tournament game in 2006, losing by eight points and sending Johnson out with 26 points in his final game as a Wildcat.
From 2001-06, the Wildcats had won four consecutive regular season titles, two Southern Conference tournament titles and made the NCAA tournament twice where they were bounced by Ohio State both times. 
It was anointed in what was perhaps seen as the "golden era" of Davidson hoops; Winters finished with 1,892 career points and currently ranks eighth all time in Davidson's history. Johnson finished with 1,511 career points, and Grant finished with 479 career assists, where he still sits fifth all time on Davidson's career assist list. Matt McKillop still ranks eighth all time in career threes made with 223 total, with Winters third all time (268 made threes).
But just when you think you've made it, there is a whole new level you can reach.
Here Comes Curry.
When the core of Williams, Morton, Johnson, Matt McKillop, Grant and Blancett all left going into the 2006-07 season, McKillop's team was questioned. The core came down to little used bench guards Jason Richards and Max Paulhus Gosselin, stowaway forwards Boris Meno and Thomas Sander and a kid who had 13 turnovers in his first ever college game against Eastern Michigan. That "kid" was named Wardell Curry II — America grew to know him as Stephen Curry.
McKillop told everyone before the season, "Wait until you see Curry, he is something special."
Curry was not even ranked as a top 250 recruit nationally, he wasn't even in the top 50 for his position in the country and was only 14th in the state of North Carolina. Curry, in his second college game against the Michigan Wolverines, dropped 32 points. 
As a freshman, Curry made All-SoCon first team and scored 730 points, annihilating the single season freshman scoring record that year which had stood for 29 years at 500 points. He also broke the single season three-point record that was set by Winters, hitting 122 of his 299 attempted threes as a freshman. Curry was also second in the nation that season in scoring among all freshmen, trailing only Texas' Kevin Durant.
His teammates would also go to another level; Richards would lead the team in assists with 7.3 per game, and averaged 13.5 points as a junior. Meno and Sander were the top two rebounders at 8.2 and 6.4 boards per game.
After a 4-3 start, the Wildcats went on a 25-2 tear the rest of the way, annihilating all comers and easily winning the regular season title, conference tournament and making another NCAA tournament for the second straight year. They would fall against the Maryland Terrapins, but Curry impressed on the biggest stage once again by scoring 30 points. 
In a 2019 article written by ESPN, Curry discussed the way that McKillop unlocked his potential: 
"He told me when I was a freshman that I had a license to shoot any shot I wanted but I'd have to work for it. I'd have to put in the time and actually commit to learning on the job. Even when I failed early freshman year, he stayed in my ear because he saw my potential before I did." (via ESPN).
2007-08 was a special year for the Wildcats, one when Curry and McKillop became household names in College Basketball. Following a 4-6 start which included games against North Carolina, Duke, NC State and UCLA, the Wildcats went a perfect 20-0 in SoCon play and returned to the NCAA tournament for the second straight year. Curry won SoCon player of the year and made Consensus All-American second team. McKillop won Clare Bee and National Basketball Association of Coaches (NABC) coach of the year awards, while winning the SoCon regular season and conference tournament titles.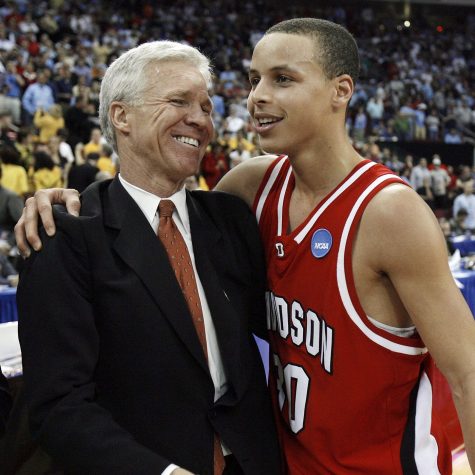 But this 2008 run was the most successful in program history, one where the Wildcats went all the way to the elite eight as a 10th seed. They beat the likes of Gonzaga, Georgetown and Wisconsin before losing by two points to the eventual champion Kansas Jayhawks. 
Curry had an amazing season, shattering all kinds of records such as scoring 40 points against Gonzaga in the team's first NCAA tournament game that year. Davidson's win against Gonzaga was their first tournament win in 39 years. He totaled 1,661 points once that season ended, and annihilated the single season scoring record for Davidson by 178 points, scoring 931 points as a sophomore. 
Curry's NCAA tournament was equally as impressive, averaging 32 points, 3.5 assists and 3.3 steals on 48% shooting from three point land and an absurd 47% from the field. Curry also never totaled less than 25 points in all four of the tournament games. 
The following year, the 'Cats flamed out in the conference tournament when they lost their second game to the College of Charleston. They would make an National Invitation Tournament appearance despite losing in the second round to Saint Mary's College. 
The 2008-09 season saw the departure of Richards, Meno and Sander, all the while speculation of Curry leaving for the NBA Draft but ultimately electing to stay for his junior season. The Wildcats won 27 games, Curry became the school's all time leading scorer with 2,635 points that year and still holds that title. He repeated as SoCon player of the year and was a first team Consensus All-American.
Post-Curry Era
The first season following Curry's departure for the NBA was mostly uneventful, as the team rolled up a record of 16-15 finishing 3rd in SoCon play. One of the first attempts at a Curry successor was bigman Jake Cohen, who would go on to win the 2009-10 SoCon freshman of the year award. 
The following year, Cohen was joined by DeMon Brooks, who averaged 9.0 points and 5.1 rebounds as a freshman. The team improved slightly with a 18-15 overall record and despite losing their first SoCon tournament game, the Wildcats did make an appearance in the College Basketball Insiders tournament, and won a game against James Madison University before losing to Creighton University and Doug McDermott. 
In 2011-12, McKillop and the 'Cats returned to form as the SoCon powerhouse. Posting a 25-8 record, winning the regular season and conference tournament titles leading to an appearance in the 2012 NCAA tournament. DeMon Brooks made first team all-SoCon as a sophomore and was named an honorable mention for the Associated Press' All-American teams. Cohen and Brooks were co-SoCon players of the year winners as well. The team once again came close to taking down a national powerhouse program in Louisville, but fell short by seven points despite a 24 point and 10 rebound effort from Cohen. 
2012-13, the Wildcats once again repeated the previous year's success: Cohen won SoCon player of the year again with both he and Brooks named to all-conference first teams.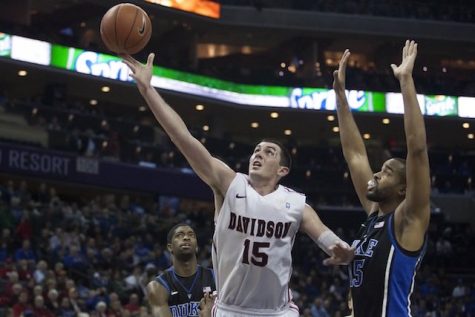 The Wildcats came oh-so-close to taking down the third-seeded Marquette Golden Eagles, losing by a mere one point. Cohen's final college game saw him leave Davidson as the all-time leading shot blocker, and tally 1,795 total points which still has him ninth all time at Davidson. 
In 2013-14, the team was handed fully to Brooks, winning 20 games and a regular season title, but lost in their second SoCon tournament game in overtime against Western Carolina. The team was also bounced in the first round of the NIT by Missouri. 
Individually, Brooks had a phenomenal year where he was once again an honorable mention for AP All-American, made his third straight all-conference first team, and won SoCon player of the year. 
But it would be the final year the Wildcats would play in the Southern Conference, as it was time to take a jump to a better conference.
The Atlantic 10.
Following the move to the Atlantic 10, many media members were unsure how the Wildcats would adjust to the much deeper and competitive A-10 conference. It is worth noting that the A-10 saw consecutive years where five or more of its teams went to the NCAA tournament. Teams such as Butler, Temple and Xavier had all left for the Big East and the American Athletic Conference respectively. 
As he has done many times before, coach McKillop surprised everyone and won the A-10 regular season title in the teams' inaugural season in the conference. Tyler Kalinoski won the first A-10 player of the year award as a Davidson Wildcat, Brian Sullivan emerged as one of the better guards in the A-10 making second team all-conference. Little-used bench guard Jack Gibbs took a huge leap by averaging 16.2 points per game and led the team in assists, and McKillop won the 2014-15 A-10 coach of the year award.
Davidson would win their first A-10 tournament game off a buzzer-beater by Kalinoski, mounted by a 14-point comeback. The 'cats were beaten down by the Virginia Commonwealth Rams, who were en-route to their first A-10 title. McKillop and the 'Cats were back in the NCAA tournament, but they were cooked by Iowa in their round of 64 game losing 83-52.
The next two seasons, despite Gibbs and Peyton Aldridge emerging as two 20+ point scorers, the Wildcats didn't do too much in the A-10. Gibbs would graduate in 2017 as a 2,036 point scorer, where he currently stands fourth all-time at Davidson and a multi-time member of the A10 first team.
The 2018 and 2019 seasons were super successful for Davidson, as the Wildcats were one of the ten best offensively rated teams in the country in 2018. They rebounded and won 21 games, the A-10 tournament and saw Aldridge win co-A-10 player of the year honors. Icelandic native Jon Axel Gudmundsson took a step up as a sophomore, and top 100 recruit Kellan Grady was second on the team in scoring.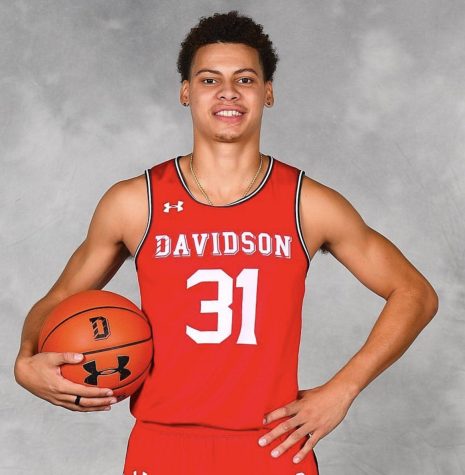 McKillop finally won his first A-10 conference tournament in an upset victory over the 25th ranked Rams of the University of Rhode Island. Grady led the way in that championship game with 17 points, clinching a berth in the NCAA tournament against the Kentucky Wildcats. Once again, Davidson went toe-to-toe with a national juggernaut, losing by only five to a roster that produced seven NBA players.
In 2018-19, it was another 20+ win season and the second straight season Davidson produced the A-10 player of the year, this time being Gudmundsson. But once again, the Wildcats fell short to an even greater machine: the Saint Louis University Billikens. The 'Cats made another NIT appearance but lost in round one to Lipscomb University.
After two years of pandemic spoiled seasons, the 2021-22 season surrounded the Wildcats with all sorts of questions. One of which being how the team would perform without Grady, a 2,002 point scorer and a four-time all-conference player. Others suggested McKillop would retire following the pandemic given the new landscape of college basketball. 
McKillop's crew geared up for what would be another wildly successful year; the Wildcats won 27 games, produced three all-conference players in the same year, another A-10 player of the year in Austrian product Luka Brajkovic and another regular season title. McKillop even won the 2021-22 A-10 coach of the year award again.
The Wildcats walked to the A-10 title game, stomping Fordham University and Saint Louis along the way, but lost in the closing moments of the conference championship game to the sixth seeded Richmond Spiders. Davidson reached the NCAA tournament against Tom Izzo and Michigan State, but lost by one point.
And that would just about wrap it up for McKillop's career. After 33 years, he called it quits, electing for a quieter lifestyle beyond the hardwood. 
But in his time at Davidson, McKillop coached four 2,000+ point scorers, produced 15 regular season titles (13 of them in the SoCon), eight conference tournament titles, (seven in the SoCon), produced four A-10 players of the year, seven SoCon players of the year, two all-Americans (Curry being the only multi-time consensus) and won the SoCon coach of the year award eight times and A-10 coach of the year twice.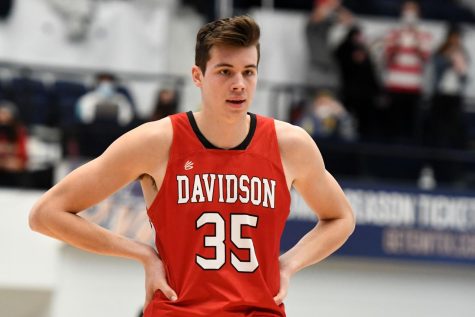 Perhaps the most outstanding trait of McKillop's methods was his international recruiting, having players from New Zealand, Denmark, South Korea, Austria, Turkey, England, Italy, Iceland and Switzerland. 
There were multiple occasions when McKillop could have left Davidson for greener pastures, one of those being when Saint John's University called him to come home, but ultimately elected to stay in North Carolina. Sometimes, the grass won't always be greener. McKillop took a tiny little school and turned it into the premier mid-major college program for hoops. 
So yes, Ovid is mostly correct, but Bob McKillop keeps his famous phrase from being totally correct.