Fordham Women's Tennis Seeks Continued Success in 2022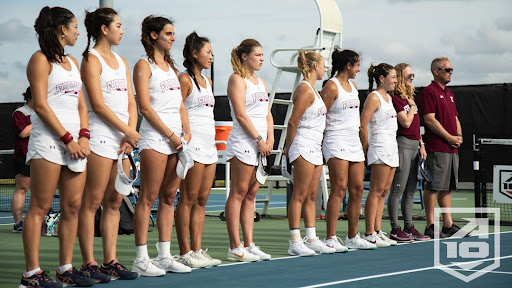 Fordham Women's Tennis looks to maintain their success and build on their strong finish to the 2021-22 campaign, as play will begin soon for the 2022-23 season. Following an appearance in the Atlantic 10 tournament championship, head coach Mike Sowter is entering his second year in charge and certainly has high expectations for a very talented group of young women. Last year was a massive accomplishment for the program, as they finished with a 14-5 record while having a dominant 5-1 home record. They also kept momentum throughout the year, stacking their wins with two win streaks of five and six games. 
Although items including schedule and roster are not yet finalized, Fordham is expected to have many returning players, including senior Avery Aude, sophomore Lorraine Bergmann and junior All A-10 Second Team recipient Eleni Fasoula. It remains unclear if some of the veterans are returning for this upcoming season, but the loss of last year's senior Nicole Li could impact how the team plays, as she was a key contributor. Nonetheless, an abundance of talented youth is never bad for a program. Fordham should be poised to make another run in the postseason and build on their school-best #3 seed ranking in the A-10 tournament. Things are trending up for the women's team, and regardless of an A-10 tournament championship loss, it is certain that they will look to try to replicate performances like they had last year. Notable matches include three that ended in 7-0 routs against St. Francis College, Siena College and New Jersey City University. 
Even with an unknown schedule, Fordham will look to show out against multiple A-10 conference competitors. With wins last year in the tournament against George Washington University and Saint Louis University and regular season wins against Davidson College and the University of Rhode Island, Fordham has proven that they can beat high-level A-10 programs. However, powerhouse Virginia Commonwealth University has given the Rams trouble this past season and in previous years, as Fordham hasn't won in over 10 seasons against them.
Coach Sowter has already made his mark on the women's program as head coach after working at Fordham with the men's team for several years. He even instituted a new annual awards event for the team, where he honored players by giving out a Spirit Award, a Most Improved Player Award and a Player of the Year Award. These are great ways to acknowledge achievements and motivate teammates to strive for greater future success. 
Women's tennis came a long way last season, and all signs indicate positivity and impressive things to come regarding the program's future.