Fordham Football Seeks to Continue Upward Trajectory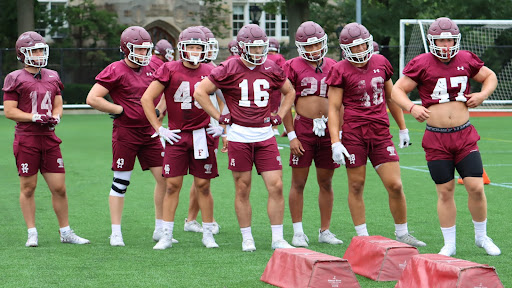 The 2021 season was a strange one for Fordham Football. Three losses to begin the season (two of which were against Football Bowl Subdivision (FBS) opponents in the University of Nebraska and Florida Atlantic University) were followed by six consecutive wins and a perfect 4-0 start in Patriot League play. However, losses against the conference's top two finishers in College of the Holy Cross and Colgate University to finish the season placed the Rams at 6-5 overall and 4-2 in conference, a comfortable step behind the two aforementioned schools.
Heading into 2022, the Rams have a plethora of experience at key positions, giving fans reason to believe the team can take another step up in the Patriot League and compete for a conference title. Starting with the most important position on the field, Fordham's offense is led by senior quarterback Tim DeMorat. Last season, DeMorat threw for 3,214 yards and 31 touchdowns, leading the Patriot League in both categories. He was named First Team All-Patriot League and was the 2021 Patriot League offensive player of the year. DeMorat, who is quickly climbing up the Fordham's all-time passing leaderboards, will look to build on one of the great offensive seasons in Fordham history.
Anchored by arguably the best quarterback in the Patriot League, the Fordham offensive unit also features elite talent in the running and receiving game. At running back, graduate student Trey Sneed will handle the bulk of the carries. Sneed rushed for 354 yards and four touchdowns in just three games in 2021, as his season was derailed by injury. Experience is the name of the game at receiver as well, with seniors Fotis Kokosioulis, Dequece Carter and MJ Wright all returning after big years in 2021. Add that to an offensive line that retained four out of five starters from a year ago, the Fordham offense is poised to put up huge numbers this season.
On the defensive side of the ball, the story is no different. Graduate Student linebacker Ryan Greenhagen was in the midst of an outstanding 2021 season before an ACL tear cut his year short. Greenhagen, who set an NCAA Division I record last season with 31 tackles against Nebraska, is back healthy and ready to lead the Rams defensive unit. In his absence a year ago, sophomore linebacker James Conway emerged as a key defensive piece, leading both Fordham and the Patriot League in total tackles. In addition to a healthy Greenhagen and Conway, senior Jonathan Coste, a preseason All-Patriot League selection, returns to the defensive line after an injury riddled 2021. Experience reigns large in the secondary as well, where Fordham is led by graduate student safety Natani Drati and seniors Nasir McNair and Stephen Williams II.
With an upperclassmen-heavy team and high expectations, the Rams open their season against Wagner College away from home on Thursday, Sept. 1. Their home opener is Saturday, Sept. 17 against the University at Albany, and Patriot League play begins Oct.1 at home against Georgetown.