Fordham Volleyball Looks to "Finish What They Started"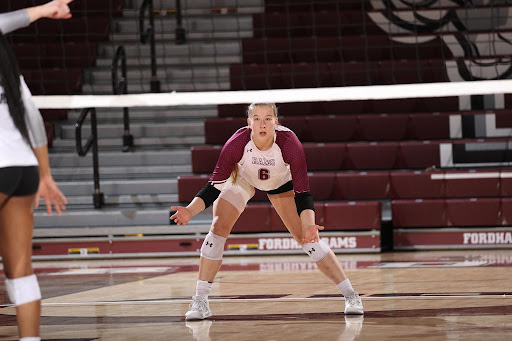 Senior Mallory Lipski and the Fordham volleyball team are in the same boat as many Division I mid-major athletic programs: win the conference tournament and secure the all-important guaranteed NCAA tournament bid or fall short of the annual dream.
The Rams have been steadily improving over recent years, enough to earn head coach Ian Choi an offseason contract extension that will keep him at the program's helm through the 2025-26 season. Three years ago, Fordham Volleyball missed the Atlantic 10 tournament entirely, two years ago they qualified for the conference tournament but lost in the first round to Dayton and last year, after battling to secure a spot in the tournament, Fordham fought all the way to the conference title match, playing for an NCAA tournament bid. After quite a successful year, Lipski sees this season's goal as continuing that consistent improvement. "That's certainly the expectation for this year, to obviously finish what we started at the A-10 championship so we get an automatic bid."
Last year's group was an explosive, athletic and passionate bunch. According to Lipski, the product Fordham put out on the court last fall was far from their ceiling."I just think it keeps going up, the talent, you know, the attitude … I think we're setting the standard in the gym and, you know, each year that I've been here has just been a higher climb." 
According to Lipski, the crystal clear focus of this formidable Ram squad stems directly from the influence of coach Choi. "He's very analytical, you can always tell that the wheels are turning and he doesn't show too much emotion, but I really take to heart what he says and what he tells me and we have developed a big [sense of] trust so I really believe in what he's trying to preach to us, and I try to take it out with me on the court," said Liskpi.
One cannot emphasize enough just how much the Rams' continued improvement has been engineered by Choi, the cerebral mastermind behind the complete 180 of the volleyball program. Choi played college ball at the University of Texas before launching his collegiate coaching career as a Longhorn as well. After assisting head coach Jerrit Elliot en route to a Big 12 title and national runner-up finish, Choi departed Texas, but opted to stay in the Big 12 at the rival University of Kansas. Still in an assistant role, he helped lead Kansas to an NCAA tournament bid before heading west. 
Following these two subordinate stints in the Big 12, Choi opted to continue his education at San Jose State University while taking on an assistant coaching role for the volleyball team and overseeing their recruiting operation. Two years later, with a Master's degree in hand, Choi was searching for a new challenge in collegiate volleyball. His journey brought him to the Bronx, and the rest is history. There is truly nothing like job security in Division I athletics, and after years of grinding across the country in transitional assistant roles, Choi has certainly earned his spot in the head coaches' fraternity. Now that Choi is entering his fifth year with the Rams, every player on the roster is someone he personally recruited. Between the secure leadership atop the program and a loaded senior class, Fordham is primed to make a dent in the A-10 in a way they never have before. 
Their season got underway on Aug. 27 with a 3-2 victory over the Bobcats of Quinnipiac. On Aug. 28, the Rams lost 3-2 against Stony Brook. The Rams will play again on Aug. 31 against St. Francis College in Brooklyn.