The Different Ways Fordham Takes to the Stage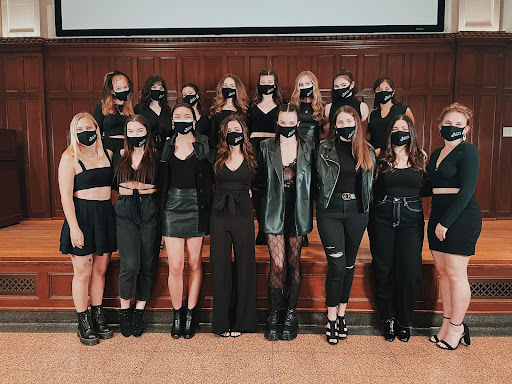 Little brings more life to Fordham's campus than the ringing of student voices through Keating Hall, the spinning of dancers on Keating steps and the lines extending all the way past Collins Auditorium's doors when the Mimes & Mummers premiere their new show. Whether it's an a capella concert, a dance recital or a musical, it seems like there's always something going on at Rose Hill. With a multitude of different performance groups, there are plenty of opportunities for students to perform or attend an event where they can witness stunning talent.
Almost nothing is more quintessential college than collegiate a cappella, made famous by the movie, "Pitch Perfect", and the group, Pentatonix. Rose Hill has four student-run a cappella groups, each with their own unique personality: the Ramblers, the Satin Dolls, the b-Sides and the Hot Notes. Each group rehearses at least once a week for hours. This hard work pays off, however, when they take to the stage to perform their own versions of beloved songs at school events, their concerts and even some off campus venues. Last year, the Satin Dolls, Fordham's all-female group, opened for the Rockettes at Radio City Music Hall. Also last fall, both the Satin Dolls and the Ramblers released studio albums that they professionally recorded. Their talent is impressive, and their dedication evident. 
If you're interested in joining an a cappella group, they hold auditions at the beginning of the year. Each group is on Instagram and posts updates about upcoming events. Even if you're not interested in auditioning, the concerts are some of the most exciting, free events that we have on Rose Hill's campus. Every semester, the four groups come together for a teaser concert before hosting their own at the end of the semester. Both the teasers and the full concerts are tremendous fun, full of silly skits and amazing music.
Fordham has two different theater groups, which show the range of what theater can be. The Mimes & Mummers, which have been Rose Hill's Mainstage Theater Group since 1857, perform both musicals and plays on the main stage of Collins Auditorium. Each semester, the theater group will perform one musical and one play. This upcoming semester, they'll be putting on Greg Kotis' "Urinetown: The Musical" and Shakespeare's "As You Like It." While most of the creative team and all of the actors are Fordham students, the Mimes & Mummers often work with professional directors, adding an additional gloss of professionalism to their shows. An added plus of the Mimes & Mummers is that their first performance of every show is completely free for students, so if you're interested in expanding your theatrical knowledge, their free performances are a fantastic opportunity. You can find information for their upcoming auditions, interest meetings and performances on posters tacked to blackboards all around campus, with more specific information on their Instagram page. 
Rather than performing well-established plays, Fordham Experimental Theater (FET) specializes in staging plays written and directed by students. Their home stage is in the Blackbox Theater, which is on the main level of Collins Auditorium. Every semester they hold a Playwright's festival, where the FET chooses three to four short, student-written plays to run as part of their program. Along with the festival, they will show longer plays and hold various other events meant to provide space for Fordham's creatives. In the spring semester of 2022, they performed Neil Gaiman's "Coraline," which was adapted for the stage by a Fordham student, Katie Landoni. Landoni, working with Gil Roberts, also directed the play, proving FET's strength of having students at every creative avenue for their shows. 
Lastly, Rose Hill has a collection of dance teams that, like the a cappella groups, perform at school events and their own recitals. The first team is the Fordham University Dance Team, which performs alongside the cheerleaders at football and basketball games throughout their respective seasons. They work intimately alongside the athletics department, training during preseason and traveling with the basketball team when they go away for tournaments. During the 2022 season, they traveled with them to Washington D.C. for the A-10 championship. 
Two other dance groups are markedly different, in that they do not work with the sports teams but do make appearances at many school events. Fordham Flava is the only hip-hop dance crew at Fordham. Like the other performance groups, they have a showcase at the end of every semester. Yet, they also hold regular cafeteria performances, where they tease their showcase dances in the oh-so-glamorous setting of the cafeteria. Their performances are a lot of fun, and a definite must-see. They also perform at the Fordham Dance Marathon (FDM), donating their talent to help raise money for the B+ organization. Sláinte is the only Irish Dance Company at Fordham. As well as bringing their talent to Fordham by performing at Irish Night and a collection of other events, including FDM, they compete in collegiate championships. In November of 2021, they won a series of high placements at the Villanova Collegiate Championships. In May, they also won first place for their CIDA Virtual Competition dance.  
Fordham has a plethora of student organizations like the few listed here, where students can access their creative sides by joining or simply attending their performances. For those interested in any of these organizations, head over to Instagram to find out more information about interest meetings, auditions or performances. And don't miss the Club Fair on Edward's Parade on Aug. 31 from 2-4 p.m., where all of these organizations — plus many more! — will be explaining who they are, what they do, and how you can join.