Dagger John's Reopens in Student Center
Emma Kim, Assistant News Editor
September 7, 2022
Dagger John's reopened on Wednesday, Aug. 31, in the basement of the McShane Campus Center with all new food options. It now includes BONMi (Vietnamese sandwiches and other dishes), Saiko Sushi and Saiko Bubble Tea.
Before it shut down, Dagger John's was home to Chopsticks (Asian Cuisine), Sambazon (açaí bowls) and BKG Coffee Roasters.
Deming Yaun, University Dining Contract Liaison, explained that it was originally closed in March 2020 due to the pandemic, and after that, not all of the food locations came back because of the campus population.
Another obstacle that Dagger John's faced were the renovations to the McShane Campus Center.
"The varying timelines for the McShane Campus Center renovations were not solidified. We were not sure if it was going to eventually become a part of the renovated space," said Yaun.
"Now, we have [an] indication that renovations are not going to get that far for two years, so when we found that out, in the summer, we started to work with partners to reopen it. We knew also this fall that the student population was going to be quite back to normal," said Yaun.
"Dagger John's also offered a space that did not have to be built and was ready for use since it was already equipped with equipment, storage and refrigeration," said Yaun.
An additional factor in the reopening is the lines in the food locations, especially at Urban Kitchen in the evenings. Because of this, Dagger John's will be closed at 9 p.m. from Monday to Thursday and 7 p.m. on Friday," said Yaun.
This is not the first time that BONMi has been introduced to Fordham students. At the Lincoln Center campus, BONMi is a standalone restaurant. "It had a popular following of its own at Lincoln Center. When we realized we had the space at Rose Hill, we have wanted for a long time to find a space for BONMi at Rose Hill," said Yaun.
Along with BONMi, Fordham has begun a partnership with a sushi organization. "They were going to come to Lincoln Center only, like BONMi, [but] we asked them to be involved [at Rose Hill]," said Yaun. "The bubble tea is a national favorite on college campuses, so we put that in."
Leah Garritt, FCRH '25, is excited about the new options at Dagger John's. "It's a great new place to go because the food is good, the dining area is spacious and it adds some much-needed diversity to the food options on campus," said Garritt.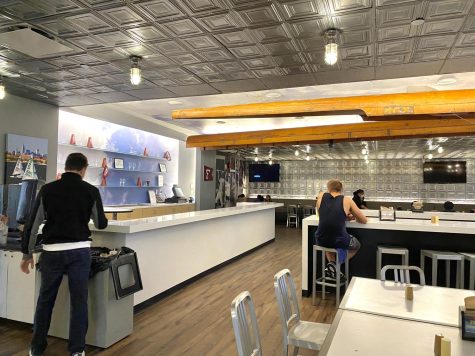 While the new options are good, Garritt does not agree with all of the pricing. Meal swipes can be used for BONMi and the sushi, but the poke bowls require a meal swipe plus a charge of $2.99. "I simply don't think that an additional charge on poke bowls is necessary. It should be part of the meal plan," said Garritt.
The food is not the only appeal to Dagger John's. In addition to the new options, there is plenty of space to eat. After receiving their food from the checkout area, students are able to eat and socialize in the bar/lounge space with plenty of seating.
"People who want to socialize can now do it at Dagger John's. [At] Urban Kitchen, they have to find a place to go to," said Yaun.
David Moran, GSB '25, is glad Dagger John's reopened. "I'm super excited for it to get reopened — having an extra food option on campus is always great," said Moran.
Yaun said that he works in close partnership with Fordham's United Student Government, specifically their Dining Committee since its formation in 2016.
He added that besides the two pandemic years, venues have rarely been opened on either campus without student involvement.