Fordham Volleyball Splits A Pair In North Dakota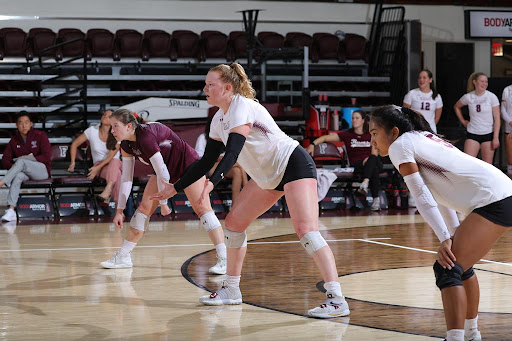 Last Thursday, Fordham Volleyball boarded a 747 on their way to their longest road trip of the 2022 season. The midwest bound Rams were seeking to continue their 5-1 start to the year, a stellar record that included three sweeps.
The Rams haven't had a test like this most recent weekend in a long time. On average, the Rams take a trip  out west once a season. This year, in lieu of the West Coast, Fordham Volleyball made the 1500 plus mile trip to Grand Forks, N.D., to compete in the University of North Dakota Classic, along with Montana State University. 
The Rams began the tournament by dropping the first set to Montana State 25-15, which matched their largest margin of defeat this season. Given the long flight and quick turnaround, a bit of a flat start from the Rams was relatively predictable. They got back on track by taking the next two sets but were unable to finish the job in set number four. After picking up that crucial fourth set, the Bobcats of Montana State carried serious momentum into the decisive fifth set, where they would dominate the Rams 15-7 to cap off the win. 
Although the Rams suffered a disappointing loss, one in which they led 2-1, there were some bright spots in the effort. Reigning Atlantic 10 player of the week, junior Whitley Moody, posted 15 kills against Montana State and freshman Audrey Brown continued her ferocious freshman campaign with 14 kills. This impressive duo of explosive outside hitters in Moody and Brown have solidified their spots as the "usual suspects" when it comes to offensive standout performances. For head coach Ian Choi, having a veteran star such as Moody there to mentor and lead a budding freshman talent in Brown is all he can ask for. Before every match, you'll see some of the Rams come out in pairs for warmups. Moody and Brown frequently do that together, chatting pregame and getting loose prior to the team's group effort. Clearly, a mentor-protege dynamic has been established between the two.
Following the difficult five set loss to begin the tournament, Choi decided to revert back to his original starting lineup. Over the past two weeks, junior Lauren Arzuaga and freshman Mackenzie Colvin had taken the place of Brown and senior Megan Brzozowski as starters. But after falling to Montana State, Choi felt the Rams would be better served by his opening day lineup, including Brown and Brzozowski. With Brown now returning to her starting role to face North Dakota, the freshman took full advantage of the opportunity. Brown posted 15 kills, hitting at an unbelievable .565 clip to lead the Rams to a sweep over the hosts of this weekend's tournament.
Following their up and down trip to the midwest, the Rams will have something of a more local commute this weekend when they travel to New Haven, Conn. to participate in the Yale Invitational. Friday, the Rams will be matched up with Sacred Heart University before facing the hosts in Yale on Saturday afternoon, all before they wrap up early season tournament play with a contest against Villanova University on Saturday evening.