Student Athlete Column – Overcoming Challenges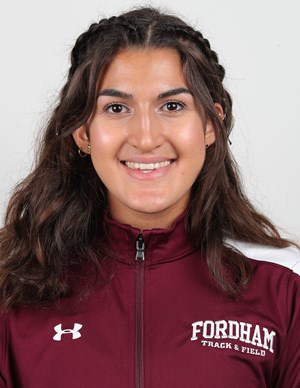 In cross country you have to run on all kinds of terrain. Some races take place on hard, rocky gravel. Others are on soft grass fields. And sometimes, it's a hybrid of the two. Both pose their own challenges; the gravel can make me feel like my feet are going to fall out from under me and on the grass, I feel like I can't even pick them up. Any coach would say the key is to be adaptable: to adjust your stride, tempo and form accordingly. If it is 90 degrees or 20 degrees, rain or shine, you need to adapt. But at that point, I think it's more mental than anything. And I think the same could be said about anything in life; every external element plays into performance. I'm a senior now and it's my last season of running cross country for Fordham. I'm still learning how to be adaptable.
Looking back to when I was a freshman, I remember imagining this time of my life and how much stronger I would be as a runner with a few years of college racing under my belt. Well, it's safe to say I haven't fulfilled my freshman fantasies. In fact, it feels like I am starting from scratch. At the beginning of September, my team and I raced at the Stony Brook Invitational, an annual rust buster to break in the new season. To my disappointment, I ran the 4k course about 30 seconds slower than I did when I was a freshman. And, in the cross country world, that is considered a big difference. At first, it logically didn't make sense to me. I have been running more mileage than I ever have in my college career and have been putting more time into strength training. But training hard doesn't guarantee success. As mentioned before, it's also about grappling with the external elements.
I'm not trying to beat myself up about it. To be fair, I have changed a lot since I started running for Fordham. I went from having no clue what I wanted to do with my life to declaring a major in journalism and double minoring in Spanish and visual arts. I work two jobs outside of school, hosting for WFUV and announcing races at The Fort Washington Avenue Armory in Washington Heights. I went from running being one of the only important things in my life to now juggling multiple passions as equally important responsibilities. Perhaps I haven't adapted to all these new changes just yet. And adaptability doesn't mean that it's going to get any easier. Rather, it's accepting that things aren't perfect and adjusting to the circumstances. Regardless, it's my last year. I want to put my all into it, knowing that I did all I can to the best of my ability. We shall see.