Men's Soccer Draws Twice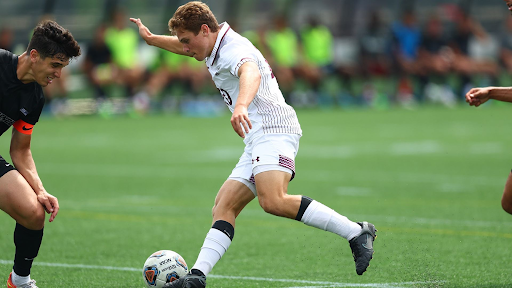 After a thrilling week of games, Fordham Men's Soccer netted two ties, drawing 2-2 against the University of Maryland, Baltimore County (UMBC) Retrievers and 0-0 against the Loyola Maryland Greyhounds.
Both teams came out hot in the first half of the UMBC game, scoring two goals apiece. UMBC got on the board first courtesy of Taylor Calheira in the 12th minute. Calheira got to the ball off of a rebound attempt from teammate Spencer Hanks. The ball was deflected in off senior Fordham defender Conrado Duhour to make the score 1-0 Retrievers. 
The Rams equalized the score three minutes later thanks to freshman Nathan Simes. Graduate student Daniel Espeleta took a shot right off a Rams' corner at the UMBC goalkeeper Quantrell Jones. However, Simes was able to get his foot on it to make the score 1-1. For his efforts against UMBC, Simes received the Atlantic 10 Co-Rookie of the Week award.
The score would continue to bounce back and forth between the Retrievers and the Rams, with the next goal in the 21st minute coming from UMBC's Ryan Becher, who scored a 30-yard-shot from outside the box.
Twenty grueling minutes would go by until the Rams would score the next goal. Sophomore forward Paolo Primavera received a cross from Espeleta, netting his first goal as a Ram. 
Ending the first half, both teams racked up a total of 17 shots, and both would take a backseat in scoring during the second half.
While the second half was quiet in terms of scoring, both teams picked up yellow cards in the second. UMBC accumulated two yellows, going to William Forby and Jago Lott, while the Rams received one yellow to freshman Bennett Leitner. The game would end in a stalemate, 2-2.
Next, the Rams faced off against Loyola Maryland, playing Tuesday morning after the game was postponed due to weather from its original slot on Monday night. The game would be an inverse of the game against UMBC, as no team got on the board in the first half, with the teams racking up nine total shots. 
The second half kept a slow pace, with both teams failing to score. Loyola had more opportunities for the game, totaling 18 shots to Fordham's nine. However, the Rams had better accuracy, with four of those shots being on goal to the Greyhounds' three. 
The Rams' record now sits at 2-1-3 for the season, with the other tie coming from their match against #13 Providence College back in August.
Fordham will play their first A-10 matches of the year next, with the first game coming against the University of Rhode Island on Saturday at 7 p.m. That game is followed by a road match against St. Bonaventure University the following weekend. Both of those contests can be watched live on ESPN+.