Overtime: George Teague's Reminder of Being an American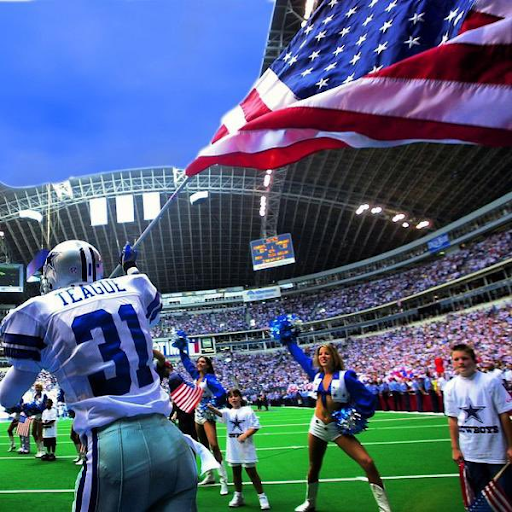 It is an enormous challenge for some to recall the traumatic events of Sept. 11 and what occurred that day. In the immediate aftermath, the path forward was unclear. How would we, as a nation, respond to such unprecedented events? 
One of these responses occurred through the world of sports. Most in the Metropolitan area would point to the Yankees' run to the World Series in 2001, while others would reference former President George W. Bush throwing out a perfect first pitch.
But does anyone remember Dallas Cowboys safety George Teague?
On Sept. 23, two weeks after the attacks took place, week two of the 2001 NFL season. The Cowboys were coming off a week one loss to the Tampa Bay Buccaneers 10-6.
The Cowboys, dubbed 'America's team', were well past their dynasty years of the mid 1990's and had come off a 5-11 season in 2000 under head coach Dave Campo. Still, the franchise had the most visible image of any NFL team and continued to boast one of the most lucrative sports teams ever.
The sports world went on pause for about two weeks following the attacks, including Major League Baseball. The Yankees made a magical run to the World Series (their fourth straight World Series appearance), one where Derek Jeter became 'Mr. November' before ultimately losing the World Series.
But the Cowboys, amidst all the drama in 2001, reminded the country that we, as Americans, are unstoppable when we stand united.
Unknown to most, the 2001 campaign would be Teague's final NFL season. He wasn't the most decorated player in the NFL, but his time in Green Bay and Dallas proved him to be a serviceable safety. Teague didn't have any moments in the NFL that made you jump out of your seat, but Sept. 23, 2001 was the day he etched his name in history.
In an interview with Fox 4 Sports, Dallas' Fox correspondent, Teague recalled where he was and what he was doing on Sept. 11.
"We were actually going into practice," Teague said. "When we came into the training room that day, we had some players who were affected… trying to reach loved ones. It immediately had an impact on the team just because there were other teammates who just said 'I can't get a hold of my family.'"
Teague had family members who served in the military. His father served in the Air Force for over 20 years, making him no stranger to the meaning of the American flag.
As the Cowboys ran out of the tunnel for the start, Teague took center stage running out solo holding up "Old Glory". 
"It wasn't really a planned deal, it was knowing someone there with a flag there. As we were running out of the tunnel, a part of me said 'I wanna take this flag and run out with it.' The young gentleman who had the flag didn't put up a fight, and let me have it."
Out came America's team in the most dramatic way, with Teague flying the flag high and proud.
Teague's reminder of what it means to be an American in dire times united the nation, and he provided a guiding light to Americans who felt lost at a time that was so otherworldly.
Close to the 21st anniversary of Sept. 11, many still look back at the moments that tore this nation's heart out and question Americans' morals and strength. 
Then you have the good moments, the ones that brought us closer together than ever before. So many images of 9/11 are of pain, but there are also those that show triumph.
George Teague's moment was one that encapsulated everything this country is all about: to never forget that tragic day and feel proud to be an American.