A Look at McShane Campus Center Construction
It was only a few months ago that the new McShane Campus Center first opened its doors on the Fordham University Rose Hill campus. Students now use the new building to relax in the lounge, do homework and work out in the new expanded Ram Fit Center. This year, students can even enjoy a redesigned dining option, Dagger John's, which serves items including sushi, poke bowls, bubble tea and BONMi Vietnamese food. This is also where on campus organizations such as the Career Center, the Campus Ministry and Center for Community Engaged Learning are located.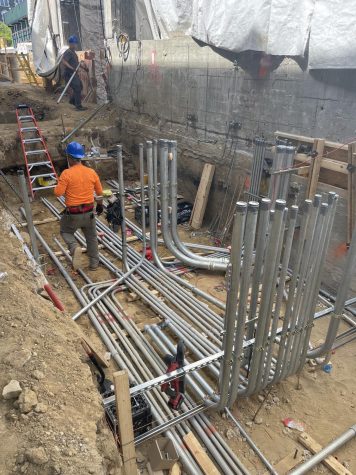 During the summer, the McShane Campus Center project entered into what Stephan Clarke, the assistant director for campus center operations, referred to as "Phase 2" of the construction process. This phase focuses on the creation of the "arcade," a new entry into the building. Clarke says most of the demolition work was completed during the summer, and the construction of the new skylight began in mid-August.
The construction of the "arcade" and Phase 2 of the project will continue throughout this academic school year and is projected to be completed by fall 2023. Additionally, work on the Grab and Go near the Marketplace also continues. This is primarily the focus for the remainder of the semester; however, there are still a few items from Phase 1 that are still being completed. This includes final touches for the A/V as well as an entryway for the catering team. Currently, the construction is reported to be on schedule. 
"At the moment, students who can see over the gate when walking past the gym will see what used to be the old entry to the building now wide open," Clarke said. "The lobby, the second floor elevator, the old Student Lounge are all gone. Students should look forward to seeing construction ramp up over the fall semester."