Fordham Volleyball Opens Atlantic 10 Play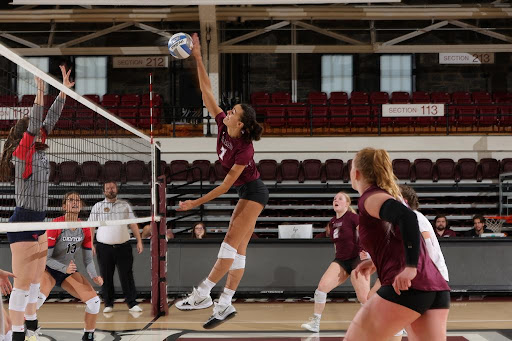 It's been nearly three weeks since Fordham Volleyball has picked up a win. After starting the year on a promising 6-2 run, the Rams have run into some tough competition. Two weekends ago, the Rams traveled to New Haven, Conn. for the Yale Invitational where they were swept by Sacred Heart University before falling to two elite programs in Yale University and Villanova University. Dropping three straight on the road while only grabbing two sets throughout the tournament forced the Rams to more or less hit the reset button as they began conference play back at Rose Hill Gymnasium this past weekend. Standing in their way were the four-time running Atlantic 10 champions, the University of Dayton Flyers.
On Friday, the Rams were swept in decisive fashion while posting some of their worst offensive numbers of the year. The poor stats can partially be attributed to an abysmal third set, in which the Rams were only able to manufacture 10 points, but it was nevertheless an alarming start to conference play. Fordham played very well in sets one and two, but some timely runs for the Flyers capped off demoralizing sets for the Rams. In Saturday's game two of the two contests against the Flyers from Rose Hill, the Rams showed some real heart and grabbed the second set. This would prove to be the sole set win of the weekend for Fordham. 
Despite all the comforts of home, A-10 competition could not have begun on a more challenging note. The Dayton Flyers have posted a 169-14 record in A-10 play over the last 13 seasons, and this undeniably talented current team is poised for another outstanding year. The Flyer starting frontline boasts both Amelia Moore at 6'5" and Alayna Yates at 6'6". For some context, Moore and Yates are the only two players in all of A-10 volleyball who are listed above 6'4". Yet, according to Fordham's head coach Ian Choi, their height is not the only thing the Flyers have going for them, "They [Dayton] are relentlessly aggressive," said Choi ahead of Saturday's loss. Choi also touched on the Flyers ability to bounce back from "momentum-losing" plays such as service errors and ticky-tack violations. 
There is a long road ahead of the Rams with plenty of opportunities to right the ship in A-10 play, but it will not be an easy couple of months. The A-10 is loaded with talent including the premier programs of Dayton, Virginia Commonwealth University and Saint Louis University. In the midst of this losing streak, Choi has reminded his group that this year will be an "emotional rollercoaster" but it's about how you finish, not how you start. As evidence, Choi cited last year's campaign when the Rams barely eked their way in the A-10 tournament before fighting their way to the title match. 
From here on out, the Rams will only face in-conference opponents barring any sort of NCAA tournament run. None of these matches will be guaranteed wins or anything close to such but the Rams surely possess the explosiveness and experience to go toe-to-toe with anyone in the A-10. Fordham's journey will continue this weekend in Chicago where they will face off against the newest member of the A-10 conference, Loyola University Chicago. It'll be two matches from Gentile Arena, Friday night at 8 p.m. eastern and Saturday afternoon at 1 p.m. eastern.